GoFundMe to save this great person :') ¡hope!
This GoFundMe was created by a nother friend of Petr ,Sami Jones.
I met Petr during the Cryptomus ICO and we have worked toghether since.
He is a cheerful programer and a blockchain enthusiast. His eyes are set on the technology of Golem which, if the team is capable, will be a powerhouse.
Petrs life expectancy is 1.5 yrs, in wich his condition will exponentially detiorate without treatment. The treatment is worth an absurd 100.000 €EUR and Chech Republic doesn't cover anything whatsoever of this new procedure that greatly increases quality of life by putting a stop the the neurological decline. Please help Petr and all his friends by donating any ammount whatsoever. He is such a humble, genuinely good person that it pains me to write about his condition.
Donate at the Gofundme or with crypto (to be transparent, these are wallets i had laying around with no current purpose if you want to donate to petrs wallet add him on FB)
ETH: 0x69b25428dfa5B668eE48547F3bBb935106E6e61A
BTC: 17BmLQzvZTyCcNnM9hK2VZM27E6D7fLwZU
---
I am starting a medical campaign fund for my Czech friend, Petr who has SMA aka Spinal muscular atrophy which is a rare neuromuscular disorder characterised by loss of motor neurons and progressive muscle wasting, which often unfortunately leads to an early death.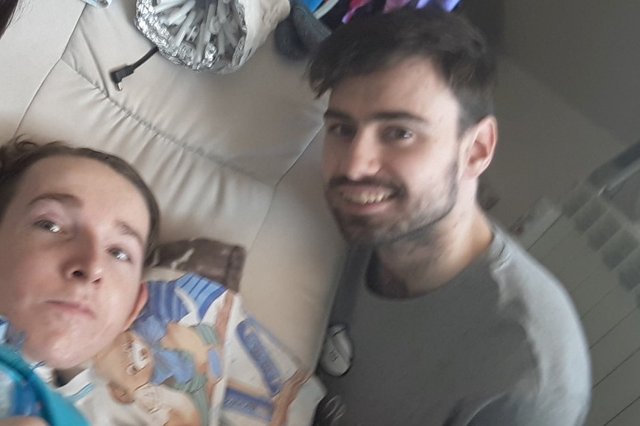 Petr is a positive 20 year-old young man who likes Ice hockey, Football and playing games on his touchpad. I met Petr a few years ago in an online icehockey game and we got chatting, I went to visit him first time in March 2018 and saw how he lives his life and his family help him which requires huge dedication. His family makes his food by injecting it via a tube and Petr needs a medical ventilator to help with his breathing
Unfortunately in Czech Republic the insurance doesn't cover anything because the cure is new, called Nusinersen( spinarza) is the only approved medication to treat spinal muscular atrophy. It is administered directly to the central nervous system using an intrathecal injection.
The situation is urgent and I'm hoping that we can raise money for my good friend Petr, whose aim is to get treatment in USA.
Dekuji/Thanks/Kiitos