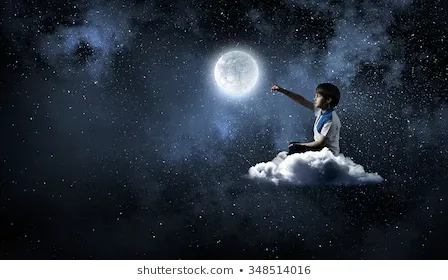 On his return to his home country, Shaka thought about how best to present the shinning stone to the wise men of the land as the moon.
Shaka knew that he had to present the shinning stone before the wise men of the land in the night. And if he must do that convincingly, he had to do it on a moonless night when the legion of stars, together with the moon, had gone on a vacation.
So, Shaka waited patiently for the night when the moon was not up in the sky. Then he walked up to the emperor and told him he had captured the moon. The emperor then summoned the wise men of the land before whom Shaka would present the shinning stone.
"This shinning stone in my hands," Shaka told the wise men, "is the moon. I travelled for several days. I have crossed several oceans and mountains to fetch the moon. Fortunately, I met an old witch who fortified me with magic, and delivered the moon to my hands."
"How can you be sure that we are not being deceived?" One of the wise men interrogated.
"Look up everyone," Shaka pointed to the sky. "You can't find the moon tonight because I have captured it. Until I return this stone with my magical powers, the moon will never shine on you again."
"Please, return the moon!" the wise men cried, "do not destroy us all by bringing the wrath of the gods upon us."
To be continued in the next episode. You may kindly check my blog for the other episodes
SUPPORT CORNER

Kindly follow the peerless vocabulary lessons presented by @majes.tytyty, and get rewarded with upvotes for your participation.
          Vocab-Ability – "Introduction to Vocab-Ability"  

Are you a minnow and you're already thinking of giving up on Steemit? Please don't quit. Kindly follow @Steemitcentral and use the steemitcentral tag in your posts to get some upvotes.

---
I am @gandhibaba, the young man who goes about carrying his magical pen, not his gun, in his pockets.

Gif courtesy of
@artzanolino
---
Thanks for visiting my blog. I appreciate your precious time.