Spirits on the Channel (A "story-mentor" group task)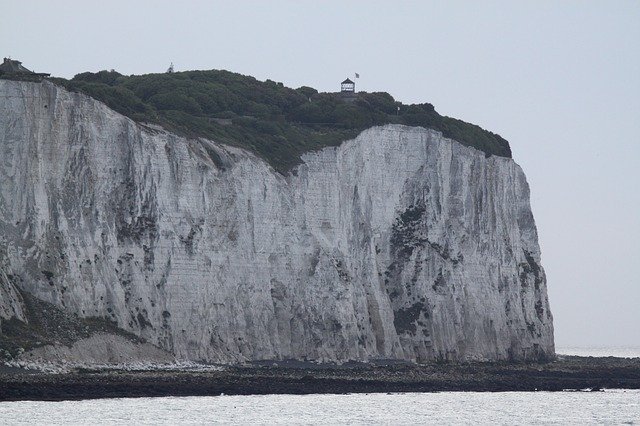 ---
---

Lidie clutched the wrinkled paper to her breast. Tears streamed from her eyes causing the white caps dancing on the channel to blur. A stiff breeze billowed her skirts as the fierce wind crashed into the white cliffs of Dover and swirl her red locks across the wet tracks on her freckled cheeks.
Steven loved her! She opened the crumpled paper and read his precious words once again.
Yes, my darling, this is terrific news! We will marry as soon as I can get to you!
Oh, sweetheart, I hope it's a boy, I do, but a beautiful red-headed lass that has her mother's smile will suit me fine too!
Lidie smiled and sobbed tears of relief. She knew this wonderful man wouldn't abandon her.
Their child!
She rubbed her small belly where their love grew inside. A flutter of new life but not yet developed enough to show her condition. Yes, when she got the letter she knew they would wed in time to say that her pregnancy was a "Honeymoon gift!" No one could say otherwise. Besides, who would care in a time of war anyway?
Looking over the channel she smiled at a blast of wind, the gulls gracefully rode the turbulent updrafts, swells crashed upon the thin beach below. She closed her eyes and felt as if her spirit flew from her breast to find her lover across this turbulent sea.
She filled her lungs with the salt air and exhaled. The stress she so recently felt left her body and peace filled her with new hope. "All will be well, now," she said out loud. Steven loves me and will make it right.
She stepped forward and peered over the dizzying height. Waves crashed against the dolomite cliffs wearing away eons of the skeletal remains of trillions of ancient microscopic lifeforms.
Letting her gaze wander up from the crashing surf, over the swells of the English Channel she imagined she could see the shores of France, perhaps Dunkirk itself in the hazy distance.
Lidie reached into her apron pocket and grasped a crumpled telegram. She compared Steven's letter to the hateful message again. Fresh tears blurred her vision but when she read his words her smile returned. Lidie lifted her arms to the sky closed her eyes and let her body fall forward into emptiness and eternity.
---
"What a shame," said the constable, reading the water soaked telegram pried from the victim's stiff hand. "Seems a loved one didn't make it across. Dated 4 June 1940 too."
Looking up he saw a man and woman walking on the beach, between them, they held​ the hands​ of a small child.
"You! Hey! You there!" he hollered.
Perhaps they saw what happened he thought, but when he looked again, the trio had disappeared in the distance.
Thumbnail Source