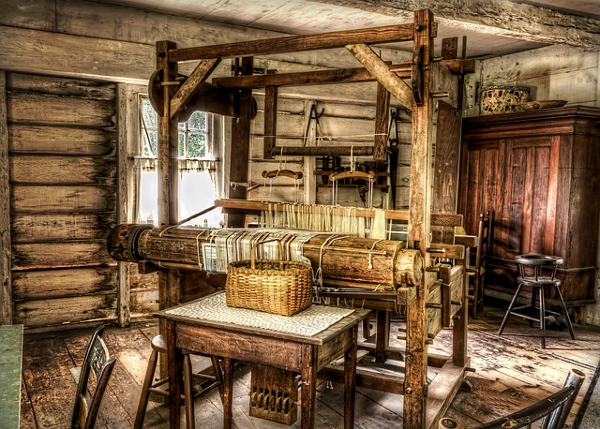 The Weaver sat at her workstation, spinning delicate threads in a rainbow of bright colors. Her boney, weathered fingers moved with a speed and precision that only a lifetime of such work could achieve. And when the threads were all spun and wound neatly on their bobbins, she placed them carefully within an old wicker basket next to her loom.
The old grey cat that lay curled by the fire lazily opened its eyes at the sound of the basket rustling. The Weaver clicked her tongue and shook her head, perhaps to discourage the cat from getting into any mischief, but the cat just stretched and returned to its nap.
The Weaver sighed, wishing that she, too, could simply stretch her aching limbs and nap at her leisure, but there was too much to be done. There was always too much to be done. Life was forever moving forward.
She glanced at two weathered rings sitting near her basket and felt pity for the woman who gifted them. She had come begging for The Weaver to join her with the man she loved and had offered the rings, worn for decades by a happy couple, as payment. And in a moment of weakness, The Weaver had agreed.
She picked up a spool of ruby-colored thread and began to weave. The woman would be joined with her beloved by the day's end, though their joy would not last beyond one year. The Weaver had already begun to weave the man's end, it could not be changed, and now the woman would be fated to join him.
---
Note: This is my entry for the Short Story Initiative being run by @swissclive.
Total Word Count: 265
---
Image sourced from Pixabay.