We will be talking about the recent study of how degrading plastic produces greenhouse gases, as it was published in PLOS ONE titled "Production of methane and ethylene from plastic in the environment."

Recently, The tranfer price of the world best footballer (Ronaldo) was activated by a football club based in Italy, and in no time he celebrated his debut with a goal as a player of Juventus few days ago. The success and accomplishments of Christiano Ronaldo popularly called CR7 has made him a celebrated celebrity among his fans and others globally.
Kindly permit me to use personification to convey my ideas by saying "plastic is a celebrity and we are all its fans". What I want you to know in essence is that; I don't think there should be someone, somewhere on earth who doesn't make use of plastic or plastic materials on a daily basis.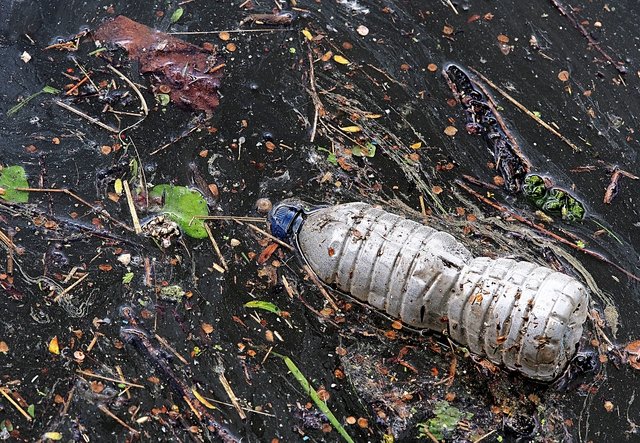 Image Source: CCO Creative Commons
If you think that am wrong, then you probably do not know that those nylon bags you carry everyday is made from plastic, neither do you know that you might be carrying a gadget made from plastic in your hand right now, because the parts of some phones, laptops, or even cars are made from plastic.

Plastic have been a very important part of our society since their production at a larger quantity started in the 1950s. The additives and molecular structure of plastics makes it capable of doing a lot of things in a competent manner, and it have various uses and can perform a lot of functions to make life much easier for humans.
Irrespective of the positive applications of plastic, they do not react chemically and are non-biodegradable relatively. As a result of this, they have been a problem to a greater extent in the treatment and disposal of solid waste management in urban areas. The uncontrollable use and disposal of these non-biodegradable materials have been known to negatively affect our environment and the diversity of the life of plants and animals in our society.

Most of the underdeveloped and developing countries do not have a proper and efficient engineered means of disposing the wastes gotten from these plastics. Due to this, some gases that are poisonous and dangerous to us and our environment are released by these plastic wastes. Most of these countries make use of unaccepted methods of disposal such as uncontrolled incineration, open dumping, composting in a nonscientific manner and landfilling in an unaccepted way.
The problems and dangers posed by this non-biodegradable plastics has made people develop interest in studying about the degradation of polymers which include and not limited to polystyrene and polyethylene.


---
---
Can we Discuss about the Recent Findings of Greenhouse Gases out of the Plos one article, Now?
Yeah, sure let's do that, but did I just say now? Yeah I did say that! Because, just as much as non-biodegradable plastics have been known for long to be a problem to humans, the composing or degrading of plastics have just been proved of recent by a team of scientists to be harmful and dangerous.

When plastic are degraded, they release some poisonous gases. It has been known since a longtime ago that these gases emitted are harmful to our environment, as they are dangerous to marine life and can contaminate the supply of foods and water.
Additionally, degrading plastic have recently been unexpectedly proved to release greenhouse gases in a study published not quite long ago in PLUS ONE. The commonly found plastics that was tested in this case were found to produce methane and ethylene when they were exposed to sunlight. This test was conducted in Hawali by a team of researchers. The plastics tested by the team of researchers are stated below:
Polycarbonates
Polycarbonates are a group of polymers softening when heated and hardening when cooled, in which their structure is made of groups of carbonates. The wide usage or applications of polycarbonates is due to their durability, toughness, low-scratch resistance, high transparency to visible lights, and their ability to become brittle and withstand large plastic deformation without breaking or cracking.
Due to the safety characteristics of polycarbonates, they are suitable for use in making products connected with telecommunications and electrical hardwares. They are also used in the production of construction materials (such as corrugated sheets, domelights etc.).

However, Before the test in Hawaii was conducted, thermal degradation of polycarbonates wastes have been known to lead to the formation of pollutants in the liquid, solid, and even the gaseous state. Polycarbonates wastes can be found in many dumping ground in our environment, and their readiness to evaporate is very low. As a result, they remain in the air of that environment.
Acrylic
Acrylic also known as poly(methyl methacrylate) is a transparent plastics that softens when heated and hardens when cooled. Its light weight and shatter-resistance properties makes it suitable as a replacement for glass in the production of sheet forms. In 1843, the first acrylic acid was brought into existence.
Acrylic materials are tough, strong and lighter in weight. The density, and the strength of impact of acrylic material is less than and greater than that of glass respectively. It Is the mostly used material for outdoor applications due to its condition of being stable in various environments. They are used as rear-lights for vehicles. Glass lenses, office chairs, deal toys, lighthouse lenses and roofs can be made with acrylic material.
Polypropylene
This is a thermoplastic polymer which is gotten from the addition of propylene monomers, and propylene was first polymerized in 1951. It is often used in labelling and packaging. As a result, after polyethylene, it is the second commodity plastic with the highest number of production globally.
Polypropylene is flexible, tough, and it is the least dense of all forms of commodity plastics. It is highly resistance to fatigue and its thermal expansion is quite large. When polypropylene are exposed to a temperature greater than the boiling point of water (I.e 100°C), they are bound to undergo chain degradation.
Most systems of piping and plastic living hinges are produced from polypropylene material. Due to their ability to withstand heat, they are suitable for the production of laboratory and medical items, kettles, food containers, clear bags, packaging materials. When colors are applied to propylene material, they can be used for the production of carpets, rugs and mats. They are also used for ropes and clothing purposes.
Polyethylene terephthalate
This is often abbreviated as PET. PET is the most common and widely used thermoplastic polymer resin and they are from the polyester family. Most of the plastic bottles used for soft drinks are products of PET. PET materials are also used for thermal insulation and nonrigid packaging for foods due to its permeability, opague and reflective ability.
PET in its natural state is very light in weight, colourless, rigid or semi-rigid, strong and resistant to impact. It has the ability to absorb water from the surrounding. The degradation of PET leads to discoloration, production of acetaldehyde, formation of gel and reduction in molecular weight.
Polystyrene
Polystyrene is a synthetic aliphatic polymer consisting of only hydrogen and carbon atoms, which can either be foamed or hard. in 1839, Polystyrene was brought into limelight by Eduard Simon. They are transparent in colour, hard and are liable to break or snap easily under stress or pressure. The biodegradation of polystyrene is a very slow process.
The waste of polystyrene are widely discarded in the environment, especially along waterways, a land adjoining a non-flowing body of water and also in the Pacific Ocean. Carbon dioxide and water vapor is produced when polystyrene is consumed with fire. Polystyrene are used for the production of smoke detector housings, test tubes, disposable plastic cutlery and microplates. Polystyrene are known for their high flammability.
High-density polyethylene (HDPE)
This is a form of polyethylene plastic which soften when heated and harden when cooled, and it is gotten from petroleum.The identification code of its resin is 2. HDPE can be reused. It can be used for the production of pipes, plastic bottles, geomembranes and plastic lumber. The ratio of strength to density of high-density polyethylene is of relatively great size.
When HDPE is compared to Low density polyethylene, HDPE is harder and has a higher strength than LDPE. It can withstand a higher temperature ( of about 120°C), when compared to LDPE. It is also applied in the production of bottle caps, banners, folding chairs and tables, electrical and plumbing boxes, plastic bags, boats and so on.
Low-density Polyethylene
LDPE is a thermoplastic which is created from a relatively small molecule of ethylene which can be covalently bonded to other monomers. It was produced in 1933 as the first grade of polyethylene. The identification code of its resin is 4. LDPE can only react at a temperature of 25°C when it is aided by an oxidizing agent. It is tough and capable of being flexed or bent without breaking. It has a lower density when compared to HDPE.
LDPE is used in the production of wash bottles, plastic bags for the parts of computers, general purpose containers and dispensing bottles. It is also used in making plastic wraps, snap-on lids, trays and packaging for hardwares of computers such as screen cards, hard disk drives etc.
---

Moreover, The team discovered that the virgin pellets of Low-density polyethylene (LDPE) emits methane and ethylene at a higher rate when the experiment was conducted for 212 days. They also revealed that greenhouse gases are produced when scattered remains of destroyed LDPE that are found in water that belongs to an ocean are subjected to sunlight.

Small particles of plastics ( which is usually less than about 5mm), which are found in our environment especially in the Marine environment have been revealed to be able to quicken the production of gas.
There's a change in climate when greenhouse gases are produced, and the major effects which in turn bring about a rise in the level of drought, erosion and flooding, includes but not limited to the followings:
It affects the nominal height of the ocean's up-side which serve as a reference for the measurement of features pertaining to geography and levels of aircraft flight.

It has an influence on the distured state of the atmosphere.

It affects the temperatures of all parts of the world.

The state of well-being of the ecological community and its environment on land and in the oceans are also affected.



---

---

Conclusion

---
In conclusion, Royer said in his statement that; there's need for us to put a stop to the production of plastics at the source, most particularly the production of single use plastic when we take into consideration the large number of plastics that are brought onto the shore by a moving disturbance in the boundary, shape and outline of our coast.
Royer is looking forward to keeping the production of greenhouse gases within close bounds in the light of his current research on the estimation of the amount of plastic that are present in the environment in regions that are composed of land and relating to oceans.
Thank You All
---
---
REFERENCES
---
It's quite interesting to be a bonafide member of the steemstem community. If you write STEM (Science, Technology, Engineering and Mathematics) related topics, kindly join on on our discord channel here.