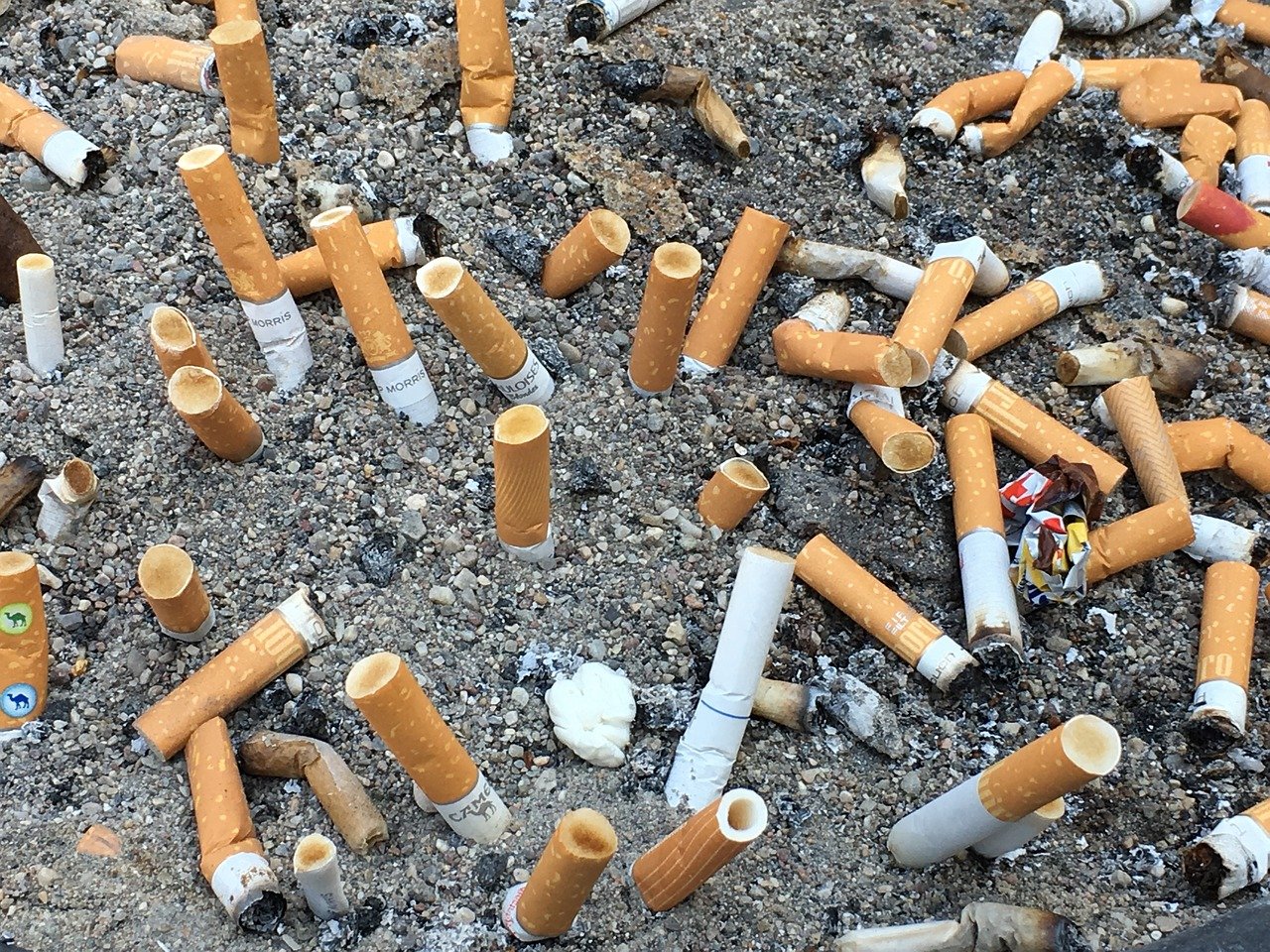 Picture source : Pixabay (License: Public Domain)
In my previous article , which can be found here, i carefully discussed the content of Tobacco plant and effect on the human body.
In continuation, there is need to give up smoking, considering its bad effect on our health. Since most cancer and lungs health cases we have today is caused by smoking.
Smoking is a direct cause of much cancer, because tobacco smoke contains carcinogens, and these can set off cancer wherever in the body the smoke reaches. As a result, cigarette smokers are 70 times more likely to have lung cancer than non-smokers. Smokers in general are also likely to suffer from cancer of the mouth and pharynx (4 times more than non smokers), larynx (5 times more) esophagus (2 times more), stomach (1 1/2 times more) and bladder (1 1/2 to 3 times more).
Cancer of the mouth, pharynx, and larynx are the main forms of pipe and cigar smokers.
Smoking greatly reduces the efficiency of the lungs, especially in those who inhale.
In a normal lung, glands in the interior lining are constantly producing mucus. This captures dirt and bacteria, and the mucus and its contents are then forced out of the lungs by the action of cilia. These are small hair-like projections that are constantly moving, pushing the mucus up into the throat, where it is swallowed.
Inhaled smoke hinders the action of the cilia, whilst stimulating mucus production. As a result, mucus tar, dirt, and bacteria collect in the lungs in festering pools, encouraging tissue degeneration and hindering gas exchange. Inhaled in tobacco also tends to irritate the air passages, and to reduce air flow in the bronchi and bronchioles by making them contract.
The constant cough that attends regular smoking is an attempt by the lungs to rid themselves of the tar and phlegm. Healthy lungs do not collect such phlegm, and only need the normal action of the cilia.
Some smokers today, didn't get into smoking deliberately, they were lured into smoking by either friends or relatives. They have tried everything within their powers to quit smoking, but yet they find themselves still smoking.
Risk to smokers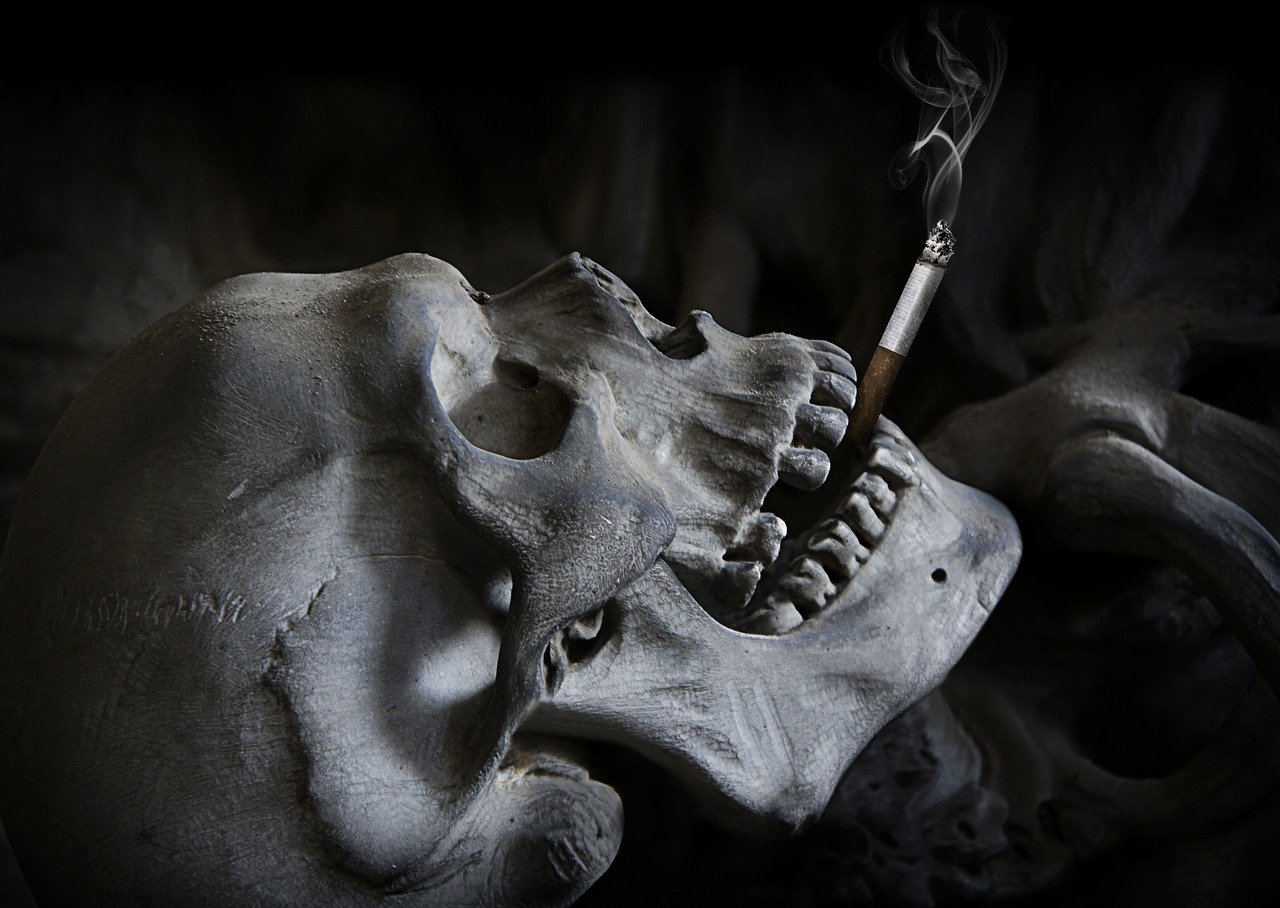 Picture Source: Pixabay (License: Public Domain)
Not only do smokers have a higher death rate than non-smokers, but the death rate is generally higher the more cigarettes smoked.
A pregnant woman that smokes may retard the growth of the fetus. They are also susceptible to miscarriages, still births, and the death of the child soon after birth.
Those who smoke are five times more likely to suffer from gastric ulcers, and twice as likely to suffer from duodenal ulcers. This may be partly due to personality differences between non-smokers and smokers, but it has also been shown that non-smokers and smokers, but it has been shown that smoking hinders the healing of these ulcers.
Smoking also reduces the appetite( which often results in weight gain on stopping), stains the teeth and fingers, increases the chances of periodontal disease, and the senses of taste and smell.
Giving up smoking
Thousands of Tobacco smokers have tried to stop smoking but the urge to always take a stick and smoke never cease. It is easy to start smoking but difficult to quit. This is why a lot of smokers who had attempted to quit but couldn't, had to continue. Though it takes a bold decision and the grace of God to quit.
If you really want to give up smoking, you can. Just stop!
But if you don't believe in yourself enough, then do make the change from cigarettes to pipe or cigars and stop inhaling. If even it is impossible, at least be sure to smoke fewer cigarettes, inhale less, take fewer puffs on each cigarette (and not longer ones), leave a longer stub at the end, avoid leaving a lit cigarette in your mouth, and change to a brand with a low concentration of tar and nicotine. Also buy and use a detachable filter.
Giving up is an act of self-determination, not self-denial. The benefits to your health and your finances far outweigh the possible discomfort of a week or two.
Ways and Effects of Giving up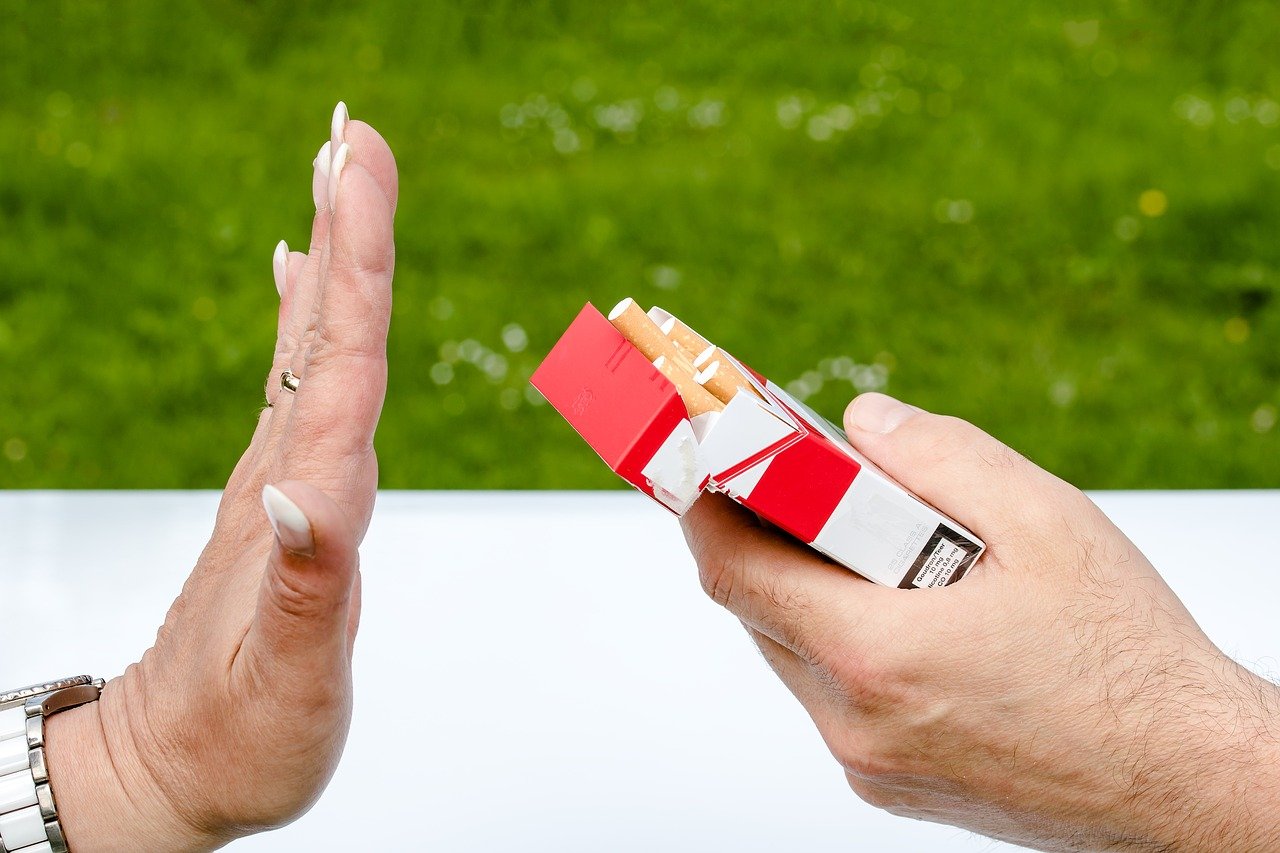 Picture Source: Pixabay (License: Public Domain)
There are three major ways and of course several more ways of giving up smoking.
Group sessions is one of the ways. In this case, the new ex-smoker gives and receives support in his attempt to stop. Some groups are organized on a voluntary basis. Others are operated by medical and health organizations. A doctor, library or local information service can advice you on these.
Individual medical care, in which the ex-smoker receives the personal attention and help of a physician.
An individual act of will and self-assertion. Probably the best way to give up smoking is to stop suddenly, either on a pre-arranged day or on the spur of the moment. Which of these three methods would be best for you depends on your personality and on whether you smoke for support in moments of stress, out of habit, for physical gratification to promote relaxation or because you are truly addicted.
Within ten years of giving up the life expectancy of an ex-smoker (up to 19 cigarettes a day) is the same as that of a non-smoker. But the beneficial effects can be seen within two weeks: no more cough , better taste and smell, increased vitality, and more money to spare.
At first these are often overshadowed by the initial effects of withdrawal, ranging from slight discomfort (common) to fits of anxiety, depression and physical upset (uncommon) . But however intense the symptoms, they are always temporary, and the more intense they are the greater the sense of self-esteem when they are over.
Many people turn to food for the satisfaction they previously gained from cigarettes. Tjis and the increase in appetite, often results in an initial weight increase. This is usually only temporary and can be accepted as such.
Physical and Psychological Aids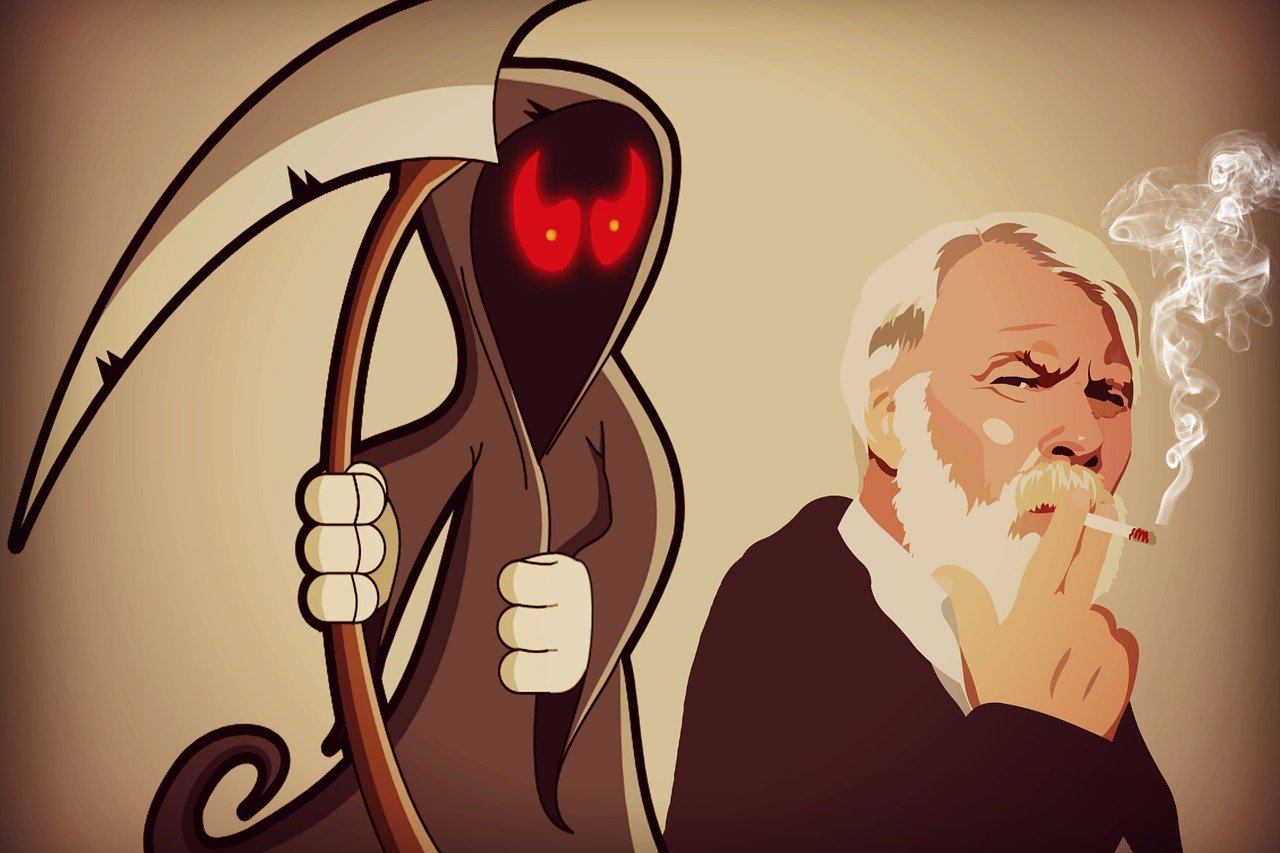 Picture Source: Pixabay (License: Public Domain)
There are various pills and medicines on the market that are supposed to cut down the need to smoke, or to make smoking actually unpleasant. You may find that one of these helps you - but almost all of them are unproved, and unrecognized by doctors. There are also dummy cigarettes available, which satisfy at least the need to hold something in the mouth.
Some people change to herbal cigarettes. These contain no nicotine but they do produce tar. They can be useful for treating a physical addiction, but they are not a safe way of smoking.
Fix a future date on which to stop. (Then either cut down gradually before this date, or smokeas many as usual till then).
Change from your favorite brand of cigarettes to one you don't like. Ask yourself if you really want the cigarette you are about to light. Delay smoking each cigarette until fifteen minutes after the initial urge.
Remind yourself continually of the harmful effects of smoking. Become conscious of each cigarette you smoke, how much you want it and how satisfying it is actually. Realize, with each pleasurable sensation, the harm is actually doing to your body. Become conscious of this each time you inhale.
Avoid for a while friends while who smoke, and put yourself in "no smoking" areas.
Change habits and activities associated with smoking. Clear the surroundings of ashtrays and other smoking paraphernalia.
Eat fruit or sweets, or chew gum, to suppress the desire for a cigarette. Take exercise. It will show how unfit smoking has made you and how rapidly you can correct this now you have stopped. Find new interests.
Conclusion
The question whether to smoke or not is up to you. Remember the damage you are doing to yourself. However well you feel, you could feel much better without cigarettes.
Thank You!
Reference
[1] Facts about giving up smoking
[2] Five ways to quit smoking
[3] What happens after you quit smoking?
[4] An Overview of Quitting Smoking
[5] Stop Smoking Recovery Timetable
[6] Cravings And Withdrawals
[7] How to Quit Smoking or Smokeless Tobacco
Do you write STEM (Science, Technology, Engineering, and Mathematics) related posts? Then you should consider joining the #steemSTEM community on discord here. If you are a Nigerian, you should include the #stemng tag in your post.
You can visit @stemng for more information.