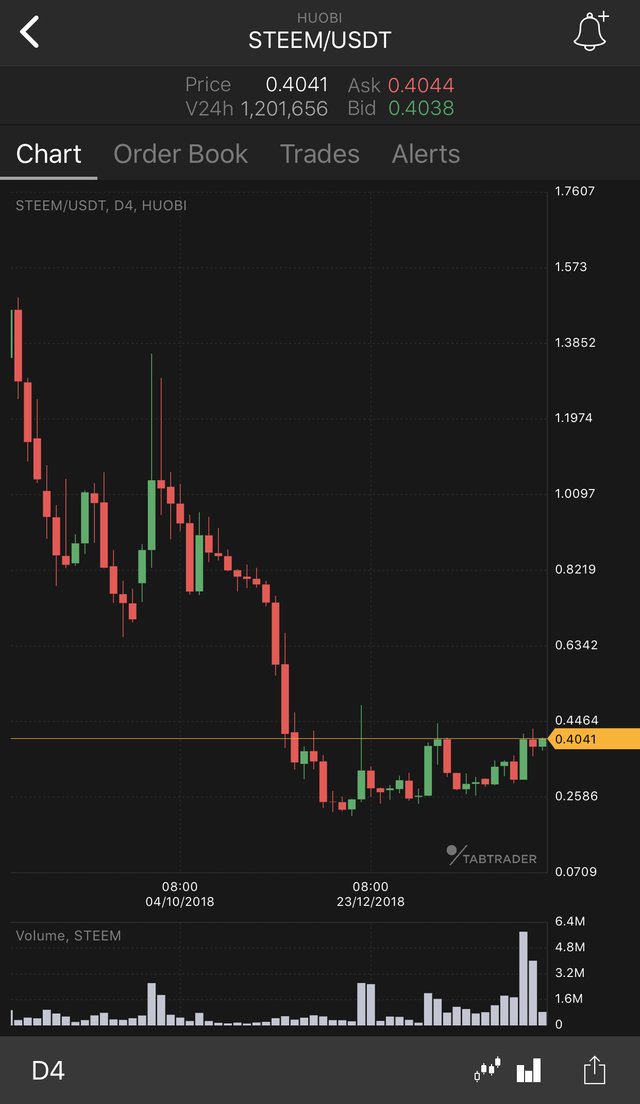 Time frame : 4 days chart
Market shown major steem movement since last year. The main trend is still downtrend .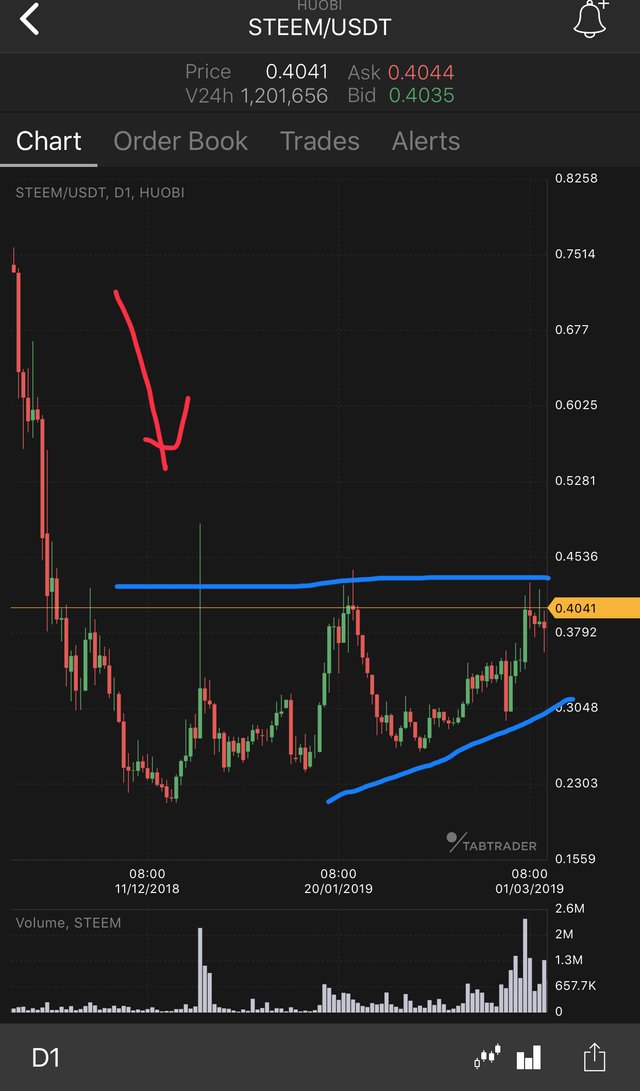 Time frame : 1 day chart
Since january , we can see minor bullish and the bulish trend may been cause by introduction of @wherein dapps in China which i have explain it in my previous post :
https://steemit.com/steemxp/@tommyl33/steem-in-china-new-beginning
After sudden bullish in previous market , there come massive selling from whale player and the market start to going down again . But , this is always happening in any market out there . The logic , after rumor or selling and buying at certain market price , the market price will follow the real trend .
The good thing in this chart , steem seem forming bullish flag (blue marking) . The resistance seem form at 0.41 cent , and the market price havent break that resistance value . While the chart consistently show bullish flag or triangle and cap by the bullish resistance.
Let zoom in in recent steem progress .
I hope you ll understand what im trying to write here ,
If you can see the blue line above is resistance price , here the market need a huge momentum to cross these resistance if it want to make bullish trend , but do remember not every price cross that line will become bullish momentum because we also another bearish momentum that we call fakey , where there was huge pending order to sell at certain price that can change the price going down .
Please put in mind that you have to be carefull on your trading , my explaination is not necessary true because it just how i see the market . Trade on your own risk
The we can see blue line below which is building bullish flag where the price playing in this two blue line until the market decide where it go.
Those red line show minor resistance , you can see sudden drop or bear i those market and it going bullish in next day because the whale player pun huge pending order there that make those correction .
The yellow line is a trend movement , you can see i circle 5 candle 2 small bull doji and huge bull . This perfect combination of marker movement and you can see huge volume being trade that time . this few day , we show small in range market and we waiting those market make new high or new low.
I have big believe that steem will goes up , not because of the market but their vission in market.
I hope you have some idea what happening in the market now .
STEEM ON
@tommyl33 is thinking for next move