Borneo Blockchain Summit, it is a successful one!!!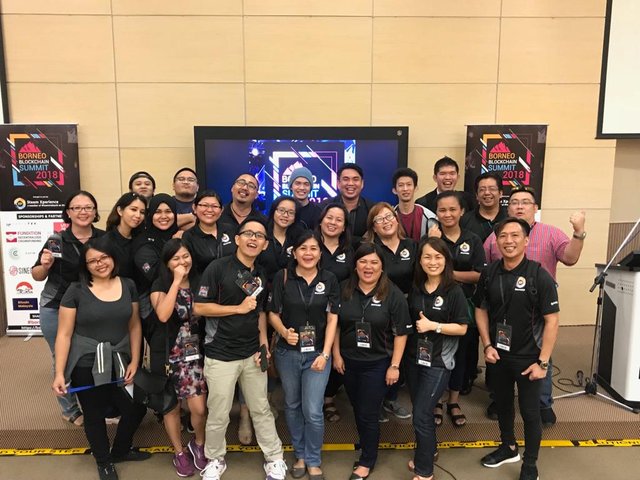 Today finally I need to face reality to work for living. Yes, I still in the mood of holiday, but reality is there, so yeah, I am here in my workplace.
Last week I really have a great time with all bunch of Steemians that are same minded to made our first event successful. Without each and everyone in their first place, I believe we will not success to pull this happened.
Talking back to the early stage, actually this already been planned for so long and I believe our steem ambassador @danieldoughthy,@veenang and our steem witness @bitrocker2020 are putting a lot of effort in it. Due to some circumstances, the earlier plan cannot been success and they are changing to another plan. So at last the plan are doing Borneo Blockchain Summit.
So on the first stage, each and everyone of us are doing funding post to fund for all the event fees. while our founder and steem witness are putting a lot of hardwork to get sponsors and partners for the event. So each one of us are doing our own things to help out and make all the job done. For my side, you can read my funding post here, here, here, here, here, here,here.
Next, we are having our first meeting and that time we are ready and know what work that we should do and what will we need to handle and aware when the event is running. We have a great team that doing every part and making sure all the things are done on place.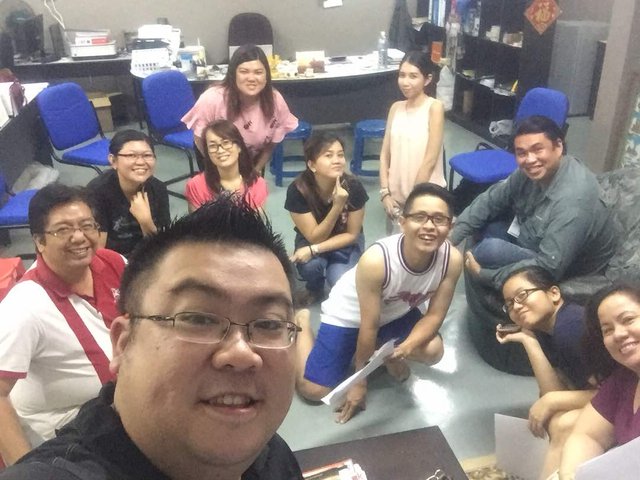 our first meeting, photo by @veenang
After the meeting, we are almost ready for the things and waiting the event day to come.
---
On 7th of September, I been appointed to be driver to pick up all speakers that coming. So on the day I am picking up @buzz.lightyear. After picking up Mr Buzz, we are heading to UMS for the event dry run and also briefing. As expected, some technical things happened and at last we manage to pull the thing done. Thanks to @nickychu that sponsoring the microphone equipment and make the event more successful. After done the event dry run, I rushed to pick up @quantumwarrior and the team. After pickup them and sending them to hotel, we are move to another agenda which is the networking session at The Box Lintas. It is a very good session as we can have a chit chat and meetup with all the speakers and volunteer. Due to delay of Chan Wei Chi flight, after the networking session, me and @lizachong heading to airport to wait for last speakers to arrive. So its mark the end of day 1 of my job.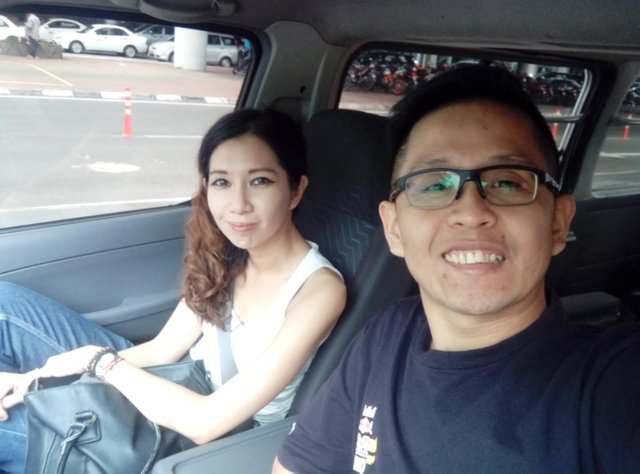 me and @lizachong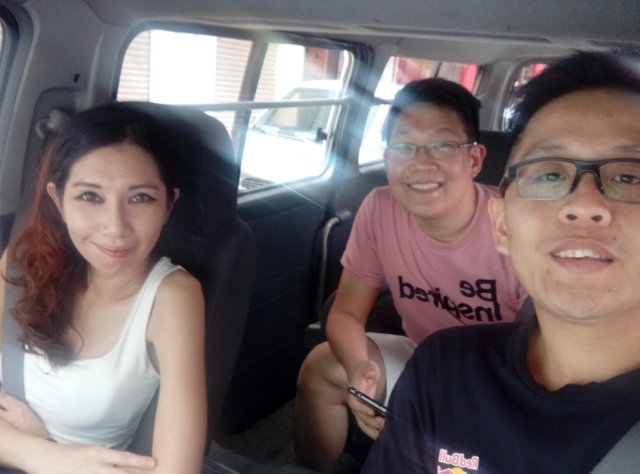 @buzz.lightyear in the house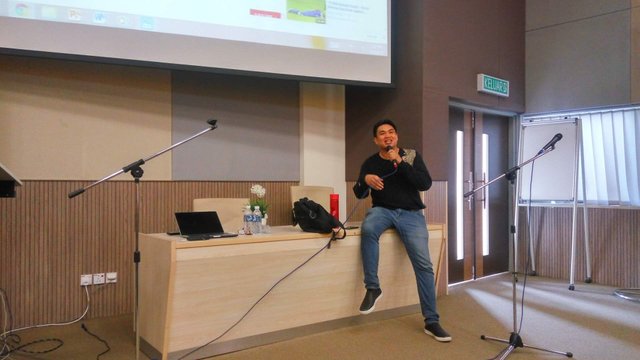 @danieldoughty doing briefing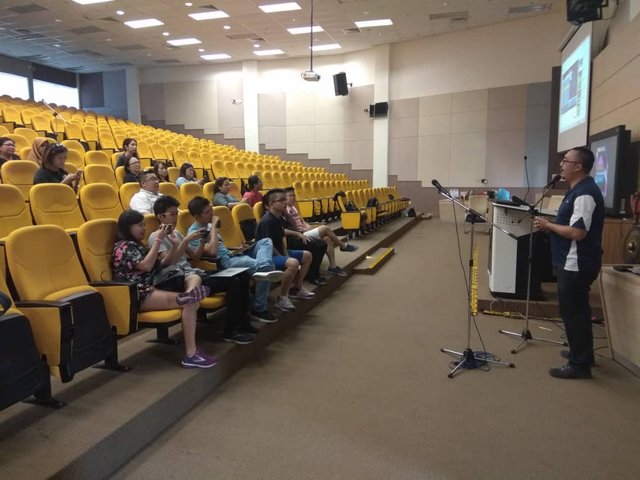 @bitrocker2020 in action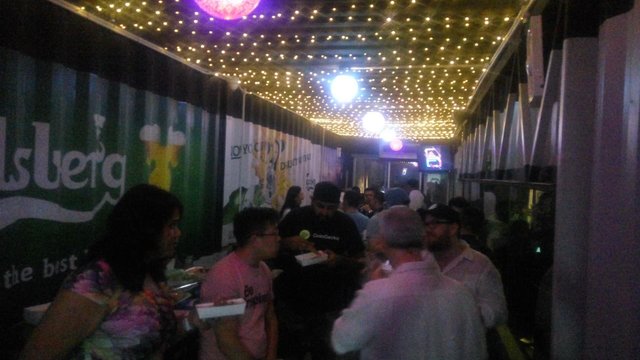 great networking session
---
On the event day, I almost missed out the alarm, luckily me and @lizachong still wake up on time and on the way to pick up all speakers. After that we are ready to go and heading to UMS for the real event. When we arrive, a lot of people are already waiting there and having their tea and coffee. At here really thankful to all usherer and registration team that put a lot of hardwork. They even need to carry a lot of heavy things to help out. Really thankful for all the girls power. Bravo..
So the event started with the arrival of our YB Jennifer Lasimbang. I am happy to know that our government are really supporting our initiative and project. She also very happy to see such initiative are going around and hoping we can continuously do this for the community and also people so that we can use blockchain to bring up all things for our daily life.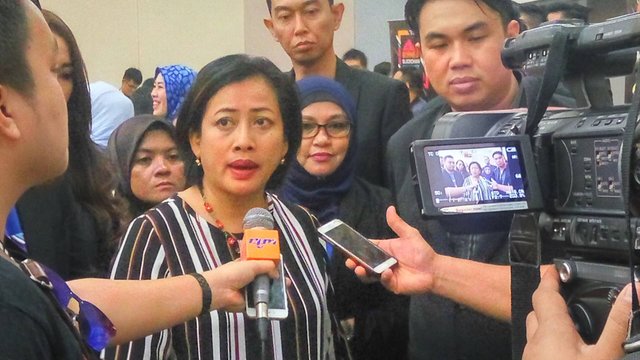 YB Jennifer Lasimbang been interview by national news channel
Before YB Jennifer Lasimbang giving speech, we are happy to have our @steemxp founder which is @danieldoughty giving his great speech. We are very happy to see finally all the things is up and he really put a lot effort in it. All credit to him as without his idea, I believe all these will never happened.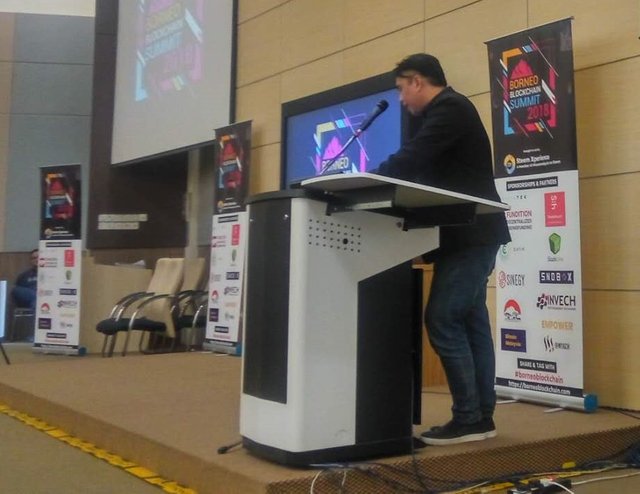 @danieldoughty in action
After that we are kickstart with the first speakers which is @buzz.lightyear. He is doing a great job to introducing what is blockchain in the most easiest term and give a really good concept to our audiences. They are very happy to know what is blockchain is and finally understand what it is all about. Good Job Brother.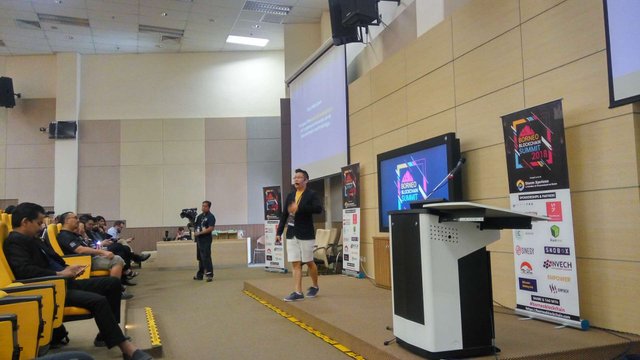 @buzz.lightyear in action
Next we are having Harpreet Singh Maan to talking about what is blockchain can and cannot be used for. He is doing it perfect and explained it well. Only that terms that he used for talk a little bit technical, so for some audiences maybe hard to understand.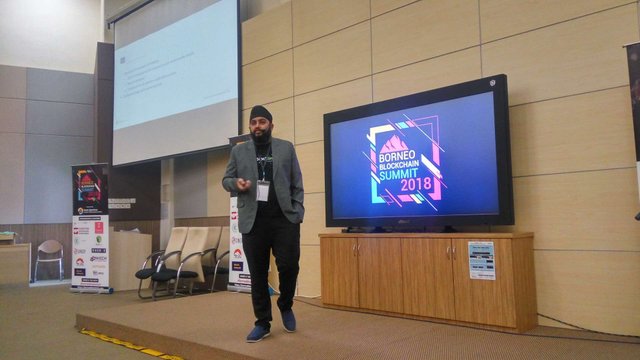 Mr Harpreet in action
Next we are having Mr Simon Pang a.k.a @bitrocker2020. As usual, he is talking about steemit and other platform that can earn cryptocurrency. I am always not bored when listen to his speaks and this time he bring it to another level. Trust me, when he is talking about steemit, it is surely will have people willing to join this rewarding platform. Yes it is, after his talk, I been approached by few audiences that wanted to know more about what is Steemit and teach them how to sign up. It is really happy to see more and more people are started to interested and jump into this platform.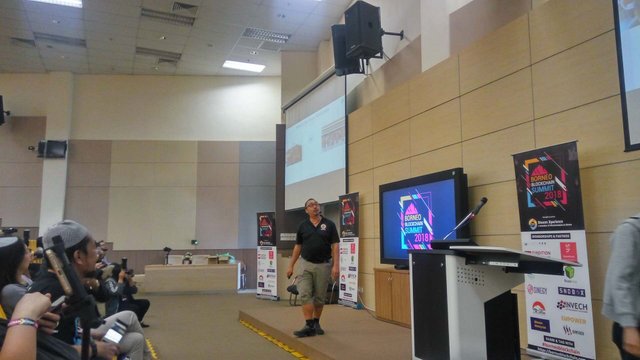 @bitrocker2020 in action
Next we are having Anthony Davie a.k.a @quantumwarrior from Invech to introduce their project in Timor Leste which is setting up blockchain technology for the country. It is really a good talk and I am enjoying his talk and he put some twist with some humor too. I believe this is one of the fun talk that I joined so far.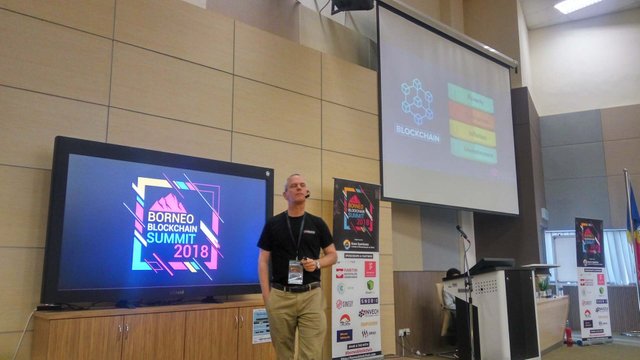 @quantumwarrior in action
Next we having one and only woman speakers and she is non other than Ms Pandu. She is sharing about the tokenomics and her experience when involving in this blockchain industry. Her experience is really inspiring and also lets us undestand what is all about and what is the future of tokenomics.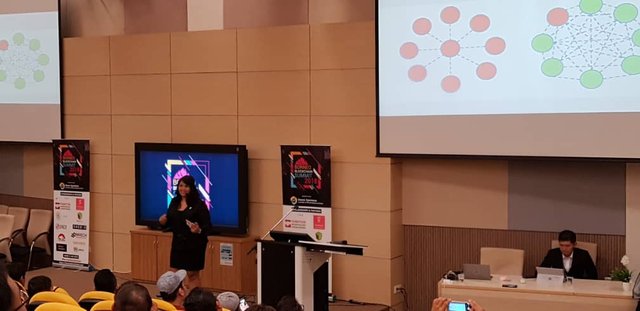 Ms Pandu giving her talks
After that we have our well experience speakers in trading which is CEO of Fortifex Mr Luke Jones giving his talks. He is very well experienced and giving us a lot of tips so that we are not been scammed by others. I am lucky to listen to his talk and get more tips from him.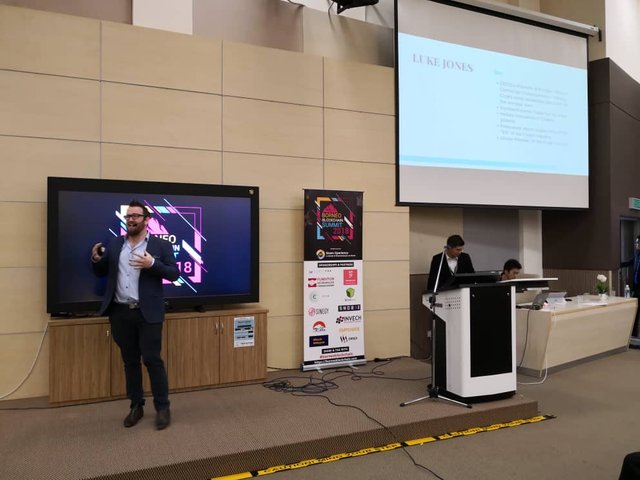 Mr Luke Jones giving some useful tips
Next we are having Chan Wei Chi which is from Sinegy to sharing some tips how to do investment through Ico and also some tips how to validate before investing. His knowledge is really great and I do really some tips from his talks. Now I am a bit understand the steps for the ICO. I believe if you are ready for your own ICO, he is the best person to talk to.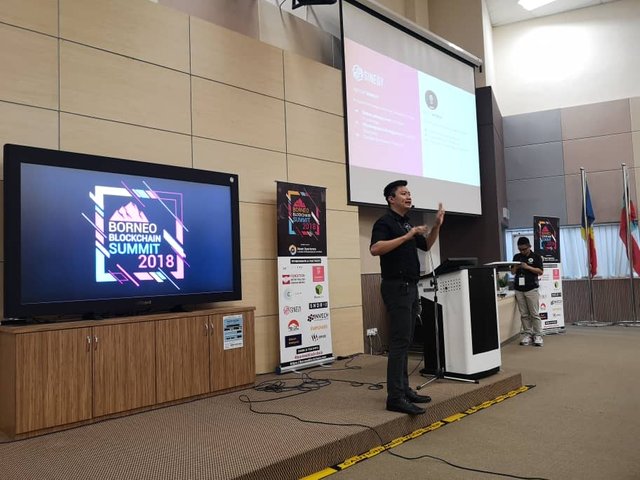 Mr Chan giving some tips to audience
Thats the wrap of the full day event that full of information and tips. This is the best day that I have with each and everyone. Really need to thanks again to each and everyone that made this event successful one. They are @bitrocker2020,@danieldoughty,@veenang,@gelfire,@viverridae,@lizachong,@zamifara,@nickychu,@aaronleang,@joannewong,@v1tko,@darryljonesjr,@angeljames,@alvinauh,@beveryjoe,@verasj,@celo769,@arwine,@audreyclaire,@kilathecla,@nytrie,@melindajamulis,@awesomianist and others. Thank you for putting effort to make all the logistics are smooth. This is the best team and family that I known from this community. Who knows we can go this far together when we joined Steemit. Now we are proving, community that we are created in steemit are really the best community and the community that willing to help each and everyone to bring steemit to the mass and let each everyone can sustain with steemit.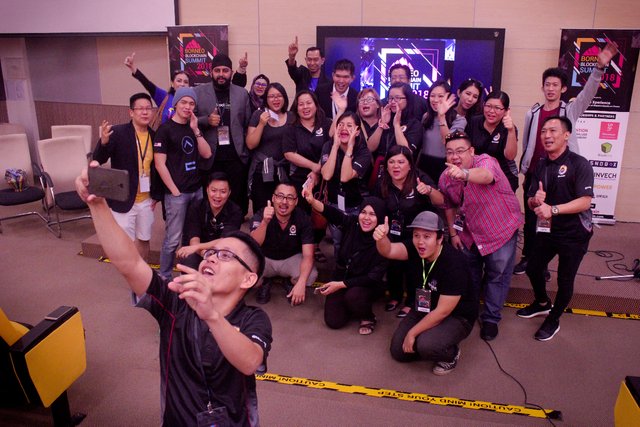 photo by @darryljonesjr and @angeljames
That night we also having dinner at a local restaurant called Dplace. This place served local foods to everyone and can let everyone taste the real foods that we have in daily life. All are very happy and liked the food that served. Me myself also love the food there and it is bring me a lot of memories.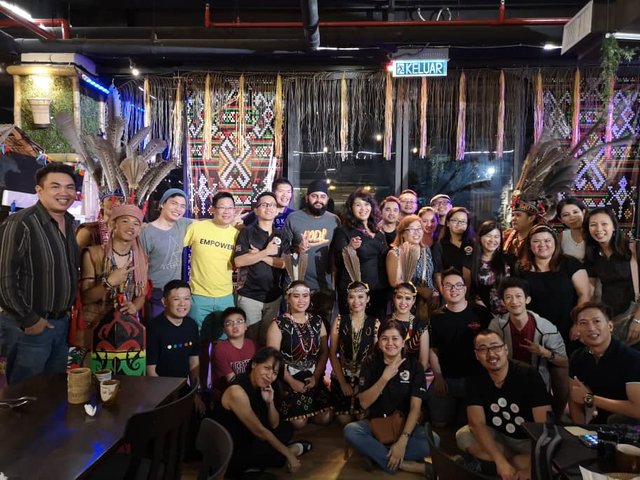 big group photo
---
Last day is the retreat to everybody, which is the most fun part, Island day... Too bad not everyone are going to island and only few of us. But it still the great time with the bunch of fun people. I am really happy to be with @quantumwarrior, @bitrocker2020, @danieldoughty,@veenang, @gelfire,@viverridae,@ireenchew,@lizachong,@nickychu,@aaronleang,@joannewong,@buzz.lightyear and few of speakers joined this trip.
I am also happy to finally met one of the @steemitbloggers family which is @ireenchew.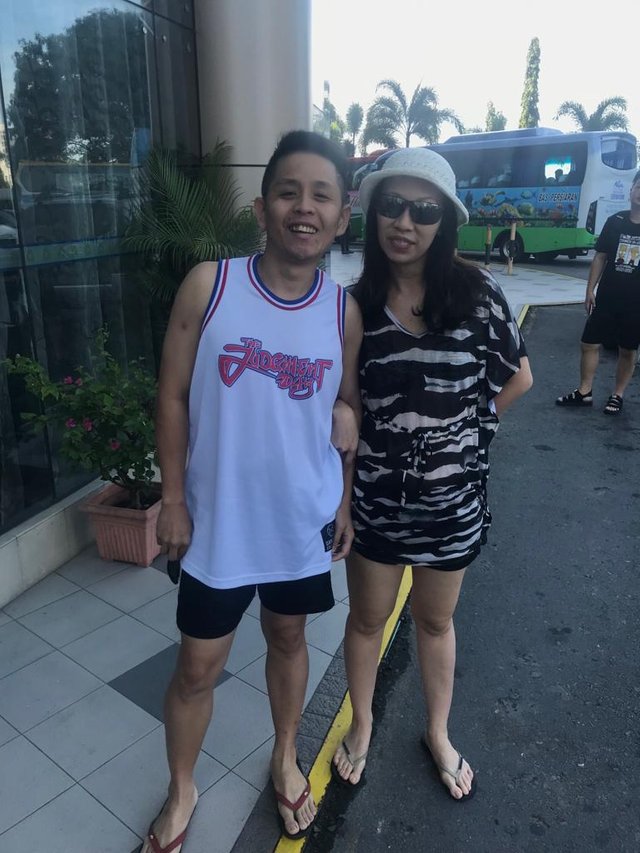 finally met @steemitbloggers family @ireenchew
Once we arrived, @veenang are giving some briefing before we are going down to the water. Then after that me and @lizachong are going around to see the scenary. It is really breathtaking and the view really nice. Such a long time I never taste this relax moment.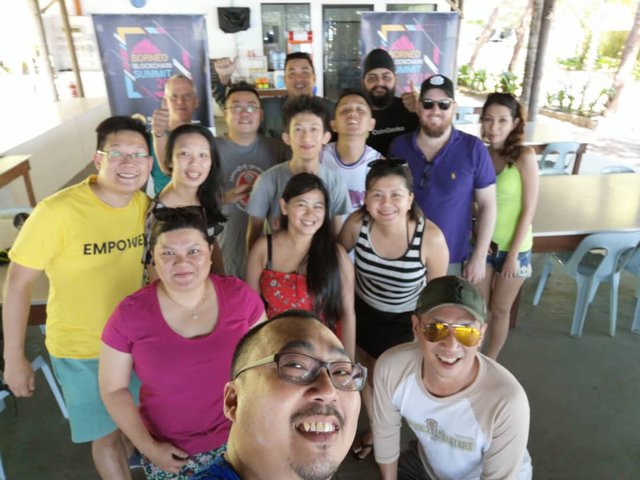 happy family, photo by @bitrocker2020 before we separate for individual activity
When i saw paddle board, i am directly get it and go to water. But due to it is soft paddle board, so it not able to stand, only can be seated. It is a fun time when i am on water. Seems i really love ocean.
Next, me and @lizachong using transparent kayak to go around and it is really fun. After that we change to real kayak and going around.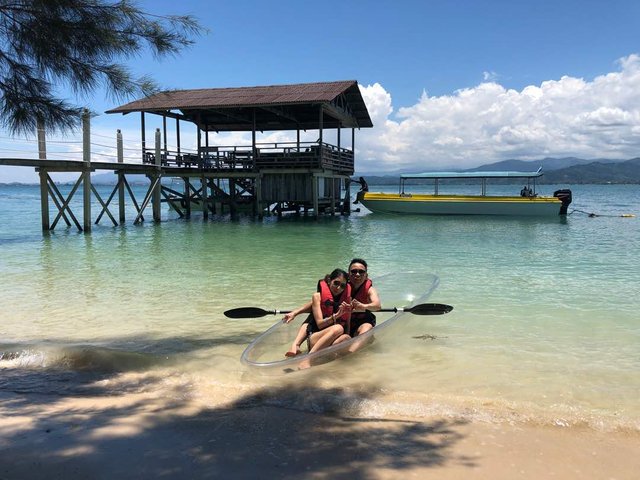 photo by @nickychu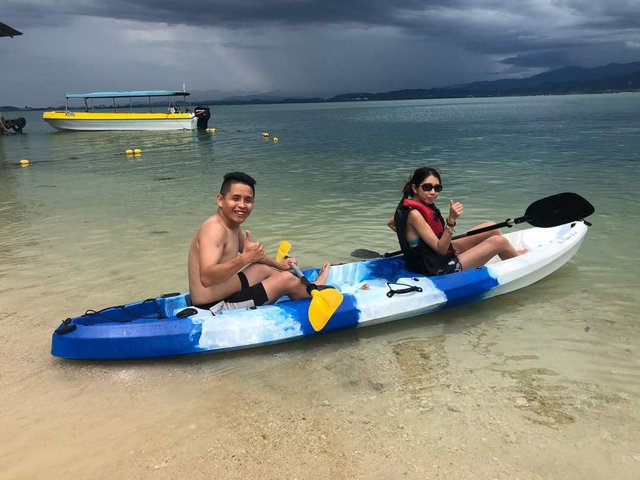 photo by @nickychu
I am also surprised with the lunch that provided by the owner. I believe this place i will come again to stay longer here for relaxing.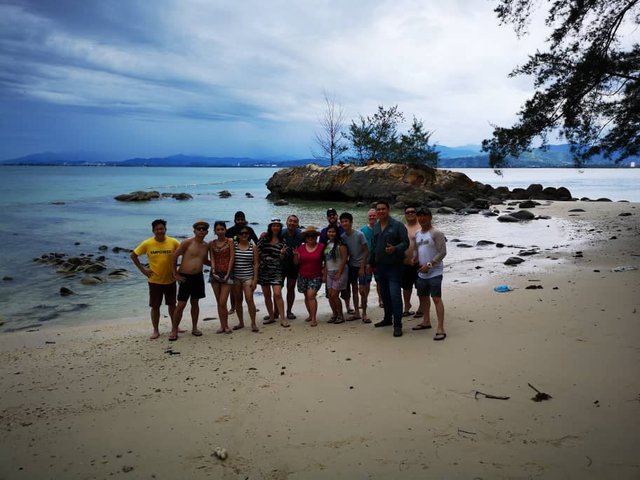 My steemit family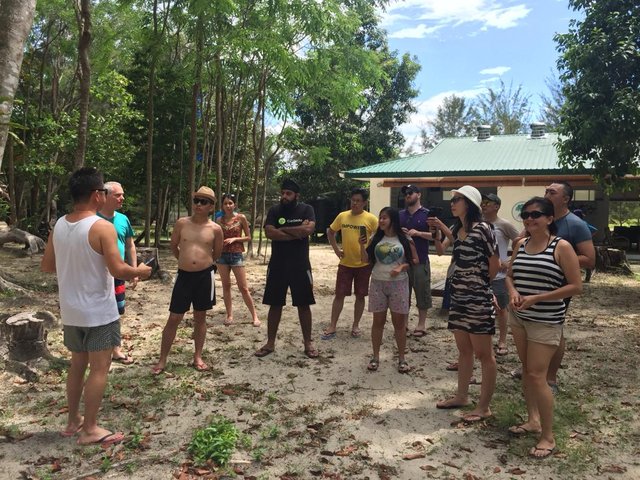 owner briefing us about the island
Due the water tide is very low, we force to heading back to jetty early. Because if we are late, we will stuck on the sand bar.
---
With this, thats wrap the 2 days 1 night event. I am really happy to be this team and hopefully soon we can do more event to bring more people into steemit and earn from this platform.
At here I am also need to thank again to all the offline and online sponsors that make all these happened.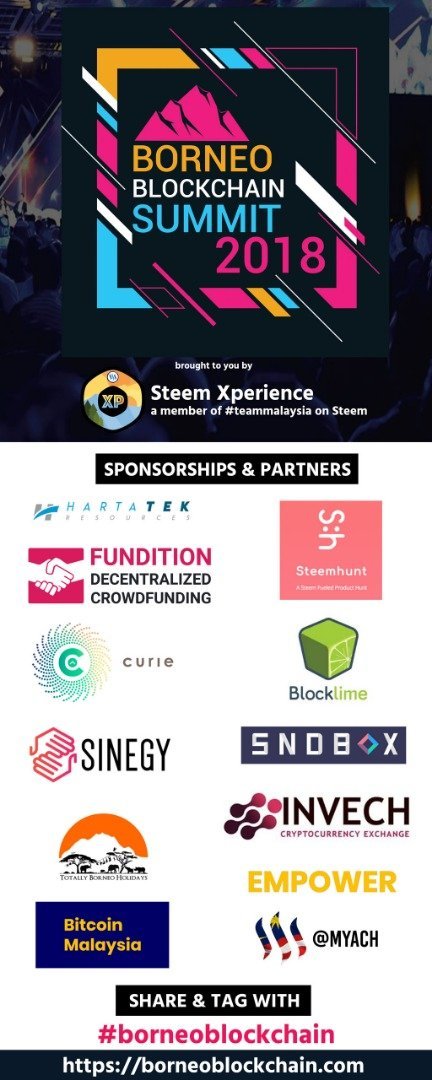 They are:
Without each and everyone, this will not happened. So I still need to thankful for all of these. Also thankful for all the volunteers that make it nicely done.
Cheers and see you all next year.

Who am I:
bboyady or called me ady
hip hop enthusiast
@steemxp Kota Kinabalu City Manager
love to break dance(bboy)
photography and videography
scuba diving
hoping can be traveller soon
location: Malaysia Borneo (Sabah)
I blog about dance, hip hop music, movie and others steemit related post
#teammalaysia, #qurator, #steemitbloggers member.


Join me in steemit to get paid when you share your content with us.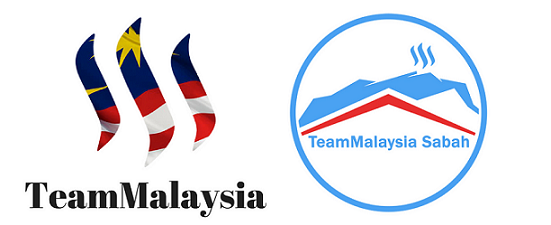 credit to @cklai for the #teammalaysia sabah region banner


Join @qurator to get daily upvotes


hip hop enthusiast? Join us at @hhtb to connect with other hip hop enthusiast


lets join wowapp to do charity with just play games, chatting, and make call.


visit The Man Cave Project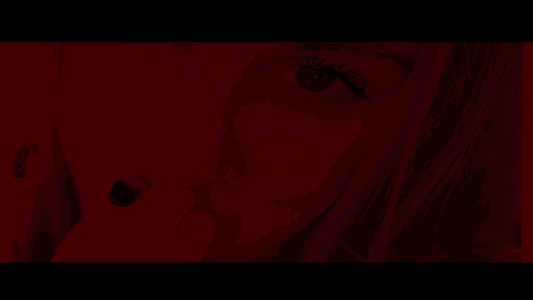 Join us @steemitbloggers
Animation By @zord189