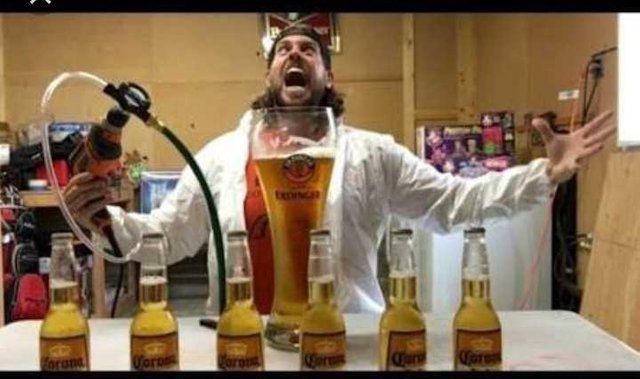 recent photo of me in the lab
I really have no recollection of how I got here. The last thing I remember were those two Ignor Dorkels offering me something to drink, I'm sure one of them slipped something into my drink. With my eyes barely open and this banging headache, I realised I was strapped tightly to what seemed like the floor. The familiar smell of marijuana and cheap gin engulfed the place as I struggled to get a grip on what' was going on.
"What's going on here? Who are you? Hell, who am I? What language am I speaking?" I blurted out these questions in fear as a strange looking purple being stood over me. "It's awake" the being said to the other "person" present.
The platform began to move slowly until I was upright and could at least get a look at my surrounding and hopefully get something to drink. "We heard you signed up to be a crew member for the Intangible Perfector class War Vessel, Serial Number BYOB-9021-O" the purple thing said. "I don't know" I quickly interjected, "I don't know anything, just fucking let me go, my nose itches and I have to pee" I continued. "Think you're tough aye?" It said with a weird Australian bad guy accent as it cracked open a can of Guinness stout and waved it slowly around my face. "We know your weakness" it said, as it slowly poured the beer on the floor which led to unexplainable fits of rage, pain, agony and disgust all at the same time as tears streamed down my face as I screamed. "We know you're the engineer that invented Intravenous beer contraption and you intend to work against the empire with your genius don't you?" He said as he opened another can of beer. "Don't do it" I replied with the last ounce of strength in me, sadly my plea fell on deaf ears and this cruel being slowly poured the second can of beer. Wincing and screaming in pain at this sight, my brain hit threshold level of pain and right about the time I was going to pass out, I heard ta loud explosion and faintly saw a dumb looking robot accompanied by two other goofy looking beings storming in with blasters going off. "I'll redesign that abomination to a Vodka dispenser" I said to myself as I blacked out.
STEEM Wars is a concept created by @gmuxx and you can learn about it from those links below
https://steemit.com/steemwars/@gmuxx/steem-wars-a-parody-too-far
https://steemit.com/steemwars/@gmuxx/steem-wars-crews-assemble-start-date-announced