SteemUSA - Monday Photography Challenge - My Entry - - - Migrating to the Future
10-8-18
A Time to Die
          Every year, from out of the seas the salmon come to spawn, returning to the waters of their birth to lay the eggs, and to fertilize the eggs of the future salmon. Many see this as a peaceful journey on the part of the fish, it is anything but. They must fight their way through rain swollen rivers, shallow creeks with barely enough water to squirm their way to the next pool to rest. Fight through the hordes of fishermen their lines and hooks and nets, jump falls that are ten times their height and hope a bear does not snag them out of the thin air. A fight all the way up to their home waters, knowing that if they survive the fight, they survive it only to spawn and then die. Still they struggle to ensure the future survival of their species. Can we as humans do no less?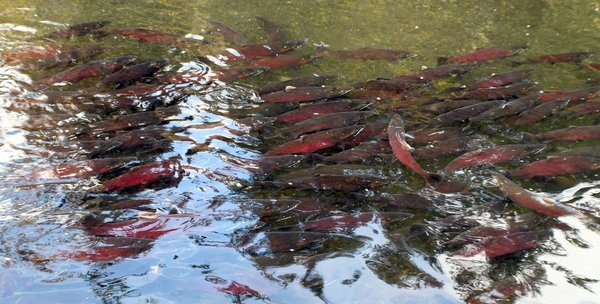 Source: My Nikon D7500, f/5 1/100 sec. ISO-400 10-5-18
          The photo was taken on 10-5-18, last Friday. It was overcast at home so we went for a mountain cruise for some of the last gasp of fall color. Tern Lake campground was in our plans, and we were glad we did stop. We were not expecting to see a ton of salmon in Davis Creek where it enters Tern Lake. It was a nice day for a photo drive indeed.
---
My entry into
SteemUSA - Monday Photography Challenge
. Also this is the first time I am trying out the
steemitworldmap
, that link is the one I used to learn about it. If all goes well they will leave a comment and then you too can learn how it is done.

Click to go to challenge