You! The Architect of your destiny
Here is another week for curation lounge. We always seeking for good quality post to curate them. As a community, we are looking for talents who deserve actual value from steemit. But they are suffering here on steemit. To give them support @steemtuner community is always here. Who you are, wherever are you from, It does not matter. You all can join our community. We Steem Tuner community is always here to help you.
@surpassinggoogle always use to say
Nation is just a location.
There are a lot of steemians who are suffering on steemit. They write good quality content but does not get the actual value of them. Because steemit is getting more tough for a newbie steemians. But Our duty is to help them. Steem Tuner Community is here to help Steemians who are suffering. This community is bringing talents on steemit and giving the actual value to the content creator.
Thursday weekly-curationlounge winners
We have chosen 3 winners for weekly-curationlounge.
1st place : @rhjibon17
2nd place : @taniaislam
3rd place : @tjoet
We are very happy that we got our winners. Congratulation to all of them.
The announcement of the curation lounge
We are very excited to arrange the next round of curation lounge. Submit your best quality post on the #weekly-curation-lounge channel on Discord. Our curators will go through your post. And we will select the best quality post for presentation. So It's your turn to win curation rewards. Why you are waiting for! Join Steem Tuner Discord Community to take participation.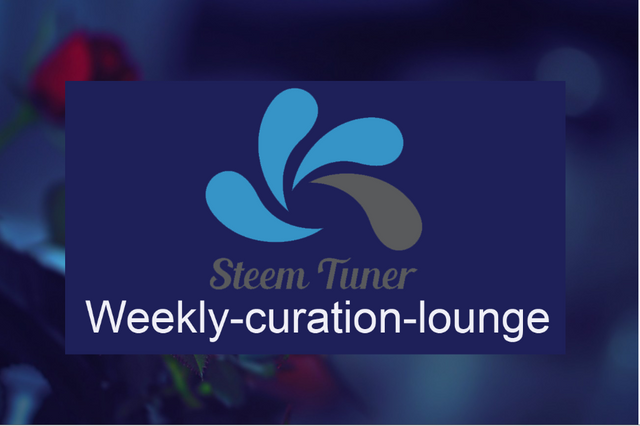 Rules
❶ Use Stemtuner as first tag and weekly-curationlounge as second.
❷ Submit Your post link on the #weekly-curationlounge channel on Steem Tuner Discord
❸ Resteem This curation lounge Announcement post
❹ Selected articles who have been posted must have to attend on Steem Tuner Discord Voice to present their articles.
❺ A person can Submit maximum 2 posts for curation lounge
❻ Post Submission Time schedule is Thursday 8 pm Bangladesh time.
❼ No Plagiarism and copy-paste are allowed. All these inappropriate activities are strictly prohibited.
Result will announce on Thursday Radio talk show
Prize
1st winner will get upvote. Worth will be 2 SBD
2nd winner will get upvote. Worth will be 1 SBD
3rd winner will get upvote. Worth will be 0.50 SBD
It would be nice if @maverickinvictus present in our curation lounge on Thursday 10 pm
NB: Some Rules are strictly monitoring by community authority
Thanks to @habibrahad @sherbanu for being my colleague. I am very glad to have them in my community. we all have a clear goal to support newbie steemians.
GOAL OF STEEM TUNER COMMUNITY
Steem Tuner is a community of Bangladesh to support globally all the steemians. Our mission is to empower unemployed people. We are encouraging people and bringing them here on steemit to free them from the unemployment problem. We find many steemians who need support to develop their skills. Many of them have some special talent but they are not getting the opportunity to show their talent what they have. We are arranging #show-us-your-hidden-talent through our @steemtuner COMMUNITY on Discord. So that we can give them the opportunity to bring out their talent. Our future goal is to empower them on steemit.
This community activity was managed by @mdshahin786 (The Founder of @steemtuner). Now it is all set to manage this community. Some Contest is ongoing to support steemians. There are #weekly-curation-lounge, #photo-contest-challenge, #weekly-contest-challenge, #3-days-contest-challenge, #show-us-your-hidden-talent and the most interesting #ulog-contest.
---
If you want to support an extra witness and you support him "steemgigs", it will be really helpful.
To vote my witness, simply visit https://steemit.com/~witnesses and type in "steemgigs" into the first search box for witnesses or simply Click Here to do it on one click!
If you want him to make witness voting decisions on your behalf, simply visit https://steemit.com/~witnesses and type in "surpassinggoogle" in the second box for proxy.

NB: @steemtuner community needs strength from all of you. If you would like to Delegate some sp to support @steemtuner community project you can do so by clicking on the following links: 10, 20, 50, 100, 200, 300, 500, 1000
---
JOIN OUR DISCORD CHANNEL BY CLICKING ON LOGO