Automatically upvote after X minutes (Steemit bookmarklet)
I've made a bookmarklet that automatically lays an upvote at the minute mark you decide. Simply activate it, enter at what minute it should vote and keep the tab open. It will tell you in the title bar how many minutes left until vote and also show when a post has been upvoted.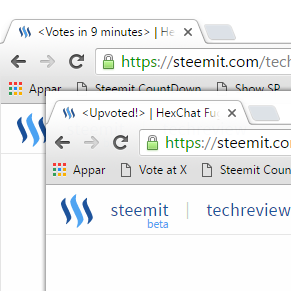 Installation
Head over to steemlets.com and drag the "Vote at X" button to your bookmarks bar.
Alternatively, create a new bookmark and add the following code as URL:
javascript:(function() { function setTitle(voteAt, minutesAgo, originalTitle) { var voteIn = voteAt - minutesAgo; var unit = (voteIn === 1 ? 'minute' : 'minutes'); var newTitle = '<Votes in ' + voteIn + ' ' + unit + '> | ' + originalTitle; if (document.title !== newTitle) { document.title = newTitle; } }; function run(voteAt, originalTitle, voted) { if (!voteAt) { return; } voteAt = parseInt(voteAt); if (document.title.indexOf(originalTitle) === -1) { return; } var timeParts = document.getElementsByTagName('time')[0].innerHTML.split(' '); if (timeParts[1].indexOf('minute') !== -1) { var minutesAgo = parseInt(timeParts[0]); if (minutesAgo >= voteAt) { if (!voted) { document.querySelector('.PostFull__footer [title="Upvote"]').click(); voted = true; }; document.title = '<Upvoted!> | ' + originalTitle; } else { setTitle(voteAt, minutesAgo, originalTitle); } } else { setTitle(voteAt, 0, originalTitle); } setTimeout(function() { run(voteAt, originalTitle, voted); }, 1000); }; if (!document.querySelector('.PostFull__footer [title="Upvote"]')) { alert('Are you on steemit.com? In that case the bookmarklet may have stopped working. Please contact @lantto for an updated version.'); } else { run( parseInt(prompt('Enter at which minute mark it should upvote (e.g. 10, 15, 30 etc):')), document.title, false ); } })();

---
If you don't see your bookmarks bar you can enable it with Ctrl+Shift+B/Cmd+Shift+B in Chrome.
Full uncompressed source code can be found here.
Why?
When voting on Steemit you get curation rewards for upvoting content early. However, there's a rule in place reducing your reward if you vote too soon. This uses a linear model where you get 0% reward if you vote immediately as its posted, 50% if you vote after 15 minutes and 100% if you vote after 30 minutes or later.
Here is a good article by @liberosist describing this in detail.
For most cases you will probably want to monitor the post manually before voting. Steemit CountDown is great for this as you can check out the post now and then to see how it's going. If it's few people who have voted for something you think may become viral it's better to wait and minimize the penalty.
However, sometimes you find an article where you just want to vote after a certain time. In those cases it's nice to set the timer and have it vote automatically.
Disclaimer
I would suggest double-checking that the vote went through before closing the tab. If steemit.com changes its website structure the bookmarklet may stop working and you will need to update it. In that case take a look at my blog for updates or give me a shout and I'll hit you up with a new version.
---
If you like my tools please give me a follow! @lantto