Green Bay, WI - A local Steemit poster, who goes by the name @contentcrusader, has been campaigning for the flagging of content a user feels unworthy of rewards. What @contentcrusader was not prepared for, however, was his content being flagged.
Recent developments have once again left the local poster shocked.
@contendercrusader had spent months and weeks driving people away from the platform if they were rewarded for content that was vulgarian, not sophisticated enough and generally common.
On January 15th 7:32pm, his 437,000 word essay about the long term implications of a post-Trumpian world on the quantum gravity theory received a flag.
Steemstreet Journal reached out to Mr. Crusader for comments.
"This did not go at all according to my calculations. I spent hours doing precise mathematical determination of the amount of value my post would bring to the community, pinpointing it to exactly $432.88. This makes me feel like my 12 years in academia were for nothing. I'm angry. Angry and disappointed."
When asked whether or not he feels its hypocritical to to feel angry about receiving a flag after campaigning for the use of flags in these exact situations, he would go on to comment the following:
"See, it's different. These people here. They don't have my intellect. They can't possibly be trusted to determine the value of information. Ask any academic and they will tell you that academics know best. We have formulas for these sorts of things. And definitely not Formula 1s, that's a sport that should never drain my reward pool."
@contentcrusader swears that he will not let this setback to sway him away from the battlefield for high quality content. Instead of focusing on his content, his strategy for upcoming battles is to poison the community further, so that ultimately he will be the only member left.
He went on to let us know about his ideal 2017 roadmap for the Steemit platform: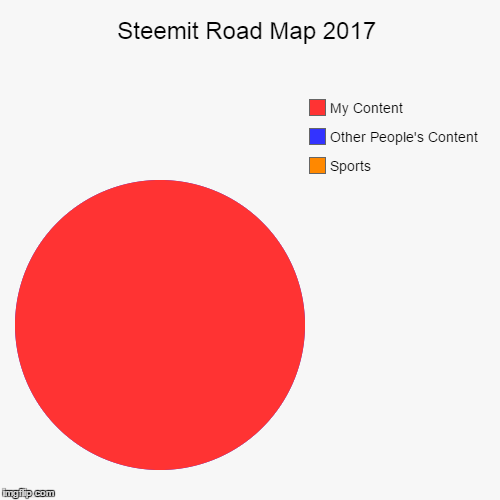 "This represents the ideal situation."
Steemstreet Journal will keep you updated on all the latest news, as usual.