Promoting Steemit - Going down inside the Large Hadron Collider at CERN with steemSTEM
As you are all probably aware of by now, the steemSTEM community is currently organizing its first meetup. And as a group of science lovers, what could be better than meeting in a famous research location?
To achieve this, we chose to meet up at CERN, in Geneva, Switzerland! However our meetup will not just be about exploring CERN… We will also go underground, and see the Large Hadron Collider from a few meters away! A dream for many scientists from all over the world.
This is an extremely unique opportunity, and it's one that the members of the steemSTEM project/community get to experience ONLY because of doors opened up by STEEM/Steemit! Because of how unique this is, we feel it's a really great opportunity to promote STEEM, the steemit platform, and of course our steemSTEM community! For more information on the steemSTEM project, the best place to check is our winter update. The steemSTEM team will be documenting the tour, with the hope that future Steemit promotional materials will be constructed out of the images and video that is shot as the community members tour this world class research facility.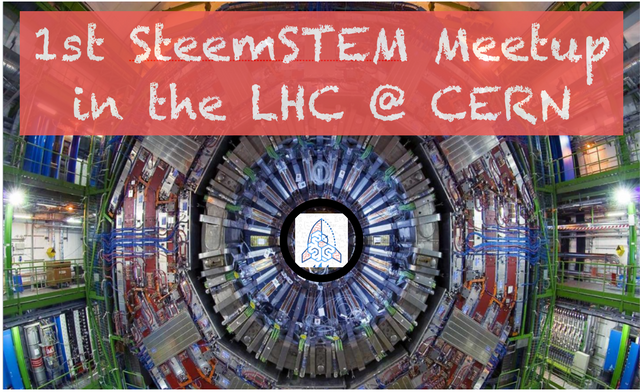 How is all of this possible? Well, we (@steemstem) have the right connections…
A group of 20 Steemians will meet at CERN, on February 8th - 9th, to have fun, chat about science and technology (we are steemSTEM after all) and visit the place. In particular, they will be allowed to go down inside the Large Hadron Collider (the LHC) and visit the CMS detector. CMS is a huge magnet that allows detection of what is going on in the very highly-energetic collisions that are happening at the LHC.
---
Some more practical details now.
Who
Our 20 participants are, alphabetically ordered: @alexs1320, @ana.luiza, @aurel.proorocu, @bendelgreco, @ceybiicien, @dber, @ertwro, @fredrikaa, @grandpere, @howo, @justtryme90 (+1 guest), @kerriknox (+1 guest), @lemouth, @reggaemuffin, @saunter, @scienceangel, @suesa, @tristan-muller
When: February 8th-9th, 2018
Most of us will arrive on the 8th of February, and we will meet in the evening for dinner, in Meyrin (at a steak place or an Italian place, TBD). The CERN visit will start on the 9th in the morning (10:00AM) and ends at 6:00 PM, roughly.
The detailed agenda
The meetup will end right after the visit.
Rules
There are a couple of things to keep in mind when visiting CERN. All visitors must carry their ID or passport when they are on site. Moreover, please read this document with the safety rules for the visit.
---
And for those not attending?
No worries. We plan to take plenty of pictures and also do some video recording to bring the experience home for you all to share as well. This looks to be an amazing community building event!
All SBD rewards of this post will be used to support the trips of the 20 participants, as well as to to fund the @steemstem project functioning and future activities.