Good day steemians, it's my pleasure to say a big thanks for checking my blog always, Today I want to discuss the ecological management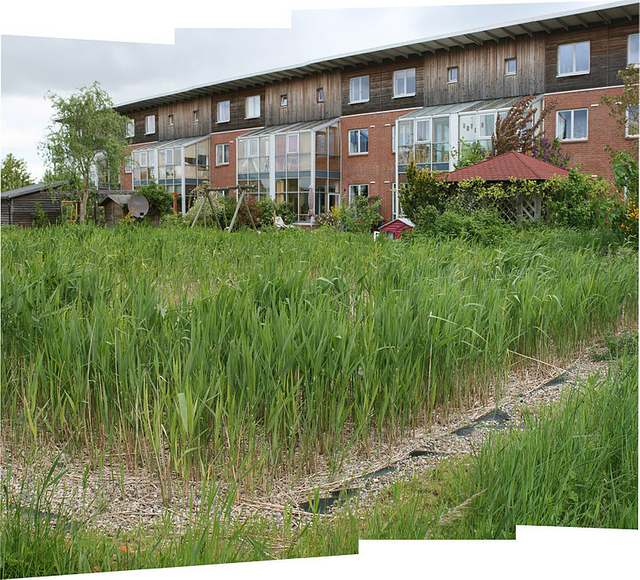 By Nelsnelson - Own work, CC BY-SA 3.0,
Ecological management is defined as a study of associations and adaptations that enable living organisms to live successfully in their environment. There are many ways that the adaptation of living things is disrupted which as a result alters the balance of the ecosystem.
There are various associations in an ecosystem. Living organisms of various association interact with one another mainly through various modes of feeding. Often, they are forced to compete for survival with one another, For example, photosynthetic producers compete for sunlight, inorganic nutrients and living space; consumers compete for ready-made food (in the form of other living organisms and their products) and space.
Predation is the common form of feeding interaction among consumers. It is the act of preying on another consumer. In any ecosystem, the population sizes of the organisms which are preyed upon limit the population sizes of their predators.
Note: Prey that is primary consumers feed on plants or detritus and so are not faced with the uncertainty of hunting for food (though when food is scarce they may starve or migrate). To overcome such an unsatisfactory situation, some organisms live in close association with other unrelated living organisms that aresymbiosis and dead organisms that aresaprophytism.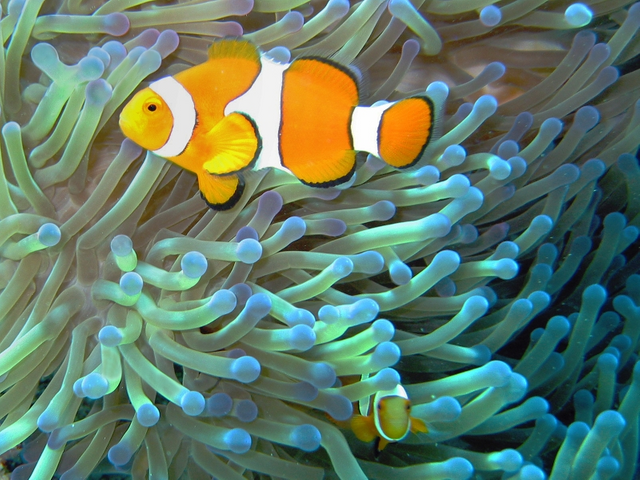 By Jan Derk - Own work, Public Domain,
Symbiosis is any close and prolonged living together or association of two or more organisms of different species. The partners in a symbiosis may be all consumers; consumer and producers; producers and saprophytes; consumers and saprophytes; and so on. The relationship in a symbiosis may be temporary or permanent and harmful, beneficial or neutral to one or all the partners.
Consequently, there are three main types of symbiosis that are recognised, they are parasitism, mutualism and commensalism.
parasitism is an association in which an organism (parasite) lives and feed on another organism (the host), deriving benefit from it and thereby causing harm to the host. Parasitism is very common among living organisms.
Parasitic organisms include viruses, bacteria, fungi, protozoa and invertebrates like flukes, roundworms, ticks, mites etc.
Plants also serve as hosts to parasites such as viruses, bacteria, fungi, nematodes and even other flowering plants such as witch (Striga) and Dodder (Cuscuta). Some parasitic association are very short-lived as in the case of the leech or the tsetse-fly that feeds on the human blood. Long-lived association occur in the case of many endoparasites such as lice, ticks and fleas that live on the animal body and suck blood from their host.
BENEFITS OF PARASITE
Most parasites get both foods and shelter from their hosts. The endoparasites especially have the best benefits since they are in an environment which protects them from other consumers and provides their energy requirements (food) with little effort on their part.
Harm suffered by host, In most parasitic associations, the host suffers much harm. In some cases, however, the parasite may seriously harm or even kill the host by the amount of damage done to the host's tissues; or the toxic substances it produces inside the host's body. In such cases, the host often suffers a serious disease or poor health. Examples of diseases caused by parasites in plant include; blight in potatoes and tomatoes caused by the parasitic fungus, Phytophthora infectans, malaria in humans caused by the parasitic protozoan, Plasmodium and Babesiosis (red water) in sheep caused by a parasitic protozoan, Babsia.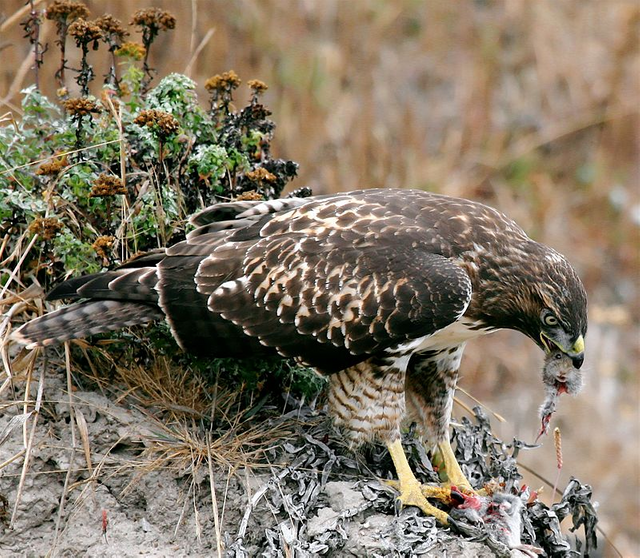 By Steve Jurvetson, CC BY 2.0,
Many ectoparasites act as vectors that spread disease-causing organisms ( or endoparasites). Thus, the tick spreads Besbisia and the rat flea, the plague-causing bacteria. Poor health in the host is seen in its stunted growth, tiredness and lack of resistance to diseases. In crops and livestock, parasites cause low productivity.
HOW DOES PARASITE INVADE THE HOST
The parasitic organisms were able to cling to the host's body surface(mainly ectoparasites and gut parasites), it has boring organs which will enable it to enter the body of the host (mainly endoparasites), they are able to secrete enzymes to dissolve tissues, enabling it to make its way in the hosts body(endoparasites), it has suitable body part that can penetrate through the hosts body surface and absorb nutrients(mainly ectoparasites). Many endoparasites enter their hosts through wounds and natural openings such as mouths(animals) and stomata(plants).
Fungal parasites are very common on green plants. the hyphae of the parasite enter the host body through stomata and branch in between the cells. The hyphae produce enzymes to dissolve the cell walls and open up a path. Parasitic dodder; Dodder, witchweed, and mistletoe are common parasitic plants that live on other plants. They have a body part called suckers or haustoria(singular; haustorium). these attach the parasite to the host and penetrate into the host's body to absorb food from the host's cells.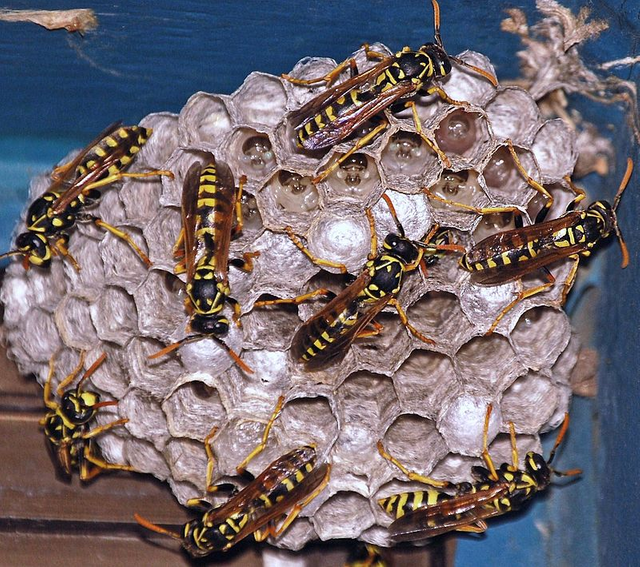 By Kathy Jones - My Nikon D40x, CC BY-SA 2.5,
Usually, the haustoria do not damage the host's cells but make their cell membranes permeable to nutrients and thereby enables parasites to gain access to the nutrient. Parasitic animals(ectoparasites) have attachment structures such as claws, suckers, and hooks that enable them to cling to their hosts. Their mouthparts are usually modified for piercing the host's outer tissues and sucking blood or plant sap. Ectoparasites that feed on blood produce anticoagulants to prevent the blood from clotting.
Parasitic animals(endoparasites) A parasite that lives inside its host's body is usually highly specialized for its mode of life. it can only live on a specific type of host or a limited range of hosts. As a result, many endoparasites, like tapeworms and roundworms, show poor development or loss of certain organs such as feeding mouthparts, gut, and sense organs.
Endoparasites are often hermaphrodites which overcome the problem of finding a mate. All endoparasites have well developed reproductive organs to produce large numbers of eggs. This ensures that the chances of a few of the eggs getting into the body of a suitable host are high. Also, many endoparasites make use of established food pathways to reach their hosts.
They do this by having complex life cycles, usually involving more than one host. Gut endoparasites have the attachment organs such as hooks or suckers to fasten onto the walls of the gut; it also have resistant body coverings or cuticles to protect them from the host's digestive enzymes; it also produces anti-enzymes to neutralize the host's enzymes; and it can respire in surroundings with a low oxygen content.
SOME IMPORTANT OF ENDOPARASITES OF HUMANS
Tapeworms are long parasitic flatworms which live in the gut of humans. Several species of tapeworms infant human, e.g Taenia solium, the pork tapeworm and Taenia saginata, the beef tapeworm. The structure of each tapeworm has a knob-like head known as a scolex and a large number of segments known as proglottides (singular; proglottis), arranged in along the row. The scolex bears hooks and suckers, with which the worm clings to the wall of the host's intestine. This prevents the worm from being carried away with food and water.
Like most of the endoparasites, tapeworms show adaptations to their parasitic mode of life. This is seen in the loss or poor development of unwanted organs such as the digestive system, sense organs, and muscles. It has a long flattened body that provides a large surface area for the absorption of nutrients. The presence of hooks and suckers for the attachment. It has the ability to live in the absence of oxygen (anaerobic conditions); and ability to produce large numbers of eggs and their hermaphroditic nature.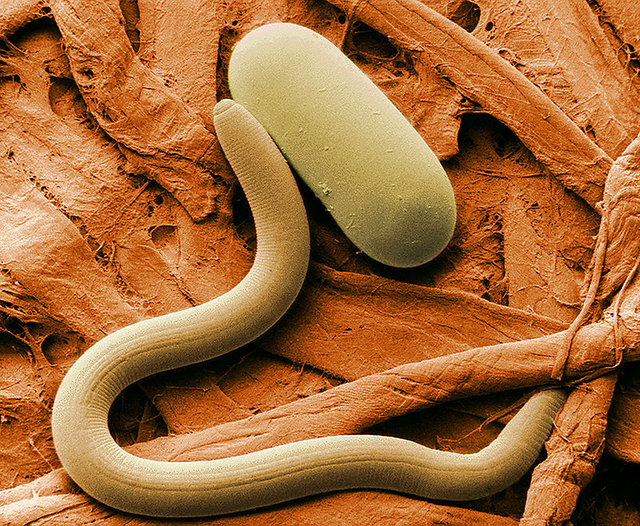 By Agricultural Research Service -(15016 KB);
The life cycle of the tapeworm involves two host's; a human being who is regarded as the primary host and another animal, such as the cow or pig, which is known as the secondary host. The adult tapeworm is found in the intestine of human, mature proglottides of the worm containing numerous fertilized eggs which break off from the rest of the worm and pass out with the faeces of the host. The fertilized eggs develop into embryos bearing six hooks and covered with protective shells.
References