Since my (extremely short) vacation is over and it's time for me to get back to work again, I decided that it's a good idea to go through work material on Sunday, so I could start fulfilling new, exciting work assignments on Monday.
While reading the e-mails and questioning my life choices, one particular link drew my attention - why elephants rarely get cancer?
Well, we all know how this story ends - on Steemit of course! :)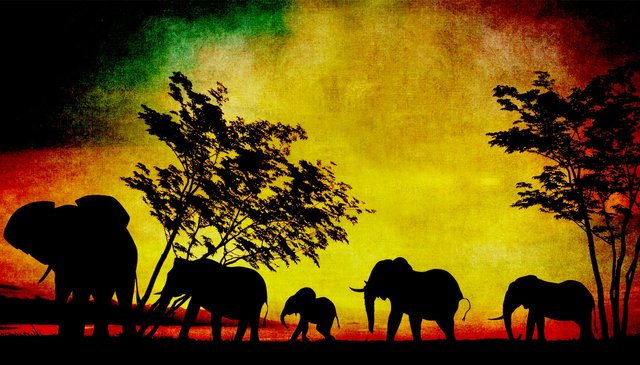 These guys probably won't be needing an oncologist, author Karen Arnold, CC0 1.0
Somatic evolution of cancer
---
It is well known that cells of multicellular organisms are exposed to various damaging agents of endogenous and exogenous nature, and errors in DNA replication that are not properly repaired are not among rare events either. If a mutant population of cells emerge as a result of such events, we can argue that certain proportion of such cells will exhibit selective or fitness advantages in terms of survival and/or reproduction over other cells.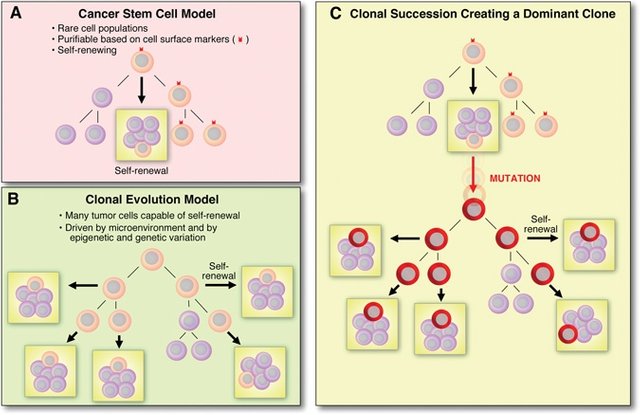 Clonal evolution of cancer, author Wu, C.J., CC BY 3.0
Those selective advantages come in a form of infinite replicative potential, the ability to escape detection by the immune system and to invade other tissues and metastasize, etc. This so-called somatic evolution of mutant cell populations can eventually result in the development of cancer.
Peto's Paradox
---
If we assume that all proliferating somatic cells exhibit similar mutation rate, a logical assumption that organisms which have more cells in their bodies (large mammals for example) are exposed to higher probability of developing a cancer during their life. Likewise, organisms with longer lifespan have an increased risk of cancer development as well, since their somatic cells simply have more time to accumulate mutations. Finally, larger organisms usually have longer lifespans too, which puts additional emphasis on implication that such species could be threatened by cancer way more than smaller organisms with shorter lifespans.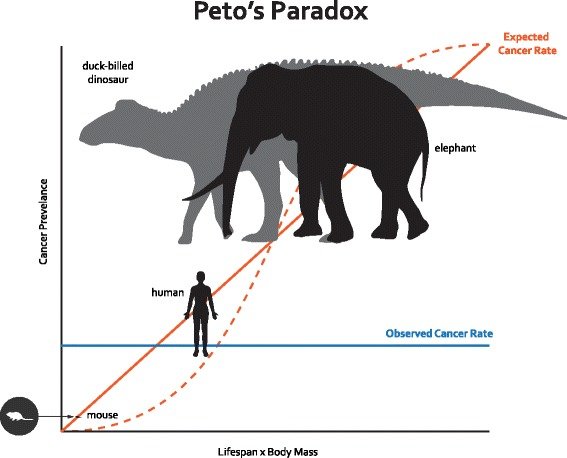 An illustration of Peto's Paradox, author Maley et al. 2017, CC BY 4.0
However, epidemiologist Richard Peto of the University of Oxford has observed that no such correlation exists, and the absence of correlation between body size, lifespan and cancer incidence across species is what is now known to be Peto's paradox. It was found that 46% of house mice (Mus musculus) raised in the protected laboratory conditions, die of cancer. Cancer-related deaths account for approximately 20% of dog and 25% of human deaths (USA statistics only), and 18% of beluga whale deaths, with rare cases of cancer detected in blue whales as well. These statistical data imply that regardless of the size and lifespan, cancer-related deaths account for approximately same percentages.
Of course, logical conclusion that is imposed here is that larger animals probably have some resistance mechanisms that help them avoid carcinogenesis.
Elephants and TP53 gene
---
After several years of research, it has been found that the African savannah elephant (Loxodonta africana) genome surprisingly contains 20 copies (which means 40 alleles!) of TP53 tumor-suppressor gene. Just for comparison purposes it should be mentioned that human genome contains only one copy of this gene - 2 alleles, and both of them need to be active for proper function as a tumor-suppressor. Why is this important and what are the tumor-suppressor genes after all?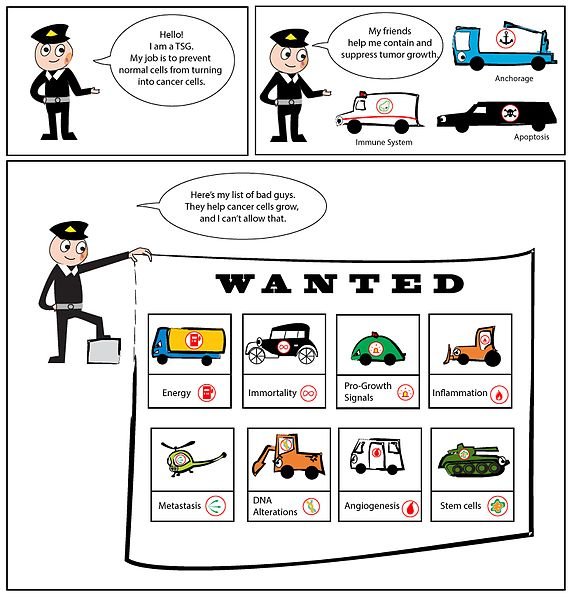 Tumor-suppressor genes, author WassermanLab, CC BY-SA 4.0
Tumor-suppressor genes (TSGs) can be by all means called the gate-keepers of a genome, because they function as brakes cells sometimes need in order to keep functioning properly. If a dividing cell suffer certain DNA damage, TSGs can detect those damages and prevent the cell from progressing further through cell cycle, until those damages are not repaired. In cases where cells suffer from irreparable DNA damages, TSGs activate the apoptotic pathway in such cells, removing potentially cancerous cells from the organism. TP53 is one of the most important tumor-suppressor proteins, and because of its important function in genomes it is referred to as "the guardian of the genome".
Research teams working on the topic have analyzed causes of several hundreds elephant deaths, which lived in a captivity. They found that only 3% of them died from cancer. Besides having 40 alleles of TP53 TSG, it has been discovered that these elephants produce extra copies of TP53 protein as well. Moreover, when scientists analyzed the blood cells of these magnificent animals, surprising discovery revealed itself to them - they were extremely sensitive to ionizing radiation and as a response to DNA damage, blood cells of elephants went through apoptosis (programmed cell death) rather than activating DNA repair mechanisms. The programmed cell death of these cells was occurring at much higher rate compared to human cells.
Other teams found similar results in African and Asian elephants raised in captivity, and more than a dozen TP53 copies have been found in two extinct species of mammoth as well.
Solutions for Peto's Paradox?
---
Of course, all scientists agree on one point - TP53 increase cannot be considered as stand-alone cancer resistance mechanism in these animals. Since the large body size evolved independently several times during the evolutionary history of life, it would be logical to assume that many different solutions for Peto's paradox exist. This hypothesis is supported by the finding that, for example, extra copies of TP53 or any TSG haven't been found in any whale species.
Another solution for Peto's paradox could be lower metabolic rate in larger animals compared to smaller ones. By slowing the metabolism down, the rate by which cells divide also decreases, which altogether results in a decrease of probability for some of them becoming cancerous.
Other potential solutions of this extremely interesting paradox that are listed in the literature include forming of "hypertumors", increased immune system efficiency in larger organisms, potentially shorter telomeres in larger animals limiting the number of cell divisions, etc.
Why other animals don't have enhanced cancer protection mechanisms as well?
---
Cancer is a common problem of all multicellular organisms, and no such organism is completely cancer free. We must understand that cancer defense mechanisms can be considered as pretty much costly in terms of evolution, and that energetic trade-offs must be made between those mechanisms and reproduction/growth. For example, if we are talking about small short-lived animals, it doesn't make much sense for the evolution to invest in cancer defense mechanisms in these animals simply because it is more likely that they will die of some external factor, such as predators, rather than cancer. Furthermore, reproduction is basically only thing that matters for evolution - after the individual has reproduced, there's no much point in keeping the costly anticancer mechanisms on as the animal gets older.
---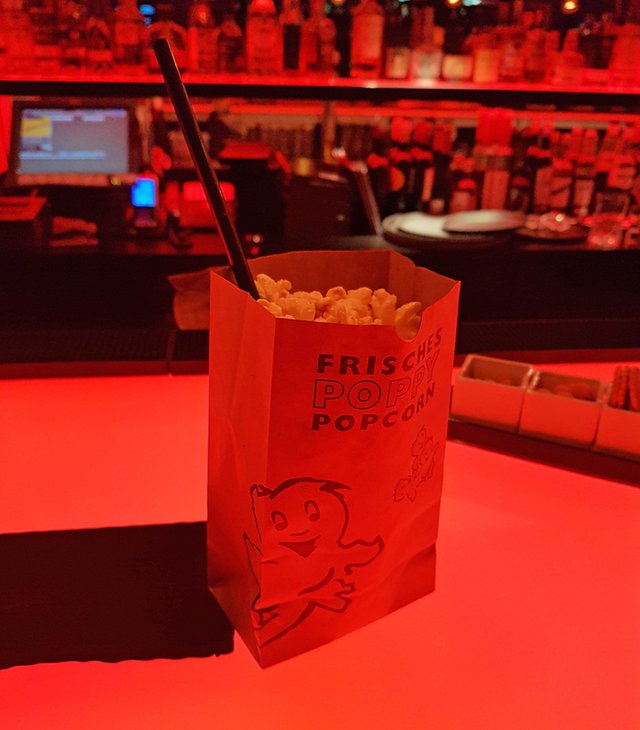 Cocktail credits: @egotheist
Since my brain is still on vacation and refuses to return back to reality and starts focusing on work (yes dear brain, just because you ignore it, it doesn't mean it will disappear!), I honestly hope I managed to get your attention with the above lines.
If not, here's the photo of one very interesting cocktail I tried during my vacation. For those of you who might be wondering - yes, there is a liquid in there ;)
---
Literature
Peto's Paradox: evolution's prescription for cancer prevention
Peto's Paradox: how has evolution solved the problem of cancer prevention?
p53