This phenomenon is dedicated to sweet @abigail-dantes, as it is about a beautiful place in Chile.
---
First, I need you to picture a lake with a huge marble rock inside.
Pretty dull, isn't it?
---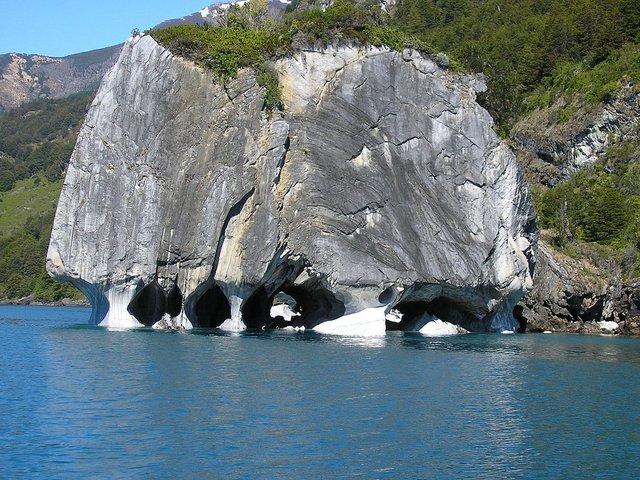 Image from: commons.wikimedia.org - Courtesy of: Dentren- License: CC BY-SA 3.0
---
Now let's add some spectacular shades of azure blue to the waters.
Things are getting better, don't you agree?
---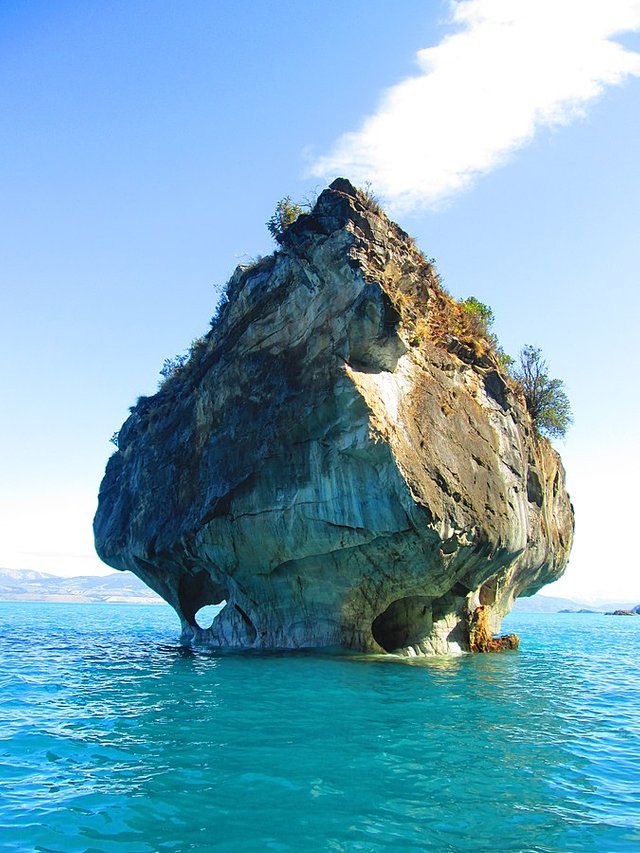 Image from: commons.wikimedia.org- Courtesy of: Manxuc - License: CC BY-SA 4.0
---
Oh, and... and try to imagine the huge marble rock hollowed to the base in a way that creates elaborate caverns of different colors that create a unique palette when the lake waters start reflecting on their walls.
---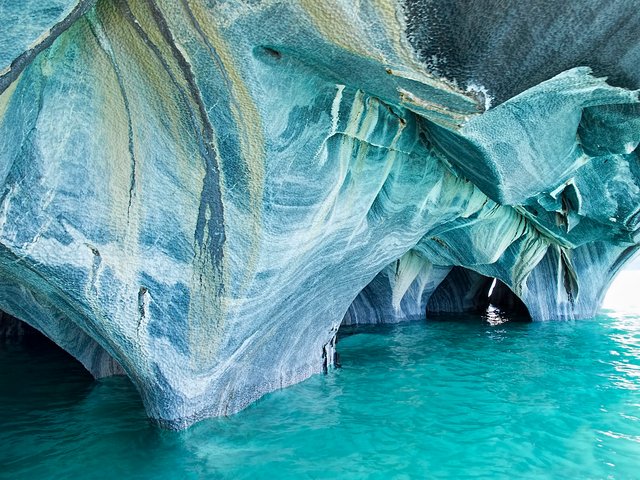 Image from: commons.wikimedia.org- Courtesy of: Dan Lundberg- License: CC BY-SA 2.0
This image was originally posted to Flickr by Dan Lundberg at https://www.flickr.com/photos/9508280@N07/8519658423. It was reviewed on 27 March 2013 by FlickreviewR and was confirmed to be licensed under the terms of the cc-by-sa-2.0.
---
Did I make your appetite?
Do you want to know where this amazing place is?
Then keep scrolling down!
---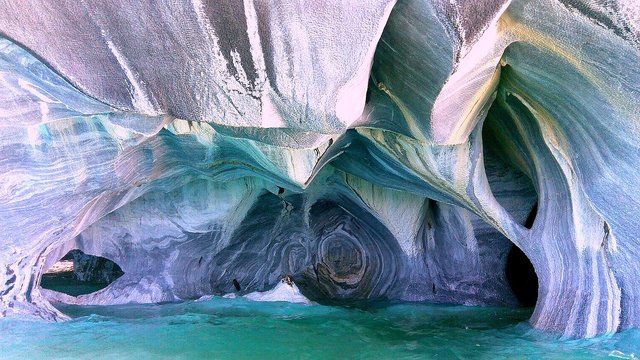 Image from: commons.wikimedia.org - Courtesy of: Nicolás Lara- License: CC BY-SA 3.0
---
This lake comes by two names and is none other than General Carrera Lake or Lake Buenos Aires in Patagonia. It's a mass of water that Chile and Argentina share custody of and in each country the lake is called accordingly; and it's also the creation of melting glaciers from the surrounding mountains of the Andes range. Over the years, six rivers (Soler, Los Antiguos, Jeinemeni, Ibáñez, San Martín, Delta) have been "feeding" a lake of 1,850 km² surface and a maximum depth of 586 m. Another river (the Baker) empties the lake into the Pacific ocean and a second one (the Deseado) into the Atlantic. [1]
That's a big lake!
It is! It ranks first biggest in Chile and fourth in Argentina. [1]
How was it made?
Probably over the last 4 million years, the lake was "made" by the movement of tectonic plates and then "carved" by the glacial erosion in the area. [1]
Why so blue?
Particles washed away by the moving glaciers, fill the lake. Those particles reflect the blue hues of light, "painting" the lake with mesmerizing shades. [4, 1st video]
---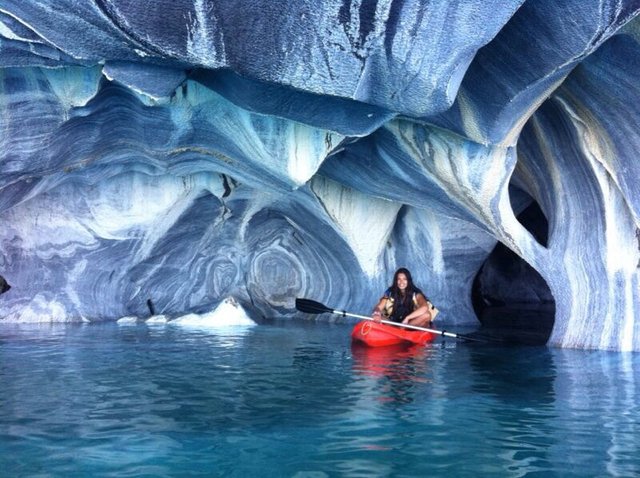 Image from: commons.wikimedia.org- Courtesy of: Danielahermida - License: CC BY-SA 3.0
---
And the caves?
The caves are the result of waves "eating up" the chunks of marble for 6,000 - 6,200 years. The monoliths have been transformed by the water into caverns, columns and tunnels that create underwater passages in this unique Catedral de Mármol (Marble Cathedral). Over the walls of this peculiar "temple", you can see beautiful colors and shades that vary depending on the season. When the water levels are low, in spring for example, the waters reflect lighter shades of turquoise. But in summer, when the glaciers are melting and the lake fills up, the waters turn darker and a stunning cerulean blue paints the inside of the caverns. [1, 2, 3, 4]
A Cathedral and a Chapel
On the same lake you can find a smaller marble island, made the same way as the Marble Cathedral. That's Capilla de Mármol (Marble Chapel). [4]
Wanna go fishing?
In general, the climate in the area is "cold and humid" but the lake has a "sunny and warm microclimate" where plants, fish and other marine creatures live. The lake is full of salmons and trouts if you want to bring your fishing rods! [1, 2]
How do I visit?
The only way to tour those marble masterpieces and admire the beautiful colors of the walls, is by boat. Tours are available for visitors and the most popular season to go would be from December to February. [,1, 2]
Hurry up! They won't be there for long!
Erosion is the greater "enemy" of this architectural masterpiece. As the glaciers keep running into the lake, the waves keep carving the feet of the marble monoliths. It is just a matter of time for the Cathedral and the Chapel to fall down on their own weight. [2]
---
You can see some really cool photos in these galleries:
---
And if those photos weren't enough, here are two videos!
---
---
And now a question:
Abigail? Have you ever been there or have I just made you miss Chile more?
---
---
References
[1] wikipedia.org
[2] worldatlas.com
[3] atlasobscura.com
[4] huffingtonpost.ca
[5] thisischile.cl
[6] thisisinsider.com

Thank you so much for your time!
Until my next post,
Steem on and keep smiling, people!