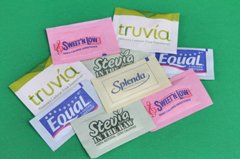 The unexpected answer here is yes! When I first heard about this notion I was pretty annoyed because I thought it was just nonsensical sensationalism but as I am someone who used to drink A LOT of "light" or "zero" type fizzy drinks and have always been conscious about my weight. I figured that as a pharmacist I had to put the effort into finding out the answer.
My research will be summarized in simple terms (as many people have over-complicated the explanations).
Basically when you ingest these "diet" drinks your body is being fooled into thinking that you are ingesting a calorie rich fluid/meal. This will result in release of hormones such as insulin and/or gastrin. Sure insulin release in a low hypoglycemic state has many negative consequences but the most important physiological mechanism to be aware of is that when your body's blood sugar becomes hypoglycemic (too low), you will crave ACTUAL SUSTENANCE (high calorie intake) even more than you usually do; and this is NOT conducive to dieting or watching your weight as thousands of years of evolution will be propelling you to devour something/anything ASAP.
Artificial sweeteners basically "fool" the human body into anticipating that it is in a nutritional-rich state, which effectively causes it to increase its insulin levels (see Sugar substitute), which basically result in both weight gain and metabolic syndrome due to a cascade of negative and positive feedback loops.
But what are all these bloggers/experts failing to mention?????
Whats important to note is that it is OKAY to drink these drinks if enjoyed WITH a meal. The reason is simple as explained above, your body's insulin release will be met with enough calories to avoid any aggravated negative feedback loops. Thus, if you are on diet and have been craving a Coke, its better to have that Coke zero with your meal than getting frustrated and breaking your diet.
This may also explain why if you have been trying to diet and if you have been consuming excessive amounts of artificial sweeteners why its been so difficult for you to fight strong cravings for something sweet or for savory food.. your body is just trying to maintain your blood sugar.
To validate the above summary refer to: https://www.ncbi.nlm.nih.gov/pmc/articles/PMC2892765/
Hope this helps someone. Peace.