Science News - Beer Is Healthy!! Maybe
BREAKING NEWS: Beer is healthy! There is pure health in each and every glass! According to Fox News, alcohol is healthy (1). Forbes also proclaimes health benefits of drinking beer (2). The Washington Post states that an alcoholic drink a day keeps your brain sharp (3). But wait a minute, there must be a catch. And there is - moderation!
Today I want to take a look at this new finding that drinking beer may be associated with certain health benefits. I really hope that this turn out to be true because I do enjoy drinking a beer every now and then.Let´s get it started.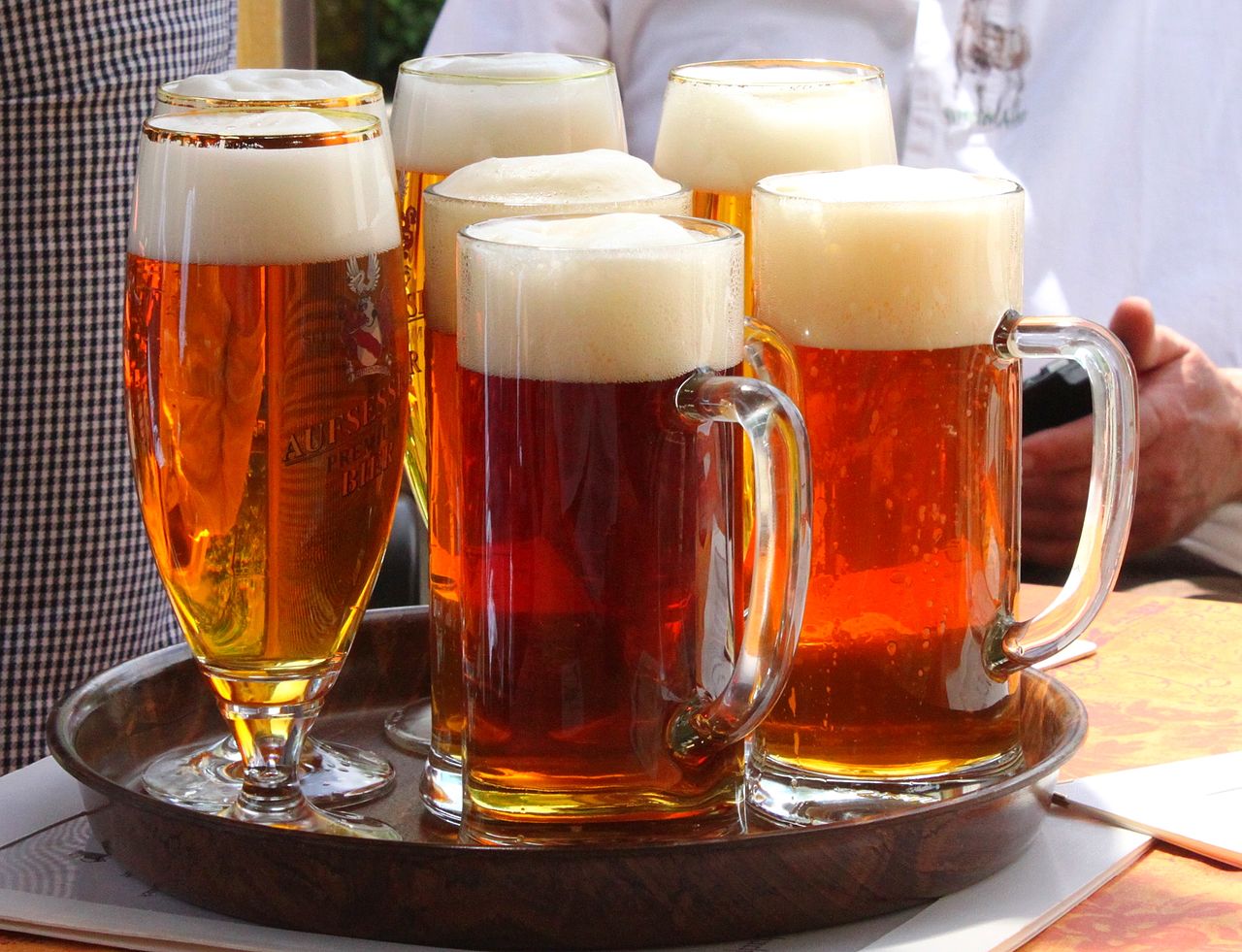 Beer, my new medicine? - Source
Most news sites suggest 7-8 health benefits. The following list shows a summary of these claims. I will then try to find scientific studies that deal with the topic. Luckily, most of these articles actually cite sources (sadly some just cite another news site) so I can look at the sources they used.
| Health Claim | Website |
| --- | --- |
| Decreased risk of cardiovascular disease | NBCNews, MensHealth, The Telegraph, FOX News |
| Decreased risk of Type II Diabetes | NBCNews, MensHealth, The Telegraph |
| Stronger Bones | NBCNews, MensHealth, The Telegraph |
| Enhanced "Brain Power" | NBCNews, MensHealth |
| Decreases risk of Kidney Stones | MensHealth, The Telegraph, FOX News |
Sources: NBCNews, MensHealth, The Telegraph, FOX News
This surely sounds very promising. I would love to crack open a bottle of instant health right now. But then again, what does science actually say? Can it be that beer is really healthy? Let´s dive into some scientific articles.
The Science Behind Healthy Beer
Let me start with the first and most common claim that beer prevents cardiovascular disease. In fact, there are several studies that show a correlation between moderate beer consumption and a decrease in cardiovascular disease. The New England Journal of Medicine conducted a study that showed a decreased risk of myocard infarct in people who increased their alcohol consumption to a moderate level (4).
38077 men were followed for 12 years in intervals of 4 years (a follow up was performed every 4 years). This sound great. And there is more. A meta-study showed a correlation between alcohol consumption and decreased risk of cardiovascular disease (5). The study attributes these potential benefits to positive influences on high density lipoprotein C, the so called "good cholesterol"(5). This correlation between alcohol consumption and HDL-C has been demonstrated in another study, conducted at Pennsylvania State University (6). However, there is a little controversy. The problem is that it cannot be concluded that this is a causation (5). Another study has shown that increasing the alcohol consumption in men who already lead a healthy lifestyle has led to a decreased risk in cardiovascular diease (7). It is not 100% clear whether alcohol is the lone factor or if there are other co-factors at play. As of now it appears that alcohol may decrease the risk of cardiovascular disease.
So it seems that beer - and alcohol in general - may be able to prevent cardiovascular disease. Let me investigate the second claim, that beer decreases the risk of diabetes type II. A study really has shown a correlation between alcohol consumption (14 drinks/week in men , 9 drinks/week in women, drinking 3-4 times a week) and decreased risk of diabetes type II (8). A different meta-study is more critical of such findings. It states that a decreased risk may only be observed in non-Asian populations and females (9). The same study also offers some criticism of the availability of data and the samples of previous studies. This statement makes me suspicious of all previous findings. There is a need for more research in order to make a valid conclusion.
Although based on a minority of studies, there is also the possibility that reductions in risk may have been overestimated by studies using a referent group contaminated by less healthy former drinkers(9).
So while there seems to be some agreement on the positive effect of alcohol consumption on cardiovascular disease, the effects on diabetes type II should be seen with more suspicion.
I will end my investigation of health benefits here. If you are interested in researching the other claims I would recommend using Google Scholar, Sciencedirect and NCBI. Here are some more interesting reads:
What Is Moderate Beer Consumption?
Well, drinking one beer every few days will probably not do you much harm. According to the Dietary Guidelines published by the US governments moderate alcohol consumption is defined as up to 1 drink per day for women and up to 2 drinks per day for men (10). It is important to notice that one drink refers to a standard drink (check out the link to learn what constitutes a standard drink). Sadly beer consumption also has negative effects, that should be acknowledged just as much as the positive effects. Drinking too much alcohol may cause liver defects and disease (11). A study has shown that alcohol-related liver disease is a growing reason for liver transplants (12). The Mayo Clinic states a few more dangerous conditions that are linked to too much alcohol (13). While there may be health benefits, there are also risks associated with consumption of beer. Nothing is ever only good or only bad. It always depends on the how much.
My Opinion
Imagine a world where there are no consequences. Everything you do is just good and not harmful. Everybody will live forever. Do you want to live in this world? Would you not like to hear more about this world?
Well, it does not exist. But certain news channels and sites will want to sell this world to you. They want you to turn on their channel an feel good. After all, we all would rather avoid being criticized and hear compliments all day long.
This post kind of hurts. I am enjoy a beer every now and then. But alcohol is still a possible health risk. It is also completely not essential to life and could be avoided. Again, drinking is a conscious decision. It may have some health benefits but also many possible harms. Alcohol should be enjoyed rather than binged. If you find your balance you should be fine. I will continue drinking a beer or two every now and then. It is acceptable in combination with a healthy lifestyle.
Shameless Self-Advertisement
Thank you very much for your time. If you liked this post, please upvote and resteem. You may also like some of my other posts so please feel free to check it out!
As always,
Cheers @lesshorrible!
::::::::::::::::::::::: Deutsche Version :::::::::::::::::::::::
BREAKING NEWS: Bier ist gesund! In jedem Glas befinded sich pure Gesundheit! Glaubt man Fox News is alkohol gesund (1). Forbes proklamiert ebenfalls positive Effekte für die Gesundheit wenn man Bier drinkt (2). Die Washington Post berichtet das ein alkoholischer Drink am Tag das Gehirn gesund hält (3). Aber warte mal, da gibt es doch sicher einen Haken. Den gibt es -Moderation!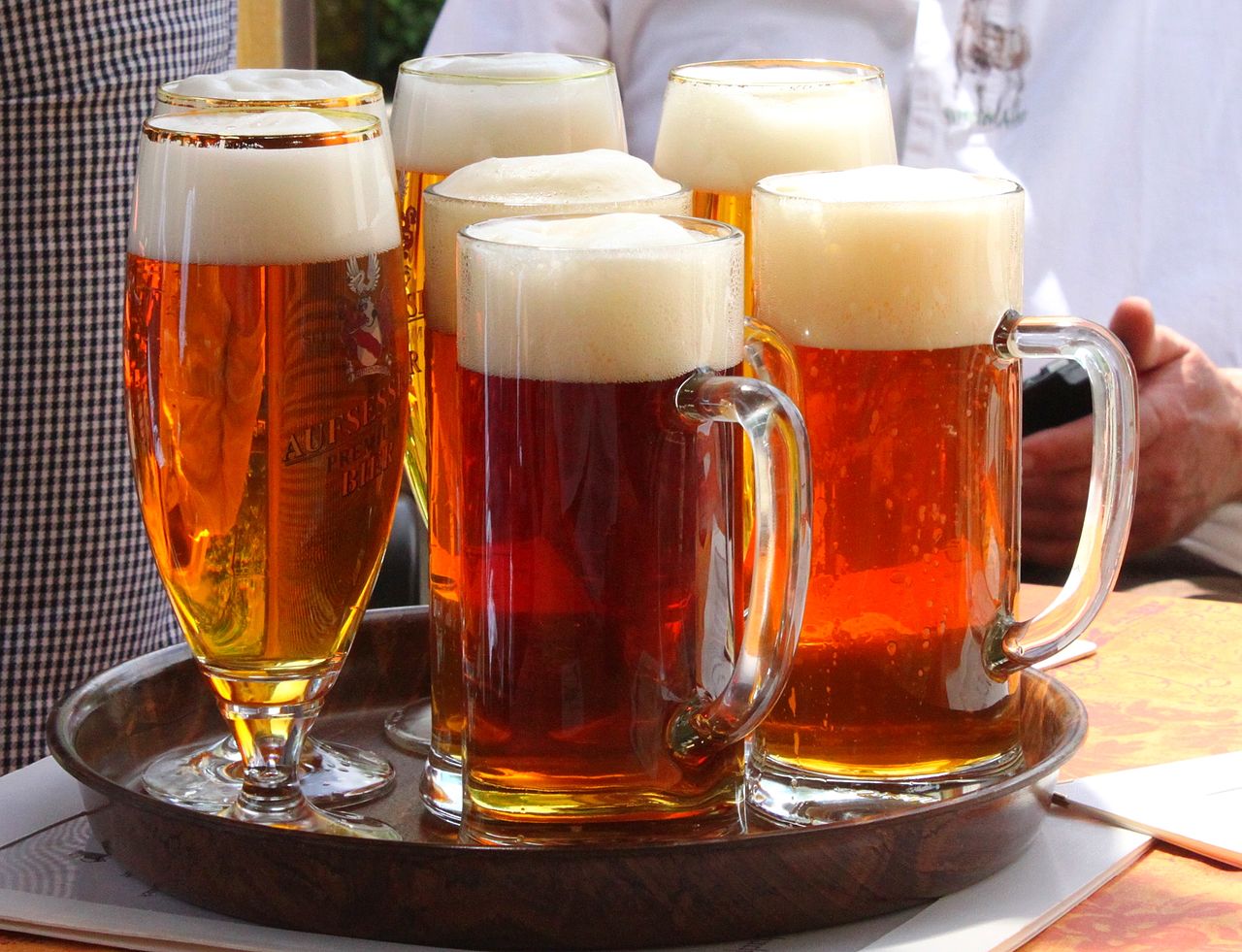 Beer, meine neue Medizin? - Quelle
Die meisten Nachritenseiten erwähnen 7-8 positive Effekte von Bierkonsum. Die folgende Liste ist eine Zusammenfassung dieser Vorteile. Ich werde versuchen herauszufinden welche durch Wissenschaft belegbar sind, und welche falsch zu seien scheinen. Zum Glück nutzen die meisten Seiten echte Quellen (manche zitieren sich leider gegenseitig) die ich auch einsehen kann.
| Gesundheitsversprechen | Webseite |
| --- | --- |
| Vermindertes Risiko für Cardiovaskuläre Krankheiten | NBCNews, MensHealth, The Telegraph, FOX News |
| Vermindertes Risiko für Typ II Diabetes | NBCNews, MensHealth, The Telegraph |
| Stärkere Knochen | NBCNews, MensHealth, The Telegraph |
| Verbesserte Gehirnleistung | NBCNews, MensHealth |
| Vermindertes Risiko für Nierensteine | MensHealth, The Telegraph, FOX News |
Quellen: NBCNews, MensHealth, The Telegraph, FOX News
All dies klingt sehr vielversprechend. Ich würde jetzt wirklich gerne eine Flasche Gesundheit öffnen. Aber was sagt die Wissenschaft? Ist Bier wirklich gesund? Lasst mich ein paar wissenschaftliche Artikel lesen.
Die Wissenschaft Hinter Gesundem Bier
Lasst mich mit der ersten und häufigsten Behauptung beginnen, dass Bier Herz-Kreislauf-Erkrankungen vorbeugt. In der Tat gibt es mehrere Studien die eine Korrelation zwischen moderatem Bierkonsum und einem Rückgang von Herz-Kreislauf-Erkrankungen zeigen. Das New England Journal of Medicine führte eine Studie durch, die ein verringertes Risiko für einen Myokardinfarkt bei Personen zeigte, die ihren Alkoholkonsum auf ein moderates Niveau erhöhten (4).
38077 Männer wurden 12 Jahre lang im Abstand von 4 Jahren beobachtet (eine Nachuntersuchung wurde alle 4 Jahre durchgeführt). Das klingt großartig. Und da ist mehr. Eine Meta-Studie zeigte eine Korrelation zwischen Alkoholkonsum und verringertem Risiko für kardiovaskuläre Erkrankungen (5). Die Studie führt diese potenziellen Vorteile auf positive Einflüsse auf high density lipoprotein-C, das sogenannte "gute Cholesterin", zurück (5). Dieser Zusammenhang zwischen Alkoholkonsum und HDL-C wurde in einer weiteren Studie an der Pennsylvania State University (6). nachgewiesen. Allerdings gibt es eine kleine Kontroverse. Das Problem ist dass es nicht klar ist ob Alkohol die Ursache für die beobachteten Effekte ist (5). Eine andere Studie hat gezeigt das moderater Alkoholkonsum in Männern die bereits als niedrig-Risiko anzusehen waren das Risiko für Herz-Kreislauf Krankheiten verringert hat (7). Es ist also noch nicht 100% geklärt ob Alkohol wirklich dass Risiko für Herz-Kreislauf Erkrankungen verringert oder ob andere Co-Faktoren im Spiel sind. Es sieht allerdings danach aus, dass moderater Alkoholkonsum einen positiven Effekt hat.
Lasst mich nun die zweite Behauptung untersuchen - Bier verringert das Risiko von Typ II Diabetes. Eine Studie zeight eine Korrelation zwischen moderatem Alkoholkonsum (14 Drinks/Woche für Männer , 9 Drinks/Woche für Frauen, über 3-4 Tage in der Woche) und einem verringertem Risiko für Diabetes Typ II (8). Eine andere Metastudie ist kritischer mit solchen Resultaten. Diese behauptet dass die positiven Effekte nur auf nicht-asiatische Populationen und Frauen zutreffen (9). Die selbe Studie kritisiert die verfügbaren Daten und die Gruppen von denen diese Daten stammen. Dieses Statement zweifelt quasi die gesamten Resultate von vorherigen Studien an. Es braucht mehr Forschung um eine fundierte Aussage zu machen.
Although based on a minority of studies, there is also the possibility that reductions in risk may have been overestimated by studies using a referent group contaminated by less healthy former drinkers(9).
Auch wenn es einige Übereinstimmung darin gibt dass Alkohol das Risiko für Herz-Kreislauf Erkrankungen mindern kann, sieht es mit der Beweislage für Reduktion im Diabetes Typ II Risiko weniger eindeutig aus. Man sollte solchen Statements in der Regel verdächtig gegenüber stehen.
Ich werde hier stoppen. Wenn ihr die anderen angeblichen Gesundheitseffekte von Bier und Alkohol nachforschen wollt empfehle ich euch eine Google Scholar Suche zu starten. Ich kann außerdem Sciencedirect und NCBI empfehlen. Hier sind außerdem noch ein paar interessant Artikel:
Was Ist Moderater Bierkonsum?
Nun, wenn ihr ein Bier alle paar Tage trinkt sollte euch nichts passieren. Laut den "Dietary Guidelines" die von der US Regierung veröffentlicht wurden ist moderater Alkohokonsum als bis zu 1 Drink pro Tag für Frauen und bis zu 2 Drinks pro Tag für Männer definiert (10). Es ist wichtig zu wissen dass ein Drink als ein "Standard Drink definiert ist" (schaut euch hierzu bitte die verlinkte Webseite an). Leider hat Bierkonsum auch negative Effekte, die man genauso beachten sollte wie die vermeintlichen Vorteile. Wenn man zu viel drinkt können sich Leberdefekte und Krankheiten entwickeln (11). Eine Studies zeigt dass die Lebertransplantationen als Result von Alkohol-verbundenden Lebererkrankungen zunimmt (12). Die renomierte Mayo Klinik listet außderdem weitere gefährliche Krankheiten auf die mit zu hohen Alkoholkonsum in Verbing zu sein scheinen (13). Nichts ist jemals nur gut oder nur schlecht. Es kommt immer darauf an wie viel man davon nimmt.
Meine Meinung
Stellt euch sich eine Welt vor, in der es keine Konsequenzen gibt. Alles, was ihr tut, ist nur gut und nicht schädlich. Jeder wird für immer leben. Willst du in dieser Welt leben? Möchtest du nicht mehr über diese Welt erfahren? Nun, sie existiert nicht. Aber bestimmte Nachrichtensender und Websites wollen diese Welt an euch verkaufen. Sie möchten, dass Sie ihren Kanal anschalten und sich wohl fühlen. Schließlich würden wir alle lieber vermeiden kritisiert zu werden und den ganzen Tag lang nur Komplimente zu hören. Dieser Beitrag tut ein wenig weh. Ich genieße hin und wieder ein Bier. Aber Alkohol ist immer noch ein mögliches Gesundheitsrisiko. Vorallem ist Alkohol nicht lebensnotwendif. Alkoholkonsum ist eine bewusste Entscheidung. Es kann einige gesundheitliche Vorteile mit sich bringen, ist aber auch mit vielen möglichen Schäden verbunden. Alkohol sollte lieber genossen werden. Jeder sollte seine Balance finden. Ich werde weiterhin hin und wieder ein oder zwei Bier trinken. In Verbindung mit einem gesunden Lebenstil sollte Bierkonsum kein Problem sein.
Scharmlose Eigenwerbung
Vielen Dank dass ihr meinen Post gelesen habt. Wenn er euch gefallen hat voten ihn bitte up und resteemt! Euch könnten auch andere Beiträge gefallen also fühlt euch bitte frei meinen Blog zu checken!
Eine kleine Entschuldigung an dieser Stelle. Ich finde dass sich mein Deutsch ein wenig merkwürdig anhört. Dass liegt daran dass ich seit 4 Jahren in den USA lebe und den ganzen Tag nur Englisch spreche. Einige englische Satzstrukturen schleichen sich gerne in meine deutschen Sätze. Ich hoffe das wird mit der Zeit ein wenig besser.
Wie immer,
Cheers @lesshorrible!