Summer time makes particle physics blogging slow… Anyways, here I am, after having read a recent article discussing the usage of neutron stars to detect dark matter. In some cases, dark matter can heat up neutron stars and hence provide an observable signature.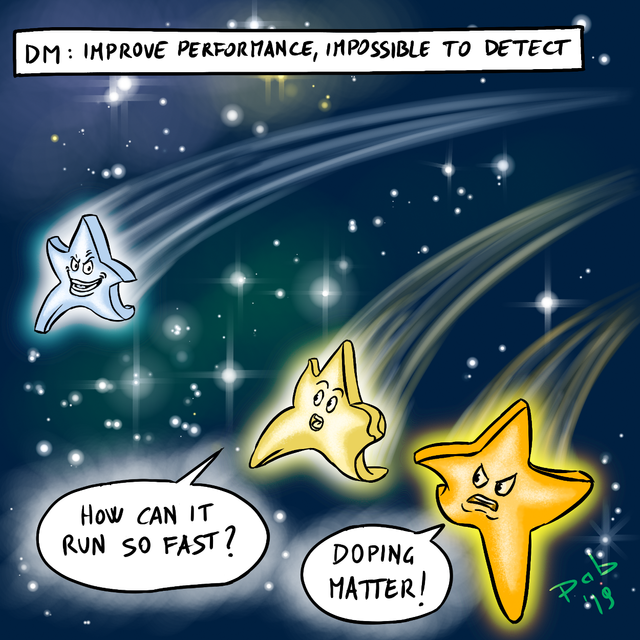 [image credits: @pab.ink]
The idea would however work solely for muonphilic dark matter, in which dark matter primarily interacts with normal matter through muons (and nothing else). I recall that a muon is one of the elementary particles of the Standard Model of particle physics, and can somehow be seen as a heavy instable cousin of the electron (in which it decays into).

Whilst this could sound a little bit 'cooked', there are anomalies detected by the CERN Large Hadron Collider (see for instance here) that could be resolved with particles exhibiting a specific connection to muons. Moreover, issues with the muon anomalous magnetic moment are longstanding, and could also be cured with new muonphilic particles.

This is exactly why our story is interesting: we may have a single theory featuring dark matter, an explanation for the LHC anomalies and the anomalous magnetic moment of the muon.
---
Neutron stars in a nutshell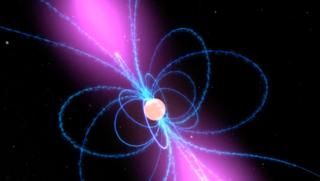 [image credits: NASA ]
When a quite massive star dies (and by massive, I mean 10-30 times the mass of the sun), its core collapses by the action of gravity.

All the 'fuel' of the star has been burned and there is indeed nothing anymore that can prevent the gravitational collapse from happening.

This compression generates the implosion of the inner part of the star, that then rapidly collapses even more.

Consequently, the inside temperature rises and the electrons and protons initially constituting the star annihilate into neutrons.

However, at some point, the neutron degeneracy pressure comes into the game and stops the contraction. This degeneracy pressure is related to the Pauli exclusion principle inherent to quantum mechanics.

In very few words, two different neutrons cannot occupy the same state. As nature always aims to minimise the total energy of a given system, the first neutron will occupy the state with the lowest energy and the second one the next-to-lowest energetic one. However, within the core of the star, we have a lot of neutrons so that quite energetic states end up being occupied.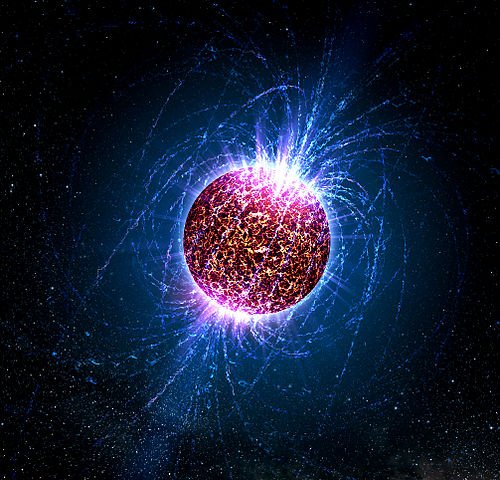 [image credits: Casey Reed (public domain)]
The left-over of the star hence resists further compression, as more and more energy is needed to pack more neutrons.

After a supernova explosion, the remnants of the star are mostly neutrons, packed in a sphere of 10-20 km of radius that roughly weighs three solar masses.

This is what is called a neutron star.

Neutron stars are however not only made of neutrons, as detailed for instance here. It also typically contains one muon for every 100 neutrons. This is the key property for the following.
---
Muonphilic dark matter
To make a long dark story short, dark matter is (indirectly) evidenced today by many observations.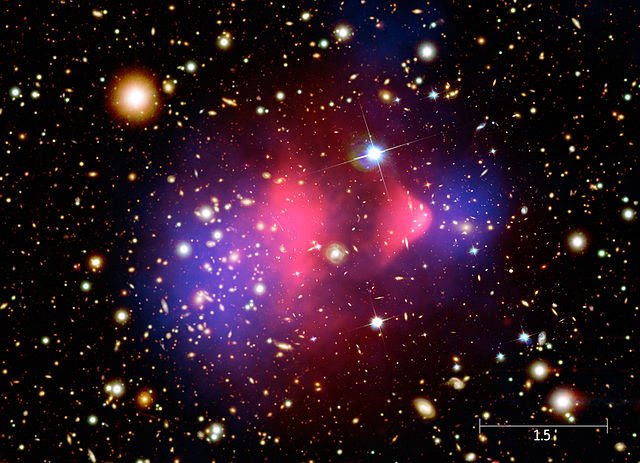 [image credits: NASA (public domain)]
Initially, dark matter has been postulated to explain the velocity of the stars, when moving within galaxies.

Some mass (i.e. dark matter) was missing to be able to explain their motion with the sole help of Newtonian mechanics.

But this is not all.

The measurement of the properties of the cosmic microwave background (the fossil radiation left over from the Big Bang), as for instance done by the Planck collaboration, allows for a very good fit of the Standard Model of cosmology (that includes a dark matter component).

Moreover, in order for cosmological simulations to correctly reproduce the formation of the galaxies, dark matter is highly needed.

However, despite those strong hints, the true nature of dark matter remains elusive. This therefore offers a nice playground for theorists to design many dark matter models.

As mentioned in the introduction to this post, hints originating from different areas of particle physics suggest that muons can play a special role. Therefore, the scientific article that I discuss today introduced the idea of muonphilic dark matter.

In their model, the authors introduced a new fundamental interaction yielding to a viable (in the sense of agreeing with data) dark matter relic that mainly couples to muons.
---
Take-home: neutron stars as a window to muonphilic dark matter
Due to the rare amount of muons in the universe, muonphilic dark matter is predicted to be rather invisible to all experiments searching for it. However, neutron stars feature a large density of muons and could hence be the only places of the universe to look for muonphilic dark matter.

Typical neutron stars cotnain about of 1055 muons, which is more than enough to capture dark matter. This capture transfers heat from dark matter to the neutron star, so that the star temperature could go up by a few hundreds to a couple of thousands of degrees.

This subsequently leads to radiation that could be observed by several future telescope projects, like the James Webb Space Telescope.

In other words, muonphilic dark matter, if existing, will not stay elusive for long.

PS: This article has been formatted for the steemstem.io front-end. Please see here for a better reading.
---
SteemSTEM
SteemSTEM aims to make Steem a better place for Science, Technology, Engineering and Mathematics (STEM) and to build a science communication platform on Steem.
Make sure to follow SteemSTEM on steemstem.io, Steemit, Facebook, Twitter and Instagram to always be up-to-date on our latest news and ideas. Please also consider to support the project by supporting our witness (@stem.witness) or by delegating to @steemstem for a ROI of 65% of our curation rewards (quick delegation links: 50SP | 100SP | 500SP | 1000SP | 5000SP | 10000SP).