Today we are going to be discussing a publication out of PLoS One titled "Trans fatty acids in adipose tissue and risk of myocardial infarction: A case-cohort study."
In this study, the authors tested fat samples obtained from patient's butts, looked at the types of fat they had stored and the relationship between those fat types and heart attack rates. Maybe through reading this article we can all say we learned something from someone's fat ass. So lets dive in.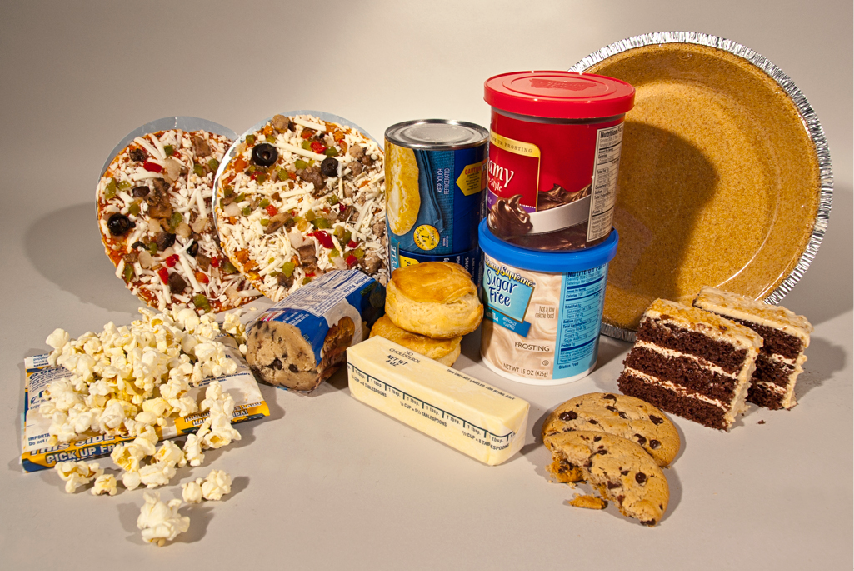 All of the above items contain trans fats
---
Trans fats are known to be bad for our health [2] however not all trans fats are alike and some, including those that are made in the digestive tracts of ruminating animals (like cows) are possibly not bad at all.[3]. In this article the authors wanted to take a look at the prevalence of a few varieties of 18 carbon long trans fats, with the double bond at a few different positions. Correlating those amounts with information on whether or not patients suffered a heart attack.
Trans Fats
What is a trans fat anyway? We hear about them from time to time in the news, and they are bad for our health. However do you know what makes a "trans-fat" different from any other fat? Lets take a brief moment and discuss this... starting with the very basics.
What is fat?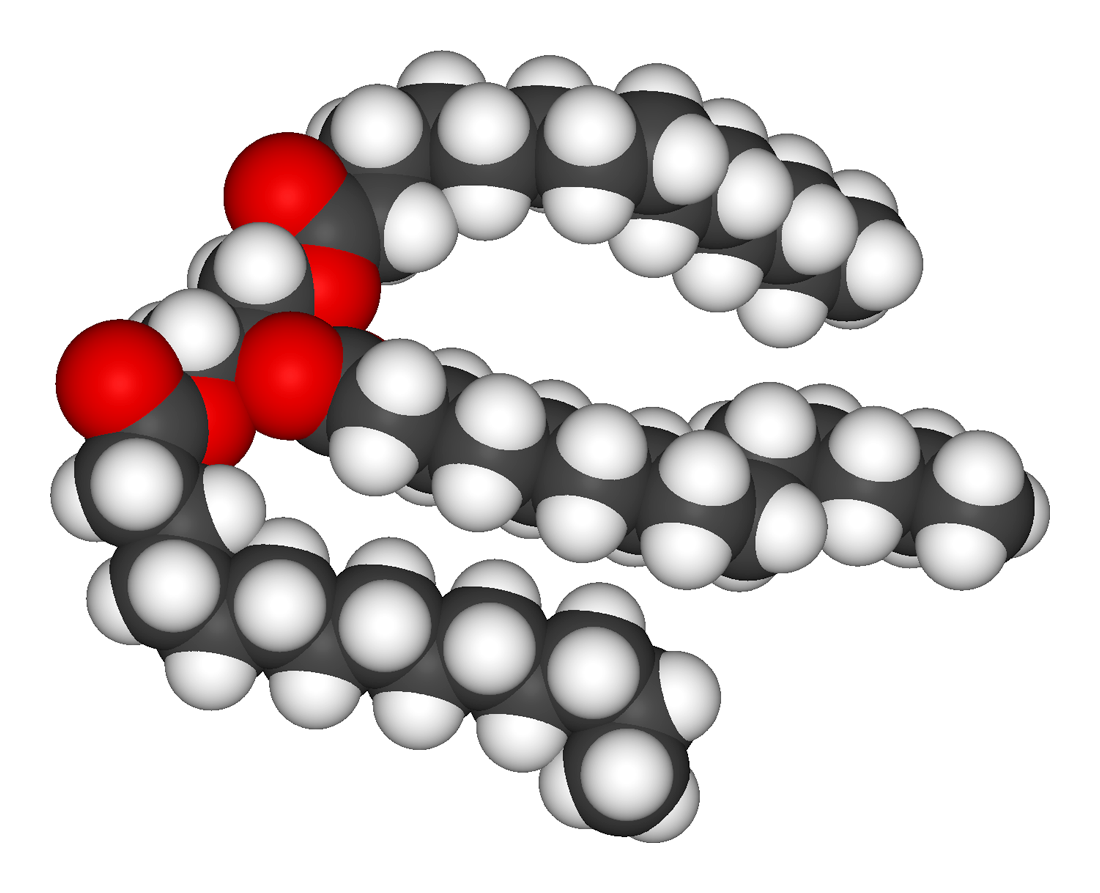 Fats are actually molecules called triglycerides (which can be seen in the image to the left). They are composed of three fatty-acid molecules (which consist of a polar head group which is the carboxylic acid moiety that makes a fatty acid an acid, the red molecules in the image to the right are oxygens and are a part of that carboxylic acid group, and a hydrophobic carbon-chain tail). Those three fatty acid molecules are attached at the center by a glycerol which is the three carbon chain that the fatty acids are attached to at the center.
What Makes A Trans Fat, A Trans Fat?
When we talk about trans fats, we are actually talking about the bonds that exist between the carbons in that hydrophobic carbonchain tail of the fatty-acid part of a fat. A mouthful for many of you, however I will explain.

The above molecule is a 16 carbon chain fatty acid or Hexadecanoic acid (or Palmitic acid but real scientists abide by IUPAC nomenclature). This fatty acid is called a saturated fat, because all of the bonds between the carbons are single bonds, each carbon is fully saturated by hydrogens. This fatty acid has a lot of conformational flexibility and the chain can bend and move in many directions, think of it like 16 paper clips linked together, you can bend the paper clips into all sorts of shapes, each junction between the paperclips can move around.

For something to become a "trans-fat" it must first have a double bond. Double bonds make a portion of the carbon chain very rigid, they would be like putting tape around the junction between two paper clips in your chain. The rest of the chain can move around freely but where you have taped together (the double bond) you have lost that flexibility. The image to the right has a double bond in our 16 carbon chain fatty acid, this fat is called cis-Hexadec-9-enoic acid (or palmitoleic acid). This is a cis unsaturated fatty acid, as the carbons around the double bond (where there are two lines stacked in the image) are pointing in the same direction on opposite sides of the bond. They are on the "same side." Were one of the carbons pointing in the opposite direction then that would be a trans double bond and any triglyceride which contained it would then be a trans fat.
Our bodies are very finely tuned to the shapes of molecules, you may think... wow these all look so very similar! AND you would be very right! They are EXTREMELY similar, same number of carbons, hydrogens, and oxygens (for both a cis and trans fat), and the molecules are even in essentially the same order between a saturated, cis and trans fat for Hexadecanoic acid, however the three dimensional shape of the molecules are each very very different from one another!
The Article
Okay, now that we have an idea in our minds what a trans fat is we can begin to discuss this article a bit and touch base on the major results that the authors have found.
As was mentioned above the authors here were looking at a few different 18 carbon trans fatty acids, where the trans double bond was at different locations in the chain. (as remember three dimensional shape of the fat, MATTERS)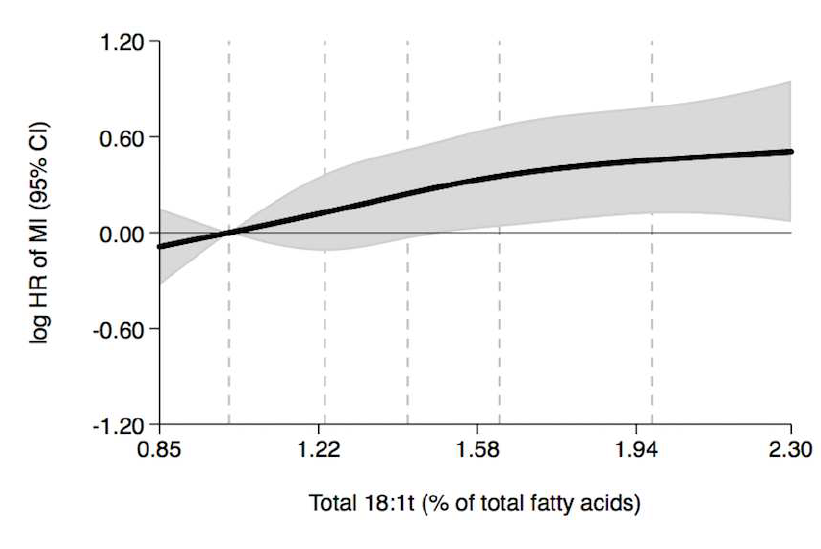 Women: Figure Reproduced From [1] Figure 1
To the left we are looking at the relationship between the percentage of fat a patient has (x axis) that is an 18 carbon long trans fat with the double bond at any location, and the log of the hazard ratio for having a heart attack. We talked about hazard ratio before, so to keep it simple here, know that the more positive the number the more likely an event is to happen. So what we see here is that women that have increasing amounts of their stored fat as this trans fat, have an increased likelihood of a heart attack.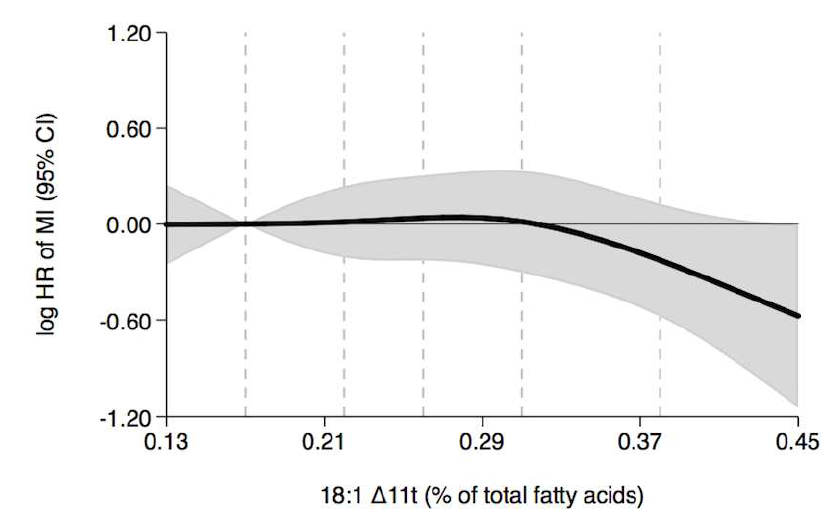 Women: Figure Reproduced From [1] Figure 1
However the data also shows that not all trans fats are equal in this effect... which we can see if we look to the right! Here the authors have singled out just one trans fat, with the trans bond on carbon #11 in the 18 carbon chain. When the bond is in this location, it would appear that increased amounts of this trans fat as stored fat in women result in a REDUCED likelihood of having a heart attack. The opposite from the previous data.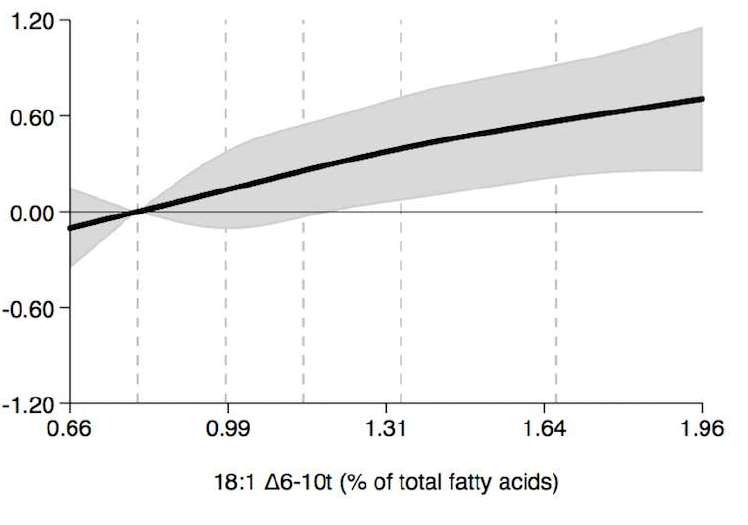 Women: Figure Reproduced From [1] Figure 1
Sure enough, when they looked at trans fats where the double bond was on carbons 6, 7, 8, 9, and 10 but not 11 they saw the same trend where more trans fat leads to a higher chance for a heart attack.
However similar trends were NOT observed at all for men, oddly enough. The authors observed no correlation between the amount of fat stored as a trans fat and heart attack rate.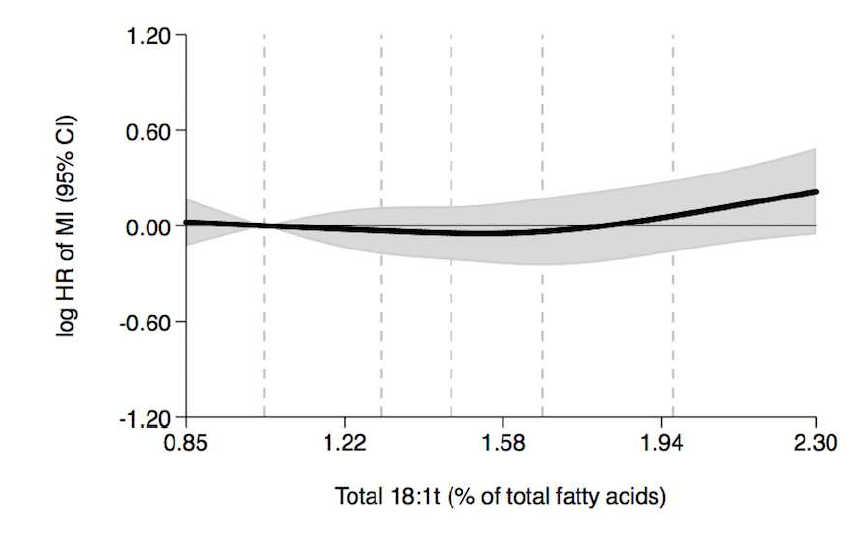 Men: Figure Reproduced From [1] Figure 2
To make matters even more confusing, when the authors looked specifically at trans fats with a double bond on carbon 11, they saw a slight increase in heart attack relationship, which is again, the inverse of what was observed for women.
Conclusions
The authors kept men and women separate from one another because the relative heart attack rates are much higher in men then in women, and as such they expected the resolution to be worse when looking at the data in men (IE the change from the trans-fat content would be small in relation to the high starting risk). AKA they didn't expect to be abe to see the trend as clearly in men as in women. However it is still a surprise that they saw none at all really.
They discuss in the article that they are not the first study to make such an observation in men, and that prior studies have also not seen a correlation between 18 carbon trans fats and heart attack rates in men. [4] which is interesting considering the general consensus and available literature indicating how bad trans fats are for the heart.
What Can We Take Away From This
Not very much I am afraid. The data is interesting, and perhaps a little surprising. However maybe it shouldn't be. As we all know, blanket statements like "X is always bad" almost always turn out to be a bit hyperbolic. Our bodies don't work in such on/off, black/white, states. They exist in a world of grey, where some amounts of something may not be bad at all, but when a tipping point is reached all hell breaks loose. Perhaps even the methodology of sampling stored trans fat is not effective at observing a relationship between the fats themselves and overall health.
Maybe a more important factor is the acute consumption of trans fats? Where health detriments come from consumption of large quantities of trans fats over short periods of time. Where as consumption of small amounts over long periods of time may not be as bad. Both of these types of consumption could result in similar total amounts of the trans fats stored in the body, but they may have very different effects on body biochemistry otherwise. Mind you, this is all just personal speculation and rambling! However isn't that part of the fun of science, musing and hypothesizing?
What do you think?
Cited Materials
Sources
Images