What do we know about Portugal Space Agency?
Portugal is the latest country to establish a national Space Agency
Hey dear Satellites! It's Fred Femto Field here! I decided to interrupt my Failure Analysis Series (Part 1, Part 2, Part 3), and talk a little about space!
Some weeks ago I went to ESA Ministerial Council (Space19+). Where, European ministers in charge of space activities gathered in Sevilla, to decide on ESA's vision for the future of Europe in space.
For my surprise, the co-presidency of the governing body of the agency for the next three years (2020-2023), will be Portugal and France!
It seems that this choice, it's mostly related with the new entity, called Portugal Space!

Source
The agency's headquarters are being built on the Azores island of Santa Maria, located west of Portugal in the Atlantic Ocean. And by 2021, the new organization aims to start launching microsatellites for Earth observation!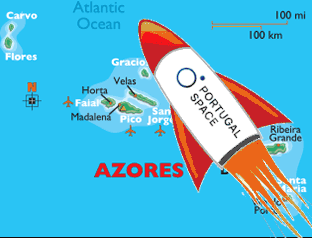 Azores is as close to continental Europe as it is to the American continent and with a large oceanic coverage of more than 1,500 kilometers in any direction, being a very strategic and suited location for the launch of small satellites headed to sun-synchronous orbit.
The agency is also considering letting private companies like Virgin Galactic to use the spaceport for space tourism flights!
Aaah! It made me feel really good to write something other than Failure Analysis!
Cheers from 10-15 !!
(For the ones who want to know more about the aim of the blog, you can always click here)
References: