Failure Analysis: Dissecting EMMI and OBIRCH
Hi smart beeings! My name is Fred Femto Field, for the ones who don't know who I am, you can check my biography!
One month ago, I was in this Failure Analysis conference called ISTFA (International Symposium for Testing and Failure Analysis), and I came back home really excited about some of the presentations.
I'm now at my office in the quantic world, and I'm planning to stay two more days before coming back to the Newton's one. Meanwhile I decided to write a little bit about Failure Analysis and the techniques that were mainly spoken at ISTFA.
Let's start with EMMI (Emission Microscopy) !
EMMI (Emission Microscopy) is a non-invasive technique, which can be performed from either the back or front side of a certain DUT (Device Under Test). Many device defects induce faint photon emission in the visible and near infrared (IR) spectrum. These photons are emitted at the active area (FEOL) and they are detected using highly-sensitive CCD or InGaAs cameras.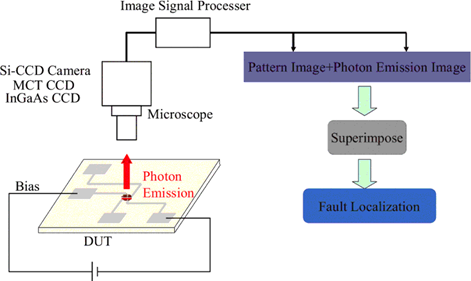 Figure's source: C. Xuanlong, K. Xianjun, X. Guangning, "Application of EMMI contrast method in failure analysis" In Proc. IEEE International Symposium on the Physical and Failure Analysis of Integrated Circuits (IPFA), pp. 504-507, 2013.
EMMI is capable of detecting light wavelength between 350 nm ~ 1700 nm depending on the camera. And it can be used for detecting failures such as: junction leakage, gate oxide efects, ESD failures, Latch up and leakage currents. A frequently common image of EMMI, can be seen below, and it is formed by a superimposition of the pattern image and the photon emission image.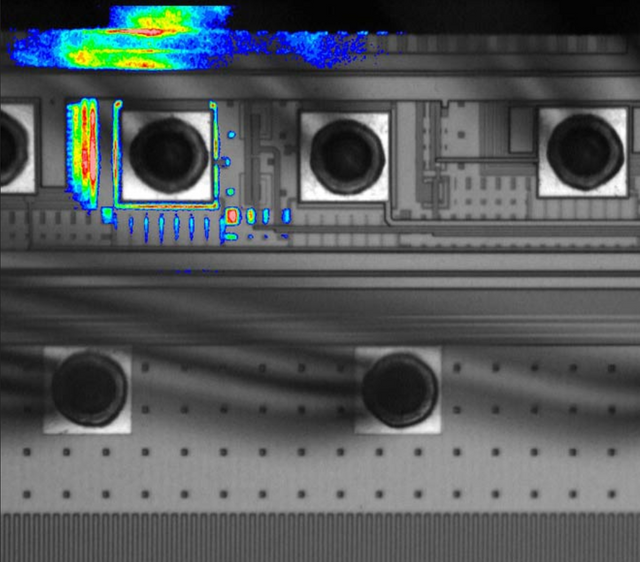 Beautiful right?
Taking a pause to contemplate the trippy scenario from my window... Insane world...
Alright! We're done with EMMI! Time for OBIRCH (Optical Beam Induced Resistance Change)
Usually resistive defects do not induce photo emission, therefore EMMI can't be used in these cases. To detect the later ones, an optical beam (near InfraRed) scans de IC and monitors the corresponding current at one particular location. The laser will induce heat locally and the resistance will change with it. The following equations describe the measurement procedure:

If we apply a constant voltage to that line, the current will decrease according to:

If the short site is a conductor, the resistance will increase with temperature, if it is a semiconductor, the resistance will decrease with increasing temperature. Typically OBIRCH is used to detect defects such as: shorts in polysilicon, gate oxide pinholes, void in metal track, plugs and via's, drain and source shorts.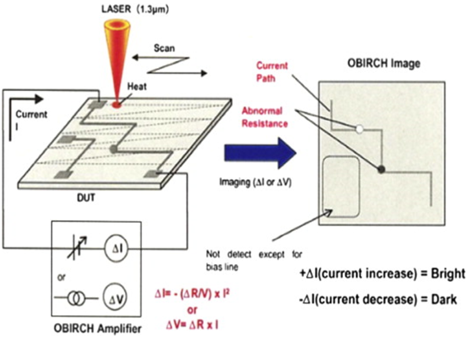 Ok guys! We're done with Failure Analysis for today, the lab waits for me!
I'll be continuing with these series in the next few days, don't miss it! Meanwhile I might share with You some pics from the quantic world!
Cheers from 10-15 !!
(For the ones who want to know more about the aim of the blog, you can click here)
/
References EMMI
References OBIRCH
F. Beaudoin, P. Perdu, "Current leakage fault localization using backside OBIRCH", Proc. IEEE International Symposium on the Physical and Failure Analysis of Integrated Circuits (IPFA), pp. 121-125, 2001.