Imagine you're an astronaut and have landed on a planet very much like Earth, except that there's too much cyanide in the air. Now imagine a friendly native comes up to you and says, "Oh, ho my dear Earthing from far away, no need to expire. Just shake my hand (never mind the tingling) for DNA that'll let you respire in this cyanotic quagmire." †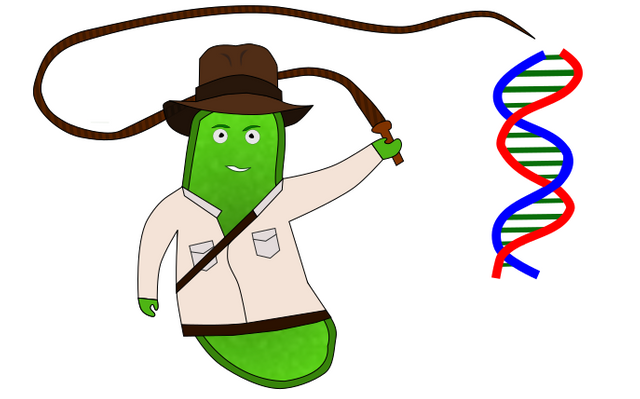 Image courtesy of me, under CC4
Believe it or not, this is exactly the life strategy employed by many bacteria (horizontal gene transfer), and that's not even the news.
Until now, we've only been able to infer how horizontal gene transfer happened. Now we can actually watch vidoes of it happening, thanks to the work of Courtney Ellison in the Brun lab at U. Indiana ref††.

Courtney developed a better way to stain and view very tiny, very important bacterial appendages called pili. Pili (singular, pilus) are long thin rods extending from the bug's body and are super useful for a lot of microbial behavior. They have 'sex' with them, can use them in attachment, and, of course, they are used by bugs to gather up environmental DNA for horizontal gene transfer.

Unfortunately, I don't have the copyright privileges to directly show you the video, despite the work being publicly funded by the US NIH and NSF.††† But, I strongly urge you to follow this link the to NYT article and watch it. You can also grab the raw video file here, provided by the IU press release. Go ahead, I'll wait.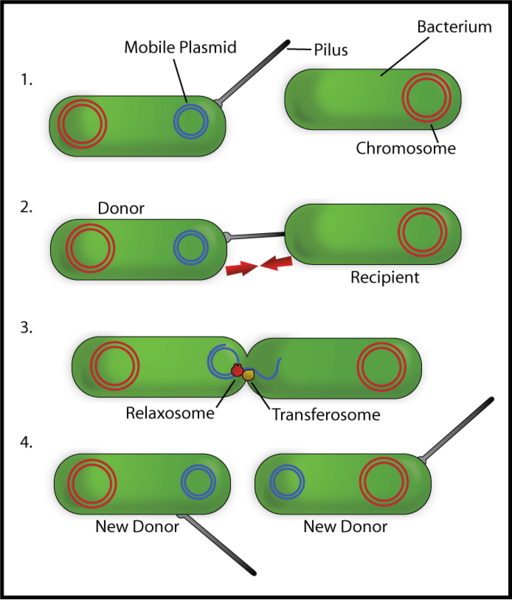 Trust me, the video is much cooler looking than this. Also, for the pedants, this shows a pilus being used for a different kind of horizontal gene transfer (conjugation rather than transformation). Source by Mike Jones, under CC 2.5
You just saw a bacteria reach about with a pilus and snag some potentially useful environmental DNA. How freaking cool is that?!
So much of science is patient incremental work, often with indirect inferences. It can be cool and thrilling, but it lacks the visceral feel of seeing what's going on. I can absolutely picture the moment described in the NYT article where Ellison excitedly ran into her supervisor's room immediately after her first observation.
Horizontal gene transfer
Like I wrote earlier, horizontal gene transfer itself isn't news, we've known about it since 1928 and have discovered a few methods by which it happens since then. That doesn't mean it's not super important.
For the bugs, it's a great strategy. In my previous article in this series, I mentioned that bugs who want to adapt to environments are faced with the choice of either :
specializing and losing adaptability
carrying the the burden of a lot of potentially useless DNA.
Horizontal gene transfer gives them a nice loophole. The DNA fragments hanging out near the bugs probably came from an organism which was adapted to the environment and there's some chance that a random fragment contains the genes which enabled that adaptation. Bugs who are able to hoover up those genes get the benefit of not having to specialize, without having to maintain their own genetic library.
This is probably a very bad strategy for an individual bug, but it works out well for them as a population. It's also, for example, how the mighty xenomorph adapts to its environment and is a way to gain powers in at least one video game.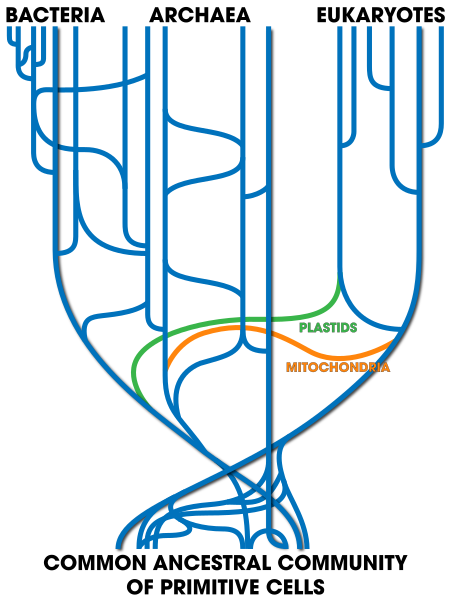 Horizontal gene transfer, giving the bacterial family tree more tangles than the Lannisters for ~ 3 billion years. Source, by Andrew Z. Colvin, under CC4.
For us, horizontal gene transfer is important both as a tool and as part of battle against 'bad bugs'.
As a tool, horizontal gene transfer was a significant step towards determining that DNA, rather than proteins, were the informational basis of heredity. Beyond that, many of our methods for genetically modifying organisms are directly based on different kinds of horizontal gene transfer.
With regards to 'bad bugs', instead of cyanide, think about water or livestock awash with antibiotics. We've all heard (hopefully) of the increasing prevalance of antibiotic resistant bugs - horizontal gene transfer is the major way that they are picking up this resistance.
That's cool and all, but is it really important?
The video is beautiful in its own right and horizontal gene transfer is important, but does it actually matter that we can see it happening? I mean, we were already pretty damned certain already that pili were responsible for snagging DNA.
The answer is, resoundingly, yes, it does matter.
First of all, science is wrong all the time (and that's ok), multiple lines of evidence (especially when they involve direct observation) allow us to correct course. Second, it's a lovely video that clearly illustrates a fundamentally important bacterial lifestyle to the general public.
Most importantly, however, is that microbiology advances in lock-step with improved methods. From the development of Antonie van Leeuwenhoek's early microscope, thru fluorescent microscopy, and many other molecular methods, every observational leap increases our understanding of the microbial world.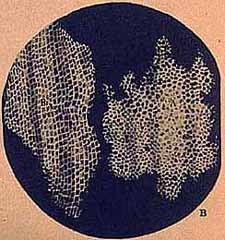 From this..."Observation XVIII" of Robert Hooke's Micrographia, public domain.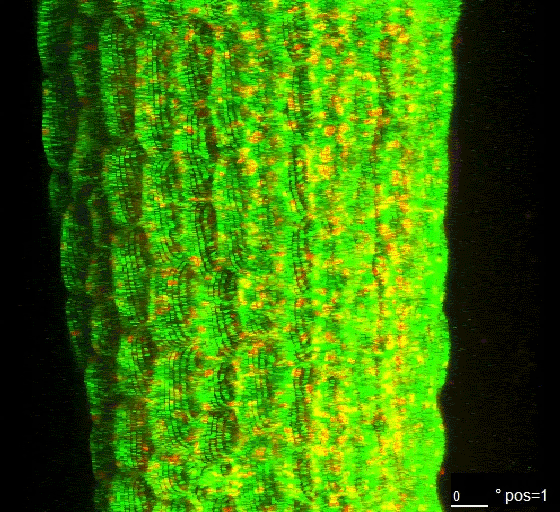 To this...Confocal observation of Arabidopsis, source, by Michael McConville under CC4
Indeed, if you're among the first to benefit from new methods, the discoveries to be had are almost embarrassingly low-hanging fruit. In this specific case, we can find out so many new things just by looking: how frequently does a pilus encounter DNA, does it ever reject DNA, are there specific search patterns, are some species more adept at DNA-whipping?
I myself am humbled, before this video I'd always pictured a pilus as a skinny, rigid needle, like the spine on a cactus. I had no idea how flexible and motile they could be.
Perhaps this is why so many recent Nobel prizes (1, 2,3,4,5) have gone to methods development. I am even tempted to claim that of all the disciplines, biology benefits the most from improved observational methods. (Engagement bait alert!!! I welcome counter-examples in comments).
---
Footnotes
† No, I don't know why friendly aliens speak in verse.
†† The official title of the article is "Retraction of DNA-bound type IV competence pili initiates DNA uptake during natural transformation in Vibrio cholerae", ostensibly because "Holy crap, are you seeing this?!" wasn't sufficiently understated.
††† If you're tired of me griping about this in my posts, imagine how tired I must be of having to deal with it.