The Leo Triplet is a group of 3 galaxies in the constellation Leo in the northern hemisphere. The group contains the galaxies Messier 65, Messier 66, and NGC 3628. The galaxy NGC 3593 is often, but not always, identified as a member of the Leo Triplet group. Its mean distance is estimated at 30 - 35 million light-years. Due to this distance, the Leo Triplet is not a part of the Local Group. With the Messier 96 subgroup, it forms the Leo I group, which, like the Local Group, is part of the Virgo Supercluster.
In the galaxy Messier 66 there are special peculiarities through the interactions with the other galaxies.
The Leo Triplet in the middle with the galaxy NGC 3593 at the right upper side.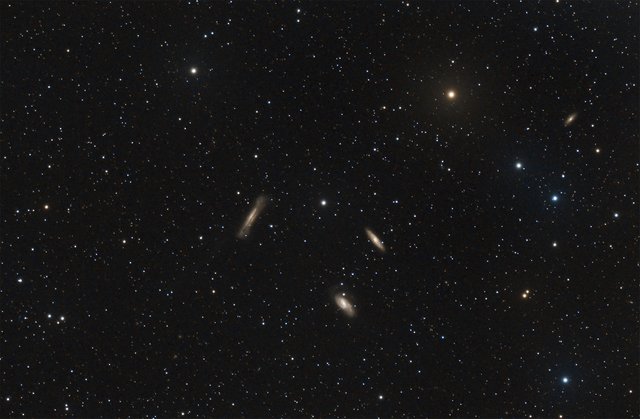 The annotated image shows where the galaxies are located in the picture.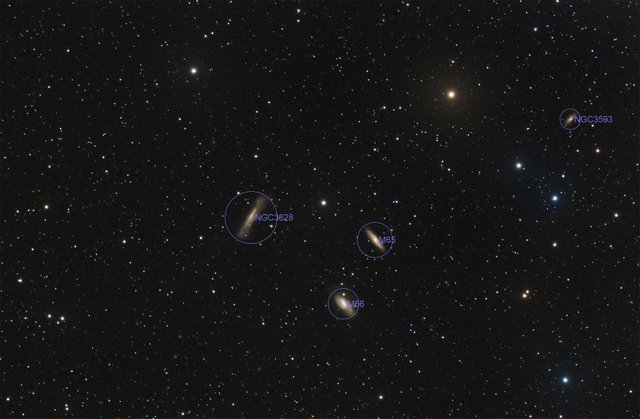 This table will show the distances and the apparent size and brightness of the galaxies in the Leo Triplet. The not always associated galaxy NGC 3593 is in italic, as their affiliation is not entirely sure.
| Name | Estimated median distance | Apparent dimension | Apparent magnitude |
| --- | --- | --- | --- |
| Messier 65 | 40.28 million light years | 9.8 x 2.9 arcmin | 10.25 mag |
| Messier 66 | 30.38 million light years | 9.1 x 4.2 arcmin | 9.65 mag |
| NGC 3628 | 31.64 million light years | 14.8 x 3.0 arcmin | 10.2 mag |
| NGC 3593 | 29.60 million light years | 1.46 x 1.06 arcmin | 12.6 mag |
Virgo Supercluster
The Virgo Supercluster is a super galaxy cluster and is itself part of the Laniakea Supercluster. With other galaxy groups, it contains the local group, which also includes the Milky Way, our galaxy. It contains at least 100 galaxy groups and clusters and extends over 110 million light-years. Its gravitational center is the Virgo galaxy cluster which contains about 2000 galaxies and gives it its name.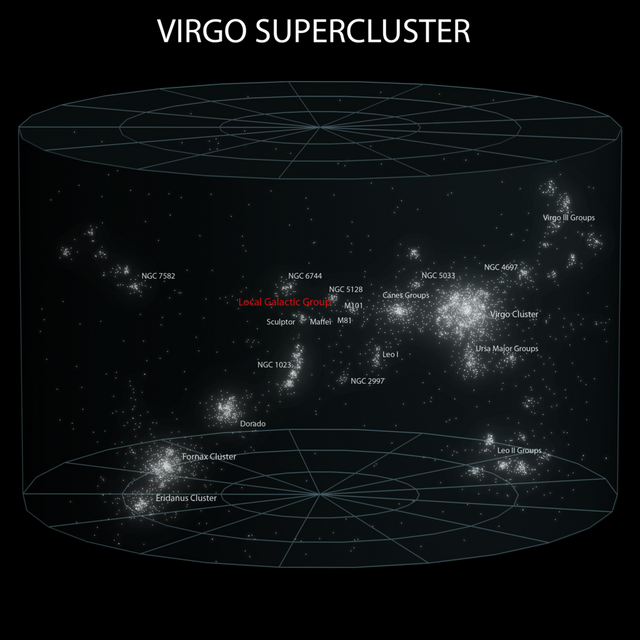 *Copyright: Andrew Z. Colvin, CC BY-SA 3.0*
The near environment of the Virgo Supercluster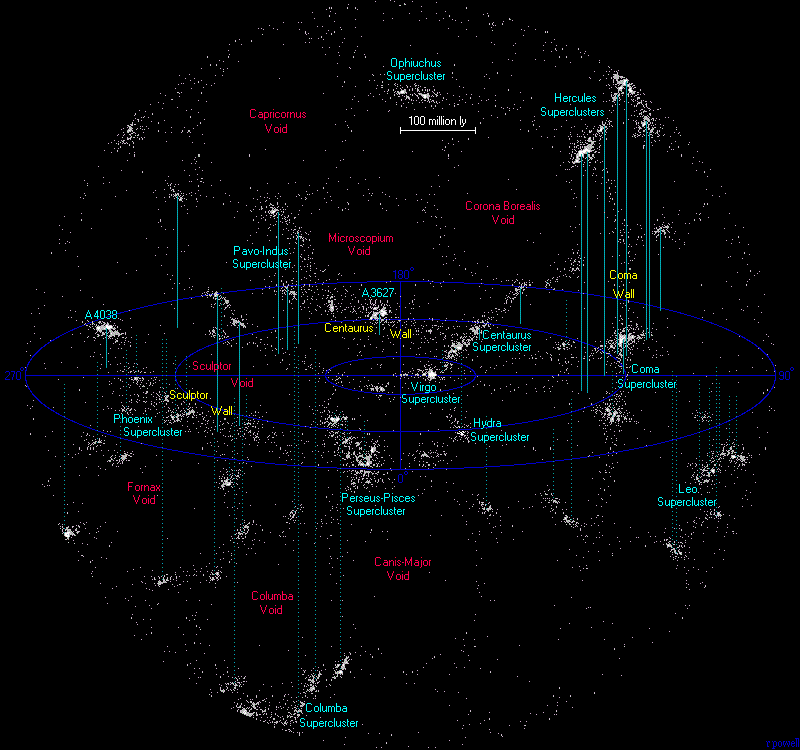 *Copyright: Richard Powell, CC BY-SA 2.5*
Special characteristics of Messier 66
Messier 66 is the biggest galaxy in the Leo Triplet and has a diameter of around 100,000 light years. Astronomers suspect that because of its nearby neighbors messier 65 and NGC 3528, it shows some interesting effects of gravitational interaction, which gives the galaxy an abnormal appearance. Messier 66 has a very unusual, asymmetrical spiral arm that does not run in the plane of the galaxy's disk. Also, its core is a bit offset from the center. Normally, the spiral arms of gas, dust, and young stars spiral symmetrically around the center of a galaxy. Usually, the gas, dust, and stars are symmetrically winding around the center of a galaxy.
In Messier 66, an unusually large number of supernova explosions have occurred in last years. Since 1973, five supernovae have been registered, the last one in the year 2016.
Hubble spectacular image of Messier 66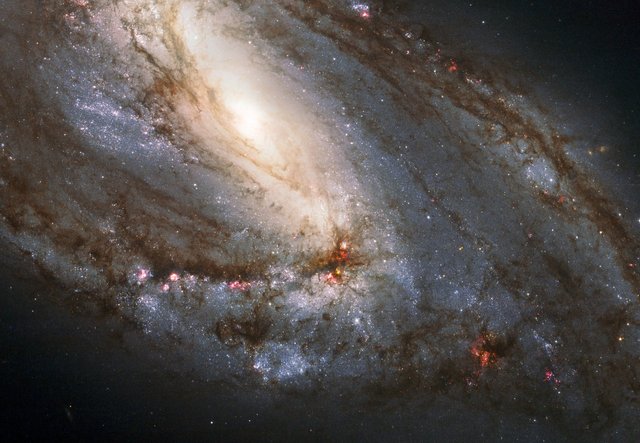 *Copyright: (STScI/AURA)-ESA/Hubble Collaboration, CC BY 4.0*, Copyright note
Details of the picture that was captured by me
The picture was taken from my backyard with the following settings and following equipment.
Light frames: 25 x 600" @ unity gain
Dark frames: 6 x 600"
Flat frames: 100 pcs.
Bias frames: 256 pcs.
Camera: QHYCCD247C
Scope: TSAPO65Q · 420mm · f6.5
Guide camera: QHY5L-II
Guide scope: TSL60D · 240mm · f4.0
Mount: Skywatcher AZ EQ-6
All is controlled by my Astro-PC over Remote-Desktop and wireless LAN.
Software: Sequence Generator Pro, PixInsight, Photoshop CC
References:
https://en.wikipedia.org/wiki/Leo_Triplet
https://de.wikipedia.org/wiki/NGC_3593
https://de.wikipedia.org/wiki/Virgo-Superhaufen
https://de.wikipedia.org/wiki/Virgo-Galaxienhaufen
https://www.astronews.com/news/artikel/2010/04/1004-010.shtml
http://www.messier-objects.com/messier-66/
http://earthsky.org/todays-image/supernova-erupts-in-m66
NASA/IPAC Extragalactic Database Messier 65
NASA/IPAC Extragalactic Database Messier 66
NASA/IPAC Extragalactic Database NGC 3628
NASA/IPAC Extragalactic Database NGC 3593
---
Thank you very much for visiting and reading!
I hope that this has been a useful article for you. If you have any questions or suggestions, please don't be afraid to let me know of anything you thought about this post!
Yours,
@astrophoto.kevin
 
---
 
All images, otherwise clearly indicated, in this post are my own work.
You can use it for free if you credit them to @astrophoto.kevin.