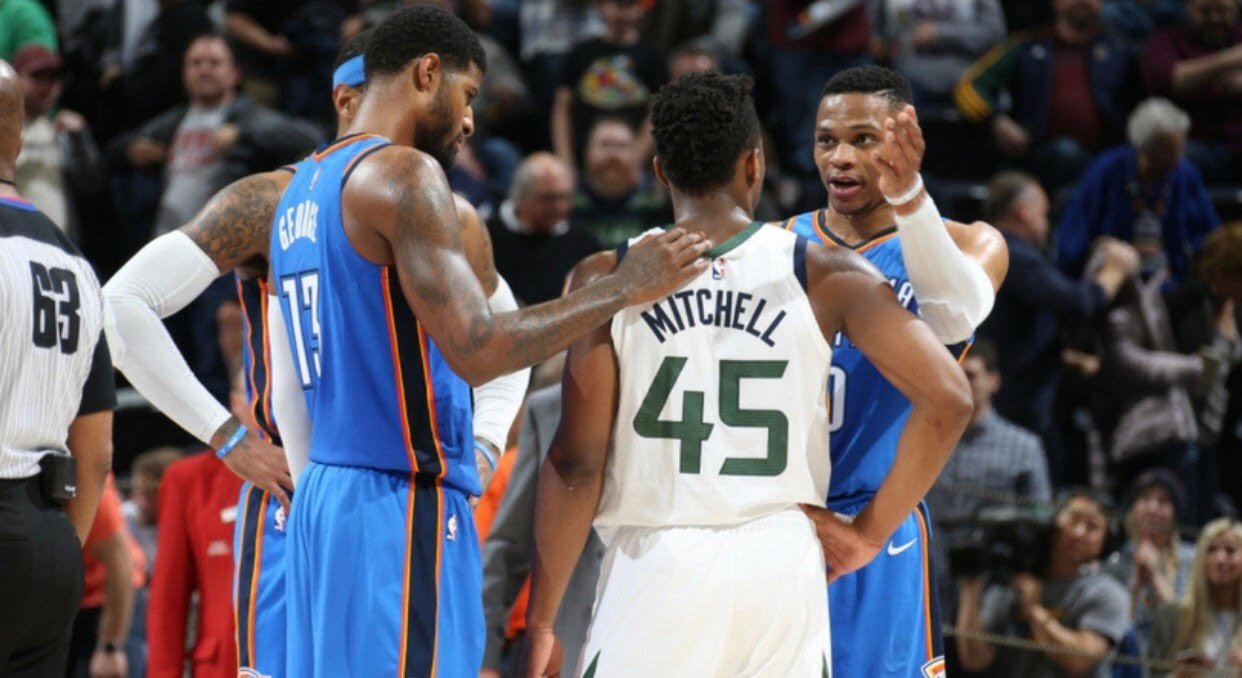 ---
SteemSports Presenter:
@mateonav53
---
SteemSports Editor:
@scottybuckets
---
The Utah Jazz have a dangerous young team that can't be underestimated, but they couldn't best the Thunder Big Three who emerged victorious after Game 1, 116-108. Paul George shot the lights out with 36 points while going 13-20 from the field. Russell Westbrook also brought the ruckus with 29 points, 13 boards, and 8 dimes of his own. Carmelo Anthony had a quiet 15 point game but hit several crucial three's when the Jazz started making runs. Donovan Mitchell put forth a great effort for the Utah Jazz to the tune of 27 points, 10 rebounds and 3 assists.
---
The Jazz were looking sharp from the get go, jumping out to an 11-2 lead. They were getting out in transition and getting all their stars involved early. The Thunder tried to respond with their own transition buckets but Rudy Gobert met them at the rim like a big French brick wall. The rookie Donovan Mitchell was looking like a bona-fide star, hitting his first four shots of the ballgame. The Thunder just couldn't handle the Jazz who were totally in sync. They had to call a timeout to regroup with the score at 16-4. Billy Donovan must've given an Oscar-worthy speech during that break, because the Thunder went on a 12-0 run and tied it 16-16. Multiple ties and lead changes ensued, but the score was neck and neck 25-25 after one. Carmelo Anthony got his groove going with some pretty three's and iso plays en route to nine first quarter points.
---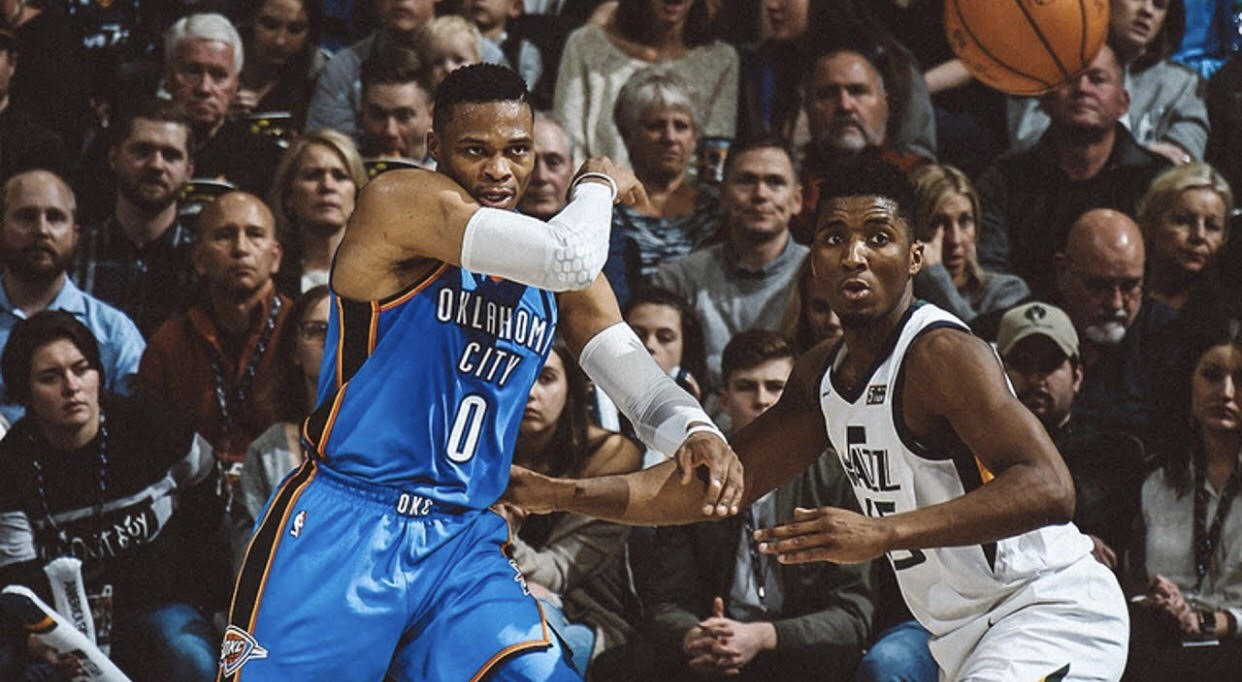 ---
The start of the second quarter was another series of punches and counter-punches. Rudy Gobert came back in and made paint buckets a lot more challenging for Thunder. About halfway through the quarter, OKC hopped out to a small lead spurred by Russell Westbrook and Paul George's 3-point shooting. The Jazz stayed in it thanks to Rubio's aggressiveness driving to the rack and Donovan Mitchell's free throws. Paul George and Joe Ingles were getting chippy with each other, exchanging dirty looks after the whistles blew. The Thunder ended up finishing the half stronger, with a small six point lead after the first half buzzer 54-48. Paul George already accrued 20 points in the first two quarters.
---
Both defenses looked a little lazy to start the third. They each allowed uncontested drives to the hoop from the likes of Joe Ingles and Corey Brewer. Paul George continued the hot hand for the Thunder. He hit a pair of three's to stretch it to a 9 point lead 62-53 which caused a Utah Jazz timeout. OKC kept the lead around 9-11 throughout the middling minutes, but Utah surged back thanks to the uptick in aggressiveness from Donovan Mitchell in the paint and beyond the arc. The Utah comeback jolted the Thunder awake. Their Game 1 leaders Paul George and Russell Westbrook fought back and pushed the lead back to nine off a George buzzer beater three ball, 81-72 heading into the final quarter.
---
Oft-injured Jazzman Dante Exum had some real nice cuts to the hoop at the start of the fourth for some Utah buckets. He was tasked with running the offense while Mitchell and Rubio sat. Utah got overwhelmed on the defensive end by the combo of Alex Abrines and Paul George on the perimeter, causing OKC to jump out to a 10+ point lead once again. With three minutes to go, all the pieces of the puzzle started coming together for the Thunder. Westbrook was facilitating and initiated a thunderous alley-oop to Steven Adams (it actually looked like he hurt his right arm as he slammed it down). Defensive stops led to transition three's from Carmelo Anthony. Utah challenged them down the stretch when they played the foul game and hit some quick follow-up three's, but the Thunder ultimately escaped with a Game 1 win 116-108.
---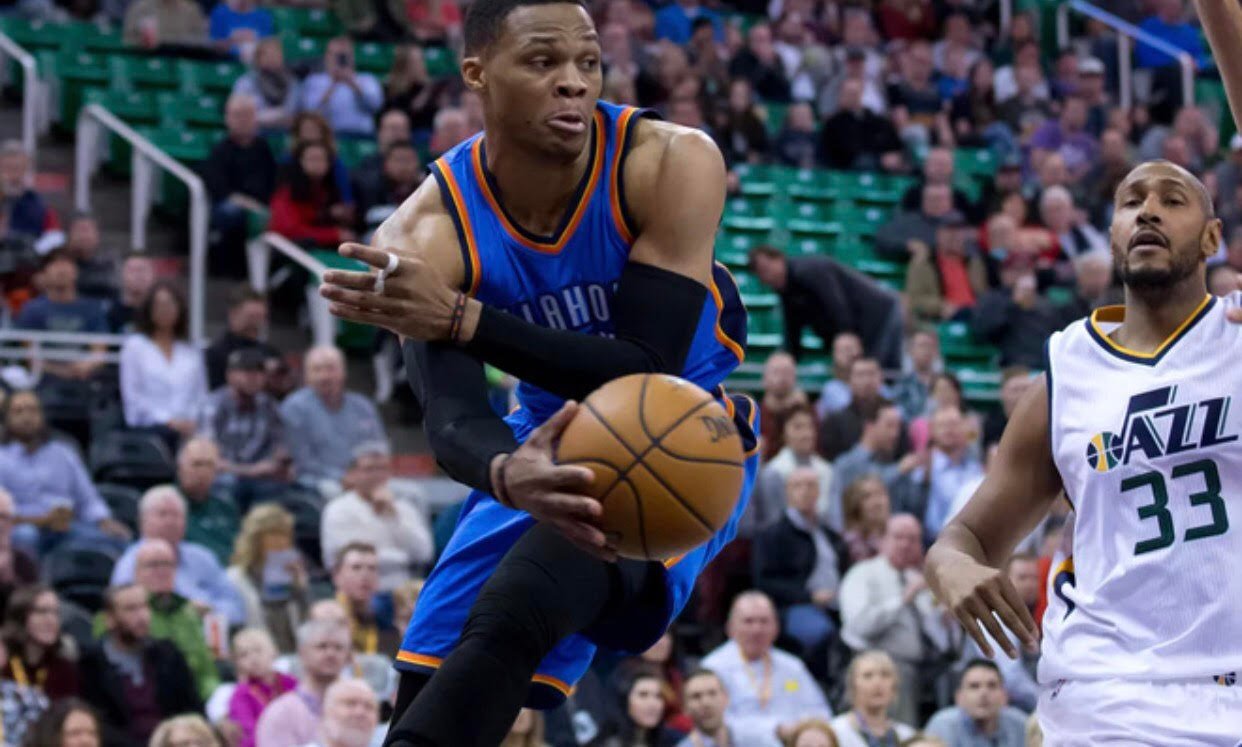 ---
The pressure was on the Thunder to win against a young, upstart squad and they accomplished their goal. Paul George lead them with his red-hot shooting but he had to lay down on his stomach next to the OKC bench while getting massaged by the team trainer, so something's clearly up with his back. OKC has enough firepower with Westbrook and Anthony to fill in if Paul George has a less effective game from injury, but he has to roll out the same level of defense on Joe Ingles who he kept in check very well. A hot Joe Ingles can really stretch the Thunder defense out and allow even more driving opportunities to Donovan Mitchell.
---
Donavan Mitchell looked excellent in his playoff debut. He was knocking down deep three's and driving to the rim like it owed him money. It has been tirelessly repeated by commentators and pundits but he really does play with the confidence and fearlessness of a tested playoff veteran. If he played this well on the road I imagine he'll go up another level when he returns to his raucous home crowd in Salt Lake City for Game 3. Game 2 will take place in Oklahoma City on Wednesday, 5 PM PST / 8 PM EST.
---
Thank you for following
@steemsports
and you can find me
@mateonav53
---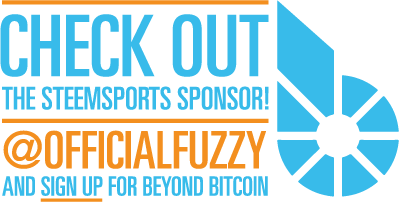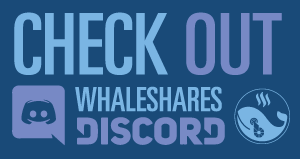 ---

---