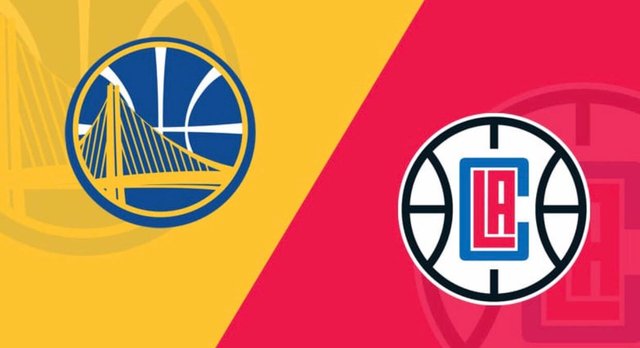 ---
SteemSports Presenter:
@mateonav53
---
SteemSports Editor:
@scottybuckets
---
Monday night's NBA playoff action was turning into a far cry from the splendor of Saturday night. The Brooklyn Nets and Philadelphia 76ers led things off with a serious dud of a blowout, 123-145.
---
The Sixers just ran them out of the building. Complete domination in the second half, outscoring Brooklyn 51-23 in the third quarter. This is how we thought the star-packed Sixers would come out in Game 1 of the series. Instead, we got the Twitter-breaking Nets victory that America never knew it needed, but totally deserved. Looking back, that first game could turn into just a classic example of a superior team needing a sucker punch to take their opponent seriously. Here's to hoping the Nets bring the heat for Game 3 in Brooklyn.
---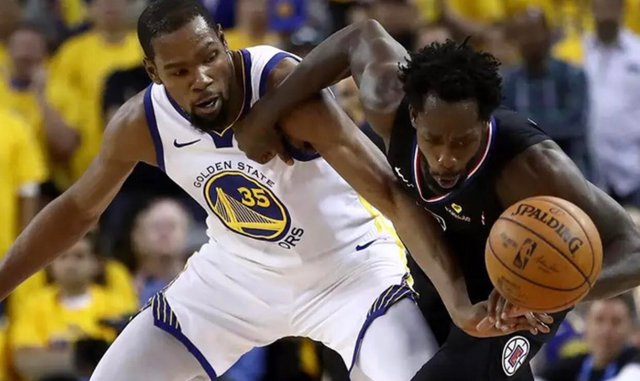 ---
The Warriors and Clippers were on next and things looked like they'd follow suit. The Los Angeles Clippers were down 31 in the middle of the third in Golden State. This one felt all but over...matter of fact this series felt like it was over. The thing is, you just can't underestimate the Warrior's ability to blow winnable games this year.
---
Things started feeling weird as we crossed the halfway mark in the fourth. Prior to that, the Warriors seemed like they were just toying with the flailing Clippers. Despite the lackadaisical nature of the contest, LA chipped away slowly but surely at the foul line (40/45 FT, 89%) and from three (11/28 3PT, 39%). One the clock hit 5:59, the Clippers made it a two-possession game! Hustle boards and baskets from Montrezl Harrel, outstanding defense from the guards Patrick Beverly/Shai Gilgeous-Alexander, and unbelievable, clutch scoring from perennial sixth man Lou Williams.
---
The Clips desire to steal a game in Golden State never wavered, but more importantly, their execution outweighed their will. With Demarcus Cousins falling victim to a quad injury and Kevin Durant fouling out, the window was there for a miracle. With a Lou Williams 20-footer, we got a tie game at 128 with one minute remaining! Steph Curry nailed a huge three to give them some distance, but Lou came right back with a ballsy drive to the hoop for two! These Clippers just wouldn't die.
---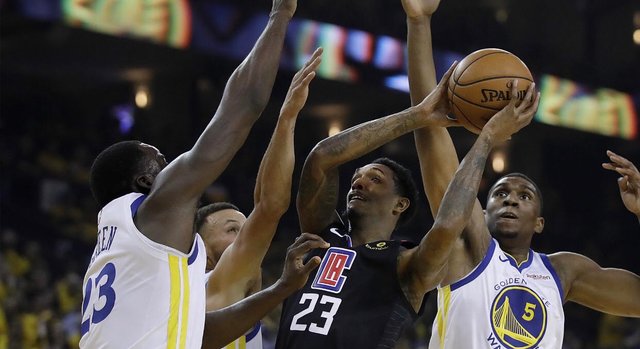 ---
With the score tightly locked into a one-point game, Clippers rookie Landry Shamet stepped up and nailed the biggest three-pointer of his life to put the Clippers up two! Only sixteen seconds remained in the ballgame! Oracle Arena was in a state of shock! Montrezl Harrell nailed a pair of free throws moments later, and one of the hugest single-game playoff comebacks in NBA history was complete! Clippers win 135-131.
---
The numbers on the scoreboard aren't even the biggest loss for the Warriors tonight. Star free agent pickup and surefire championship guarantee-er DeMarcus Cousins is feared to have torn his squad mere minutes into the game. Warriors head coach Steve Kerr remarked that the training staff considers it a, "pretty significant quad injury." He expects Cousins to be out for a while. If an MRI concludes that Cousins suffered a Grade 3 tear, then his season is all but over.
---
The Warriors should still reasonably be the favorites if worst comes to worst, but an injury like this coupled with the fresh, disheartening loss has to be a blow to the Dubs morale department. Having the new guy on the floor with you brings an element of freshness that was absent in last year's playoff run. They'll miss that sensation of fighting on the field with their brother that hasn't gotten a ring yet.
---
Even though the Warriors blew one to the Clippers in an epic fashion, I think we are all still expecting them to come out as the winners of this series. However, if we look past the first round, how does this result bode for their prospects deeper into the postseason? We can still look at the Dubs roster and call them the favorites, but when things get down to the nitty gritty against a fellow playoff powerhouse like the Rockets, can Golden State muscle through the adversity once again?
---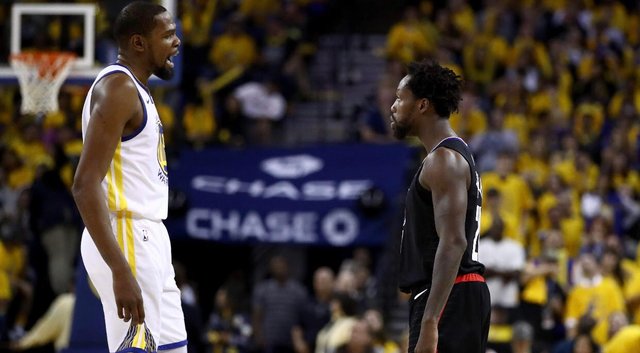 ---
I'm starting to have real concerns about their potential resilience in the later rounds. We forget that they were a lot closer than we think from getting eliminated by the Houston Rockets with no Chris Paul in Game 7. If the Rockets make a few more three's in their sequence of 27 straight missed attempts, we'd be viewing this Warriors team a little bit differently. The odds of a team of the Rockets three-point caliber (36.2 3 PT% as a team last year) missing 27 triples in a row was .00084% according to Sixers analyst Eric Sidewater. Can the Warriors bank on something like that to happen again?
---
When they blew games in the regular season, we could always chalk it up to, "Oh, it's not the playoffs. They'll try then." Well, here we are. TNT cameras are at every game and the Warriors are still underperforming while field one of the most talented squads in history. What's going to happen in a seven-game series when you face another hungry, even more talented team? I'm aching to find out. We might learn as early as the second round when the Rockets return for the rematch.
---
Thank you for following
@steemsports
and you can find me
@mateonav53
---

---

This is a
@steemvoter
subscription payment post. Thank you to Steemvoter customers for allowing us to use your Steem accounts to upvote this post by virtue of your free subscription to the
https://steemvoter.com
bot service.
@steemvoter
is proudly a
@buildteam
subsidiary and sister project to
@steemsports
,
@steemsports-es
,
@steemsports-ita
and
@minnowbooster
.