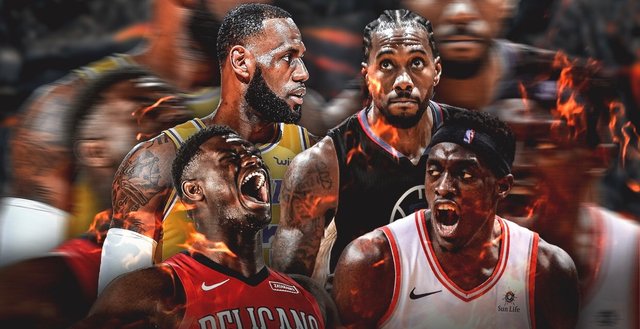 ---
SteemSports Presenter:
@mateonav53
---
SteemSports Editor:
@scottybuckets
---
The most wide-open NBA landscape in what feels like decades is on the cusp of tipping off. On Tuesday night, October 22nd, fans will be treated to two games from some of the league's most intriguing teams.
---
The New Orleans Pelicans and Toronto Raptors will do the honors of kicking things off with a game at Scotiabank Arena. Per tradition, the defending champions will receive their rings in an opening ceremony that will honor last season's incredible run to the title.
---
It's going to be a great showcase of talent between players like Lonzo Ball, Brandon Ingram, Jrue Holiday, and Nickeil Alexander-Walker for the Pelicans, but the big prize of the NBA Draft will be notably absent. Zion Williamson's presence was enough to give the Pelicans one of the higher amounts of national TV games this season (30). Unfortunately, Williamson is nursing a knee injury that kept him out of the last preseason game.
---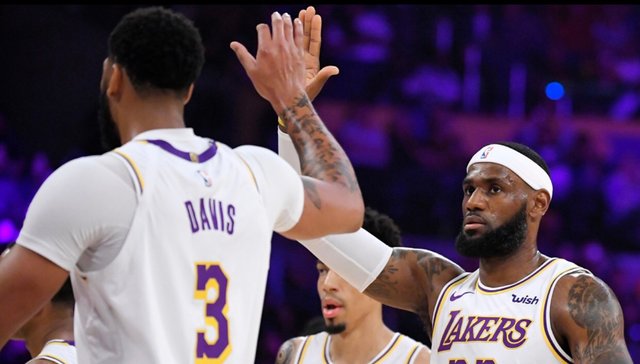 ---
His unreal explosiveness combined with his size make him one of the most imagination-defying players we have ever seen. It also makes him a nail-biting injury risk for Pelicans fans. It's obviously better to err on the side of caution, but an extended absence from Williamson creates a deflated atmosphere for all fans of the game.
---
The Toronto Raptors, on the other hand, will get to show the world the first look at a Kawhi Leonard-less future. Pascal Siakam seems set up to be the prime beneficiary of Leonard's absence. The Most Improved Player of the Year will have a whole new team dynamic to figure out, as he looks to be a higher volume scorer on the team. If things don't work out for the Raptors this year, they may just decide to blow it up and trade their older players in Kyle Lowry, Marc Gasol, and Serge Ibaka. Both teams have a fair shot at claiming opening night victory, but I'll give the edge to the defending Champs, especially given Zion's absence.
---
Out West, two of the biggest winners of the NBA off-season will face off in the Los Angeles Lakers and Los Angeles Clippers. Barring health, the Western Conference and NBA Championship may very well go through the city of Los Angeles. The duo of LeBron James and Anthony Davis has looked downright dominant at times during the NBA preseason. Not to mention, off season additions like Dwight Howard, and Avery Bradley look like they're going to contribute more than expected for the Lakeshow - particularly defensively.
---
The idea of LeBron James and Anthony Davis plus competent shooters should have the league on notice. If the floor spacers knock down their looks, defenses are only going to be more helpless as they try to defend the James-Davis two man game.
---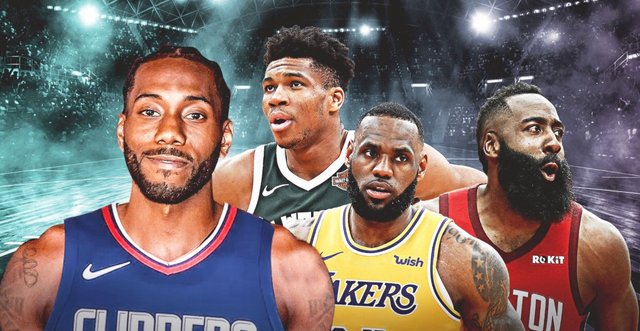 ---
The Clippers, on the other hand, will try to beat teams with strong play from their wings and powerful depth. Lou Williams, Montrezl Harrell, and Landry Shamet are all going to be in positions to thrive this year as opposing defenses figure out how to contain Paul George and Kawhi Leonard. George won't be playing the first game thanks to off-season surgery, and isn't expected to return for another few weeks. When he's back and healthy, this Clippers team has the potential to be a defensive monstrosity.
---
If Paul George was playing, this would be a showcase of the two most powerful duos in the entire NBA. Although Leonard and George are two of the most individually talented players in the league, they don't clearly complement each other on the same level as Davis and James.
---
In the beginning, George and Leonard may go through a lot of, "your turn, my turn" as the two forwards figure out their team dynamic, but the chemistry between James and Davis has been evident from the get go. It's unfortunate that we won't get to see the duos face off in full force, but it should still be a satisfyingly competitive affair. I have the Lakers winning a close contest in this one, because I'm not sure who is going to reasonably contain Anthony Davis. Here's to the start of the 2019-20 NBA season!
---
Thank you for following
@steemsports
and you can find me
@mateonav53
---

---

---
**Disclaimer:**
This is a
@steemvoter
subscription payment post. Thank you to Steemvoter customers for allowing us to use your Steem accounts to upvote this post by virtue of your free subscription to the Steemvoter.com curation automation service.
@steemvoter
is proudly a
@buildteam
subsidiary and sister project to
@dlease
,
@tokenbb
,
@ginabot
,
@steemsports
.
@steemsports-es
and
@minnowbooster
.
---
**BURNPOST:**
This is a 20% Steem burnpost by setting
@null
as beneficiary.