The metals bounce - consolidation continues
There hasn't been much to write about in the metals. The consolidation continues. It seems everything is quiet on the geopolitical front, but things seem to be warming up again. In the meantime the metals got the bounce that I was looking for, albeit a week or so later, and are back in the consolidation zone rolling forward to the inevitable break out that will almost certainly arrive before Q4 this year.
Gold: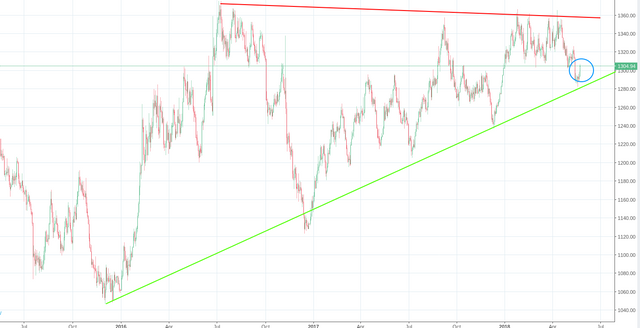 Gold broke it's bullish flag formation but it bounce off the long term trend line. This in itself is neither bullish nor bearish particularly. It continues to consolidate but the upward trend line is certainly showing a lot of resilience. There is a lot of ground to cover before attempting another attack on the 1360 strong resistance line, which is now forming a gradual down trend line.
Silver: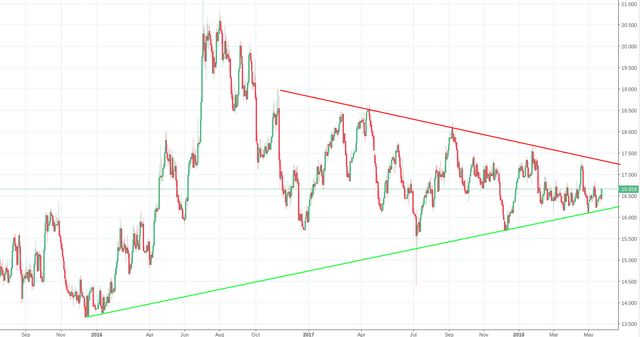 There isn't a lot to say about silver really. It continues to meander up and down within the consolidation zone although the bounces and pullbacks do appear to be getting tighter, indicating that a break out or break down may be close. We need to see a strong break through $17.50 before confirming the upward momentum.
General markets have pulled back a little, but again, there isn't much to write about.
We might be seeing the beginning of the pullback in the dollar as it stutters from it's seemingly unstoppable rise of the past couple of weeks. If N.Korea and Iran start to play up then it will reaffirm pressure on the dollar so watch this space.
For disclosure, I'm not a professional financial advisor and this is not investment advice, merely my own observations of the market and indexes, so do your own research.