Hammer's Pick Of the Week!!
Wow! Its been awhile since the last pick, but when I saw this round I new it had to be a pick of the week.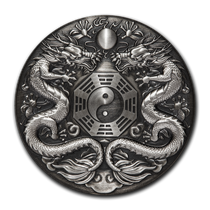 Source Apmex
You are looking at the 2 oz silver double dragon round, minted by the Perth Mint.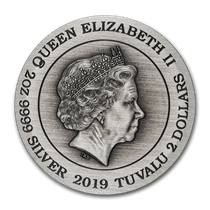 This round will only have a mintage of 888, so this is sure to go quick.
You can find this round right here
Here is a little information provided by Apmex.
Product Details
In traditional Chinese culture, the dragon is revered as a divine creature and symbol of power, strength, wealth & good fortune. This 2 oz Silver rimless coin features this mythical creature and has an extremely limited mintage of 888.
Coin Highlights:
Extremely limited mintage of only 888.Coin contains 2 oz of .9999 fine Silver.Each coin is housed in a classic display case with an illustrated shipper and is accompanied by a numbered certificate of authenticity.Obverse: Displays the Ian Rank-Broadley effigy of Her Majesty Queen Elizabeth II, the monetary denomination and the 2019 year-date.Reverse: Depicts two exquisitely detailed dragons chasing a flaming pearl with a stylized representation of clouds and mist in the background. The mythical creatures encircle an image of the bagua, a motif incorporating Taoist trigrams, or symbols comprising three lines. Each trigram represents one of eight fundamental elements or concepts: heaven/sky, lake, fire, thunder, wind, water, mountain or earth. Within these is the yin yang symbol denoting universal balance.Tuvalu legal tender.
Add this 2019 2 oz Tuvalu Silver Double Dragon Rimless Antiqued Coin to your cart today!
In keeping with its ancient themes, the coin has been "antiqued" by hand to give it a unique finish conveying the surface abrasions of an aged artifact. As a result of this treatment, the appearance of each coin in the limited mintage may vary.
The Perth Mint will release no more than 888 of the 2019 2 oz Silver Double Dragon Rimless Antiqued Coin. This number is considered extremely lucky in the Chinese culture.
Thanks for stopping by