In 2013-2015 the Royal Canadian Mint issued a series called "Canadian Dinosaurs".
This is the second coin in the series featuring portraits of prehistoric animals discovered in Canada.
It is a 2014 $20 CAD weighting 31.39g with 99.99% silver purity and Proof finish.
Its mintage was 8,500 units and the issue price was $89.95 CAD.
The reverse image features an interpretation of what the Nova Scotian ornithischian (a small, bird-hipped dinosaur) may have looked like if similar to Scutellosaurus. The scientific accuracy of the depiction was verified by palaeontologists of the Royal Tyrrell Museum of Palaeontology.
The Scutellosaurus shows rows of hundreds of armoured 'scutes' that cover the entire upper portion of its body, from the back of its head to the tip of its exceptionally long tail. Its short but muscular forelimbs suggest that it was only bipedal part of the time, at other times resting or walking on all fours.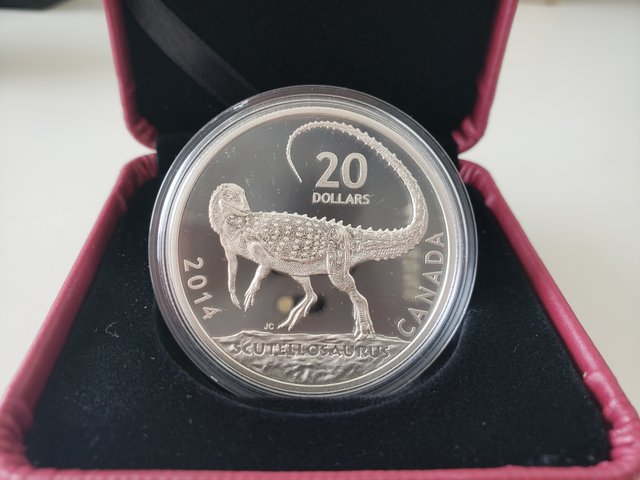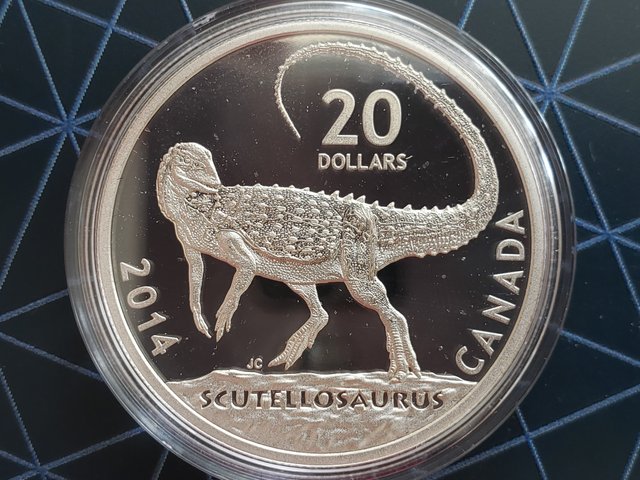 The obverse of the coin features the well known effigy of Her Majesty Queen Elizabeth II by Susanna Blunt.
Thank you for reading. Please comment, upvote, resteem and advise me.