Silver Bullet Silver Shield is Back!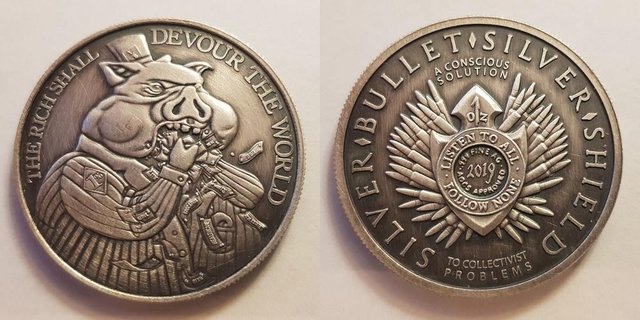 ---
2019 Year of the Pig Antique
No longer the original owners, but Silver Bullet Silver Shield is back up. They're back with a new round, which is a 2019 Year of the Pig round with an antiqued finish. This is definitely not your normal Year of the Pig artwork. This from SBSS :
The "Year of the Pig" round is based on the ancient Chinese Lunar calendar. The design was inspired by the current financial crisis the world's economies are facing. Designed by master artist Alex Robledo. Represents the wealth inequality that exists throughout the world today and the insatiable appetite of the 1% to own and control more of the wealth and resources of the planet.
Personally, I like the design a lot but the high premium is going to keep me from jumping on this one right now. If I come into some extra money though... I'll definitely consider ordering one of these.
---
What do you think? Are you planning to buy this round?
---
I UPVOTE genuine comments, if you found value from this please consider leaving one!