SteemShort #2: Fatal Attraction, a Short Story Written and Illustrated Collaboratively
SteemShorts are short stories written collaboratively by three different authors and illustrated by an artist/photographer.
Authors and illustrators compete to make a SteemShort on the @adsactly society's account.
The process to create a SteemShort is described in this post: SteemShorts: Collaborative Short Stories.
SteemShort #2 has been created in these four posts: Post 1, Post 2, Post 3 and Post 4.
The second SteemShort has been written by three authors: @sistem (Udekwu Chukwuebuka), @aderonkemi (Fowotade Aderonke) and @bcrafts (Ajasa Bolaji), and illustrated by @tolustx.
Here is the full story:
---
Fatal Attraction
© @sistem (Udekwu Chukwuebuka), @aderonkemi (Fowotade Aderonke) and @bcrafts (Ajasa Bolaji) for the text.
© @tolustx for the illustration.
Licensed under "Creative Commons Attribution-Share Alike"
(https://creativecommons.org/licenses/by-sa/4.0/legalcode).
---
On the 24th of December is Kenny's birthday. Kenny has anticipated this birthday from the beginning of the year and has plans to make it real big. He had never really been into parties, socials or fun fair and was never interested or allowed himself get talked into doing any of those. His life was relatively one you would call boring and he never got to celebrate his birthday because he was from a poor background and birthdays were never a luxury to reckon with.
Kenny loved keeping to himself and never really had friends, except for few acquaintances who were just used to his very calm and collected personality.
Being the first born child to his parents and having four brothers and two sisters to cater for, Kenny never had time for himself. He was a very hardworking young man who had to work from Monday to Saturday just to have enough to cater for his immediate and extended family. Though his job isn't one you would call lucrative, he dedicated himself to doing it and often got good appraisals from his boss and colleagues.
Kenny is married to a tall beautiful young lady, Lynda, whose feet he was ready to worship and he revered the dust that came off her feet. Lynda is a light skinned lady whose skin glows like that of a fluorescent lamp. She is from a wealthy family and therefore attended the best schools. She studied Linguistics and so speaks so eloquently, that anyone would think she had never set foot on the shores of Nigeria. Her parents made sure she never lacked anything and even had to send her to the University of Birmingham, United Kingdom, for her Masters degree and when she returned, love struck and she found herself falling head over heels in love with Kenny who worships in the same church with her and who, at the time, was a graduate who just got a job. Lynda's parents were never in support of their union and vowed never to have anything to do with Lynda if she happens to finally get married to Kenny. That didn't deter Lynda, as she went ahead to marry Kenny without the consent and blessings of her parents.
Kenny loved his wife so dearly that nothing could ever separate him from his love for his wife, but all that was about to change. Lynda, on the other hand was a sweet loving lady who respected and worshiped her husband. She is a mother to a beautiful girl, Cindy, and would do absolutely anything to keep her man and marriage like most African women would.
Well, trouble started when Kenny got a new and a better job. The young graduate of Electrical Engineering, who used to work in an Electrical Installation company with a basic remuneration of Sixty Thousand Naira (₦60,000) soon landed a job in a multinational Oil and Gas firm and his basic salary grew from seemingly nothing to way over Three Hundred and Fifty Thousand Naira (₦350,000) and that's when everything changed.
Plans for Kenny's birthday celebration commenced and he was filled with so much excitement as he was going to celebrate his birthday for the very first time and not just any birthday, but his 35th birthday. He was also excited because, for the very first time, he will be spending so much and wouldn't feel he has.
After all, he earns over ₦350,000; he thought to himself.
On the 22nd day of December, all preparations had been made and everyone was ready for the big day. The 600 seat capacity hall had been paid for, the cooks were ready as they had all the ingredients handy, ready for the big day. The drinks had also been bought and the family cloth sewn and collected from the tailor but however, one thing was left out. The graphics designer who was supposed to design and print the invitation cards was nowhere to be found and his phone was unreachable. What could have happened to him? Nobody had an answer to that. Kenny became apprehensive and couldn't keep his cool. He got his car key, got into his Honda Pilot SUV and drove off to the designer's workshop but found it locked up.
Kenny had no choice but to make a last minute arrangement. He thought of a friend he could call but didn't have anyone in mind who could give him the kind of quick information he needed. A thought soon crossed his mind and he remembered Miss Sandra, a colleague of his. Sandra is a tall pretty dark skinned lady with a charm that made every man in her work place crave her. She has the shape of a goddess and you could describe her shape using the hour glass. She catches the attention of all and sundry and never seizes to use what she has to get what she wants, if you know what I mean. She had always liked Mr Kenny but he never gave room for such an ungodly relationship and that made Miss Sandra crave him the more.
Kenny picked up his iphone7 plus and dialled Sandra's number as it was a usual practice in his office to have every colleagues phone number just in-case of emergencies. Miss Sandra picked up her phone and at first was excited getting a call from a man she liked so much, she thought to herself; has he finally decided to loosen up on me? But to her dismay, he only called to ask about the graphic designer who designed her 29th birthday card, which was used to celebrated her birthday just few weeks back. She gave him the contact of the man but also decided to try her luck with Mr Kenny. She asked Kenny to come over to her house so they could have a good time, promising to help him cool off and make him less apprehensive, but Kenny wasn't ready for any of that so he hissed and hung up the call. This act got Sandra embittered and she vowed she would have Mr Kenny at all cost, stating that no man ever escapes her grip.
Necessary calls were made and by the next day, the invitation cards were printed and distributed. Having had everything set, Mr Kenny gave a sigh of relief and went to bed that night.
On the 24th of December, the big day all have been waiting for, a Saturday to remember, the party started at exactly 3pm. The D.J (Disc Jockey) started with slow lovely songs to warm up the atmosphere and welcome the guests. The opening prayer was made and the chairman of the occasion made his opening remark. The next on the agenda was the couple's dance and that was when Miss Sandra walked in uninvited. As soon as Mr Kenny saw Sandra, he became uneasy because he knew Sandra was up to something after rudely ending the call on her the previous day. The party continued and Miss Sandra could be seen dancing and drinking, after all she only came to have fun. It wasn't yet time to strike and that wasn't her mode of operation.
The party came to an end with a closing remark and Sandra left the venue. Mr Kenny and his wife, Lynda, were filled with excitement because all went as planned. They said their night prayer and retried to bed but Kenny thought to himself; Miss Sandra came to my party uninvited, yet didn't do anything absurd. Could she be cooking up anything? While he was having these thoughts, sleep took the better part of him and he dozed off.
It was a rainy day and Lynda couldn't get enough of the nagging, "are you listening to what I am saying?", she asked Mr Kenny, but he greeted her with silence as he was trying to concentrate on the road to avoid mishap. Lynda wasn't having any of that as she stretched towards the steering but was met with a resounding slap from Kenny.
Earlier that day, Kenny and Lynda had woken up in a very high spirit as it was the 25th of December and they were both happy for the success of the birthday party and for having seen yet another Christmas. They both hurriedly said their morning prayers and Lynda ran to the other room to wake Cindy up. They had their bath, ate and prepared for church and at exactly 8:00 CAT they made to leave for church when Mr Kenny received a text message on his Phone but unfortunately the phone was with Lynda.
"You slapped me", She said and in a bid to retaliate, the car skid off the road and ran into a ditch by the road side.
---
"Come back to daddy Cindy, that route is dangerous"
Kenny said, stretching his hands in a hug style for his 5year old to take but she ran father away from him going into that unfamiliar terrain they had both found themselves. Whoever taught her to be this stubborn he never knew. He kept chasing her still.
"Cindy please wait for daddy. You can't go there all by yourself"
She would turn her beautiful angelic face at intervals to look at him and giggle but she never stopped going. He could hear her laughter cackle afar off. No matter how he tried, he wasn't catching up with the little girl. What is happening to him? He couldn't overtake a 5year old? While still dwelling in his own Dilemma, he lost trail and couldn't hear her laughs again.
"Cindy…"
Silence.
"Where are you baby? Come out to daddy…"
More silence.
"Cindy! Please don't leave daddy and go out there alone!"
Reality hit him that he must have lost her and it was then he sat down on the floor to weep. Where would he find his precious baby?
"My baby please come back to me…"
Those were words he was murmuring when he heard voices around him and he slowly opened his eyes to reality.
"He's awake!"…
"Doctor he's regained consciousness, the patient"
"The patient? Him? Cindy? Oh no!!! The accident!" he recollected and made to jump up from his bed but hands held him down.
"You can't get up yet" said a man in white. Must be the doctor, he didn't care!.
"Where is my child? Where is my wife? Please tell me all is well. Let me go to see them. Loose these drips off my hands. I can't be cured without seeing them first. Why are you not loosing me? Should I just…"
"Calm down Mr Kenny, they both are fine. You should just focus on getting better first. You just regained consciousness after three days of your admission here. We are glad you could make it out successfully. It was quite a fatal accident" the doctor reassured
Events were falling in place now and he could recollect how everything came to be. That fateful Sunday, he was preparing for thanksgiving in church with his family. The night before was a big celebration he had hosted to mark his new age. It was only normal to end all in the presence of the Almighty. He was in the bathroom when he heard his phone ring but didn't take heed to it and then he heard the message beep tone.
His wife called to him to notify him of the development but since he had nothing to keep from this woman, he told her to go ahead and read what was in that message that seemed urgent. But rather than read it out loud, she kept mute. He still had the soap lather on his face when he peeked to see what's up through the translucent bathroom door. She stood affixed with eyes glued to the phone with a grim expression caressing her face.
"Honey, what is the issue?"
He had asked her but she replied with a shocking question
"Who is Sandra?"
He stood transfixed by the room door with no words coming out of his mouth. Why would she mention that? Her words brought him back from his reverie.
"You can't talk, eh?, you men always can't talk when your secrets are in the open! I deserve to know who she is."
Why was she reacting this way? What was on the message that came in? He made for the phone to read up but Linda barred his way threatening to spill trouble.
"Speak up" she commanded.
He knew failure to do so would brim argument so he explained to her how she was his colleague at work and one who found him an impromptu photographer for the previous day's event. Linda wasn't having none of that as she showed him what Sandra sent. It was a Whatsapp message with a picture attached to it. It reads:
"Thanks for yesternight handsome, I slept cozily in your shirt."
The picture attached to the text was Sandra wearing one of Kenny's shirts in a rather flirtatious manner. Of course, even he was dumbfounded at this action.
"What was she doing with your shirt? And what about yesterday night?" Lynda barked!
"Sweetie I can explain. She was at the party yesterday and she got drunk. In the process, she spilled her cloth with red wine and it wasn't a pretty sight to behold. I was embarrassed for her and gave her one of my shirts to change into. I hailed a cab to take her home after this. Her safety was my responsibility too since she came for me. I am sure you can trust that nothing happened. You know your husband. Please …"
"Ehn ehn, you mean nothing happened with two grown ups in an enclosed place? What a wow!"
She hissed and walked away. The house was gloomy that morning. They only acted fine in the presence of their daughter but guess women can't be silenced for long hence why she brought it up again in the car.
"You are truly a Judas! I trusted you and yet, you were with another woman. I wonder what men are seeking out of their marriage! In what way is she better than me?" She was nagging profusely.
"Please let's discuss this later. Cindy is here and you are making me lack focus on the wheels." He pleaded.
She kept ranting and making their daughter frightened even with those inglorious words. What was she teaching to their child? He couldn't take it no more when she mentioned "Adulterer". Before he could learn self-control, his hands flew and dealt her a slap across the face. Oh no! What had he done??!! Raised a hand against a woman? His wife? He didn't see the trailer coming at the front earlier. In a bid to avoid collision, he drove directly into a ditch! That was all he could remember.
Two days after he regained consciousness, he demanded to see his wife and daughter. It was at this point he learned his daughter couldn't make it alive but his wife would be stable after a few days. He wept uncontrollably for days until he was eventually discharged alongside his wife. He was perfectly fine except for some minor cuts on his body but Lynda wasn't entirely lucky as she was struck with a partial stroke thereby leaving her to use a wheelchair for movement.
She was saddened by her daughter's demise and the calamity as a whole that struck because of her distrust. All these humbled her and made her calm when that same Sandra offered to comfort and help them around the house till they are strong enough. Kenny wanted to object but she said it was fine. He then knelt down and swore to his wife that he won't be swayed not even by her disabilities.
He stuck to his words as he treated his handicapped wife like a queen. She was his queen and he loved her. Meanwhile, Sandra was doing everything womanly possible to get Kenny's attention but he wasn't moved. She went as far as bribing some greedy core family heads to convince him to take another wife and the need to make a new offspring in place of the demised Cindy.
It was a hot battle between Kenny and his extended family when he refused to take a second wife, not Sandra especially! He had an unforgivable grudge against her and couldn't hurt his wife. When he proved to be too stubborn, the relatives blamed his wife and called her a witch witch who didn't want her husband to give birth to children since she is handicapped and maybe barren. These words got to her and for her sake, Kenny took in Sandra as a second wife.
He never performed any husband functions to Sandra but rather saw her as one of numerous home appliances. He always assured Lynda that he would never do anything to hurt her even though she sometimes plead that he shows her some love once in a blue moon. He wouldn't comply and for this reason, made their bedroom sacred to them alone.
All these infuriates Sandra everyday. What sort of man wouldn't even take two glances at an endowed lady as her? She agreed she was greedy to want another man but what could she do when her heart beats for only him? Well, if nothing, she loved that she always have a backup plan. She took Kenny's favorite wine from the cellar and refrigerated it. If Kenny didn't fall for this last ploy, then she would consider him INHUMAN…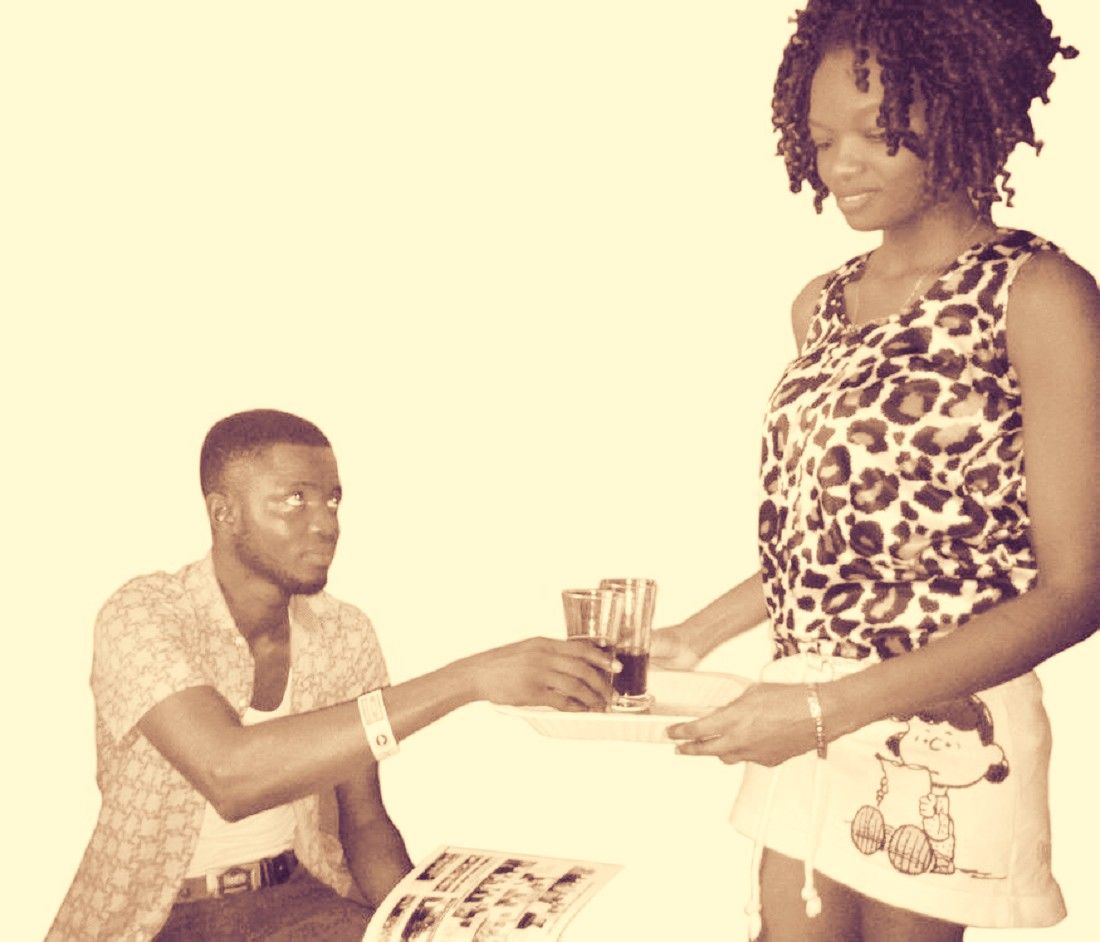 ---
Dressed in a black sexy lingerie which exposed her cleavages, Sandra awaited for the arrival of Kenny. She grinned wide when she thought about what she had in plan for Kenny that night. Kenny arrives home to meet Sandra in a sexy pose, welcoming him home she tried to hug Kenny who bluntly refused.
"Darling, I have prepared your favorite dish for dinner just take a shower and come eat" Sandra said in a sweet voice. Pretending to be deaf, Kenny walked up to his room. Lynda brightened up on seeing her hubby return from work. "How was work ? and your wife Sandra had made a special dinner for you" Lynda uttered. Trying to convince Kenny to at least show her some love, Lynda finally got to Kenny and he promised he would try just for that night.
Set on the dining table was Kenny's favorite dish Jollof rice garnished with sliced tomatoes and onions with fried plantain laced around the plate and fried chicken to crown it up. Kenny sat down to eat but couldn't help but stare at Sandra, he thought to himself "She's really beautiful but I can't just love her". Sandra brought out a wine from the fridge and two glass cups, poured some for Kenny and herself. Unknown to him, his cup was already laced at the tip with a drug to make him loose any form of control over his body.
Lying next to Sandra, Kenny woke up from his slumber to notice he hadn't slept in his room. His heart raced so fast thinking about the worst case scenario. Slowly, He opened his eyes and noticed he was in Sandra's room and both were quite unclad. Cursing under his breath "Oh my God, this woman's plan got me and I was stupid enough to fall for it" Kenny said. Kenny stood up from the bed and tried to be as quiet as a thief, he scrambled for his clothes and left the room as fast as his feet could take him and even tried to recollect events of past night without avail.
"Lynda, I am sorry. I really shouldn't have dined and wined with that devil. She tricked me and got to me. I hope you find a place in your heart to forgive me." Kenny said
"Stop calling her a devil,she is your wife remember. So I am not offended you showed some love to your wife." Lynda replied.
"OK, I won't call her devil anymore but I would avoid as much as possible from now on. She is a trickster, I don't know what she has up her sleeves again" Kenny said hugging his wife this time around.
"Love you dear, and you don't need to fear your own wife even avoiding her." sleepy Lynda protested.
Five weeks after the incident, seated in the living room was Sandra laughing hysterically as she watched TV. Arriving home, Kenny noticed something quite different about Sandra, happier than usual he thought to himself.
"Honey, welcome how was work today and i have great news for you" Sandra said as she leaned towards Kenny as she whispered "I am Pregnant". Shocked to the core, Kenny couldn't comprehend how she got pregnant until she dropped the pregnancy test in his hands and left smiling mischievously.
"Darling, Sandra said she is pregnant and I don't know how she got because i dont think i am the father, something I should have told you a long time ago, after the accident we had the doctor said I had errrhm erectile dysfunction, that I cant father a child. So I was surprised to hear she is pregnant when I can't even make love with her" a troubled Kenny said to Lynda.
"Come of it, this might be a miracle to forget the loss of Cindy. Why don't you believe the child might actually be yours and forget what the Doctor said, you know they are humans. Now go back to the living room and celebrate with Sandra" Lynda said while putting up a fake smile. Kenny left Lynda's side and went to meet Sandra as per Lynda's orders, while Lynda sobbed as she remembered Cindy and how she herself can't be a mother due to being paralyzed.
"Mommy, let's go to a Mr Biggs and get something to eat or we can go to shoprite" those words echoed in the ears of Lynda as she remembers her lovely daughter Cindy. Lynda cried herself to bed as she wasn't happy her husband's life has improved while hers is paralyzed.
Ninth months into Sandra's pregnancy, Lynda was feeling like she was neglected as Sandra got everyone's attention even Kenny's attention was always with Sandra and a new baby coming on its way. Thoughts of suicide danced through her mind as she felt she was just an item and was not needed anymore. She hatched a plan to kill herself and decided to go through with it when no one is around.
The day came for Lynda to take her life, with a tear filled eyes writing a suicide note to her lover Kenny. Lynda took in the pills and closed her eyes as she awaits death. Kenny had taken Sandra to the hospital for her childbirth was near, but he was worried about Lynda as he also knew this past few months would have been rough on her. On getting home, Kenny was shocked to see Lynda laying on floor with the suicide note next to her. Without hesitating he picked her up and rushed to the same hospital Sandra was in. He noticed how frail and pale his wife had been and she looks quite unusual.
Pacing up and down, Kenny awaited for the doctor's reply on both of his wives.
"Mr Kenny, we have been able to stabilize your first wife condition and your second wife has given birth to a girl" the doctor said. Overjoyed, He jumped in joy and was so happy to hear the good news.
But the good news was short lived for Kenny as he was hit with double header bad news. Everything came crashing down like stacked pile of cards. First he was told Lynda was in a shock and needed to have an operation as soon as possible while the one which really hit him hard was Sandra's case. Efe, a colleague of Kenny and Sandra in their place of work came to the hospital and said he is the father of Sandra's child. It got everyone astonished, Kenny's knee suddenly felt weak and wobbly, he stood speechless and lost of words. Trying to think its a lie, Kenny protested they do a DNA test to affirm the status of the baby, but to his greatest surprise Sandra started apologizing that she didn't mean to hurt his feelings. That she did what she had to do since she found out he had erectile dysfunction that night and loved him so much that she was ready to do anything to have him.
Despaired, lost, confused and dejected, his wife is in the hospital fighting for her life, his second wife had given him false hope with a bastard child. He had hit his all time low, unknown to Kenny God had other plans, there is indeed a silver lining after all the rubbles.
"Mr Kenny congratulations, it appears your wife Lynda was actually pregnant and her body managed to protect the baby for a whole 10months at the price of her own body reason she was paralyzed and the pills she overdose actually forced her into labour. Congrats once again" the doctor said.
"It came as a surprise to me also but I found out that she had a cryptic pregnancy if you were wondering how possible that your wife gt pregnant with no one noticing. She is indeed lucky to be alive" the doctor explained.
Stood in a trance, Kenny had to be tapped by the doctor to come back to life. Rushing towards to his wife, he was overjoyed with happiness. Transfixed as he walked into the room, he saw Lynda rocking their baby while standing. A double joy for his loss, he walked towards them, kissed Lynda on her forehead and took the baby from her. Smiling with tears on his face, Kenny decided to name the baby there, he called him Henry after his own father.
Lynda became the talk of the town as the woman who had miraculously kept her baby alive by sacrificing her body. The medical world couldn't explain how it happened, and it remained a mystery. Kenny and his family lived a wonderful life thereafter.