Welcome to my blog again!!!!
Today i am going to introduce you to a challenge that has been going on for days on steemit here (a lot really goes on on steemit, if you ask me), as well as make my own entry. today is the 10th day
The Title of this challenge is called Ultimate challenge and as marvelous as the name is, the prize is worth it. Its pretty much an easy challenge because all you get to do is talk about how steemit has changed your life - good or bad - i am tilting more to the good side though :)
Before i start writing about myself, i would like to acknowledge the author of this challenge, and founder of steemschool (which i am a supporter of ) - @dobartim.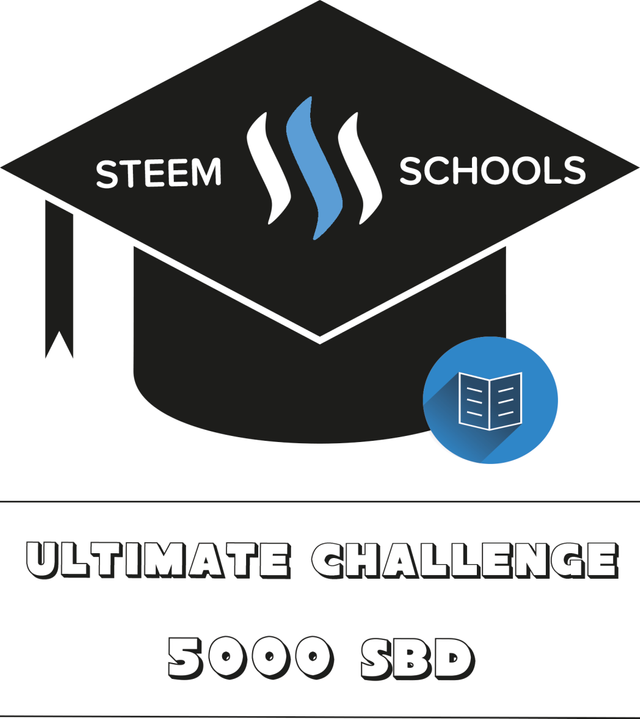 Here is a logo that goes with the challenge.
So enough of the introduction and down to business.
Life Communication
Steemit for me today cannot be compared to steemit for me months ago because now it has really changed my life. Firstly, fighting with the challenge of being able to write and write meaningful post was a challenge for me, infact it was a deter for me as i sayed away for steemit or a long time before i finally came back to it after hearing that my friends had made it on steemit. i was motivated.
I have been able to join different communities here on steemit to include @Stach, @utopian while growing up till i finally landed in @steemchool.
I was introduced to steemit by @mathemandy. He didnt just introduce me to steemit but encouraged me to attend meetups especially the ones organised my @samsticks.
I adapted very fast to steemit and soon began to make friends and participate in contest to take my tiny reputation mean a thing. Because of this meetups were in my local community, my followers were just Nigerians and i had a limited audience till i found steemschool.
Immediately i joined stemschool , i was warmly welcomed and i felt a sense of belonging and was comfortable. i wanna appreciate the people that made me feel that way, most especially @nikolina and @biljed - they both are very nice, they answered every noob question i asked, they were ever ready to support me and hep me climb up the ladder.
As a member of the Steemschool. I have enjoyed almost all the benefits in the channel. We have classes for art, business, poetry , photography etc. And different contests /challenges to empower steemians. @dobartim has selflessly created this group for the purpose of education. I'm a lover of learning, I am always ready to learn new things. Before, I used to feel insecure posting about my everyday life on social medias like facebook, instagram and the likes. Here on steemit I do not feel that way. Instead I'm happy sharing and I will continue to share even the craziest things that happens to me. Thank you my amazing followers for keeping up with me.
FINANCIAL COMMUNICATION
Moving on from making $0.01 on a post, and writing a post everyday to making $0.09 on a post and writing in a couple of days is funny right ?, but i didnt give up. I have been able to network with people find my niche here and now i continuously contribute to the platform no necessarily because i need the rewards but because it feels like something i really enjoy doing. My life has become an inspiration to others all because of steemit. i can now make trips on my own without consulting anyone, i can choose to see movies at the cinema because steemit has empowered me to do so and i have been participating and will continue participating in contests. i am being and acting all independent. I am happy i was introduced to steemit.
Education Communication
Steemit has taught me how to write meaningful comments. I have learnt to think before i post a Comment as this will increase the relationship one has with the author of the post. It is advisable for minnows on steemit to interact using comments and build relationship here on steemit if they plan to play the long game of steemit.
Steemit has taught me to write meaningful post - if someone told me that i was gonna write a post this long months ago i would not have believe because it takes discipline and practice to be able to write so well that it be would interesting to readers around.
I have a friend who takes out time to proof read my work and teaches me how to how to use Markdown stlying on my post though am still getting used to it - in my previous post i was struggling to add a link to my post thereby making my post look scattered as the links were supposed to be clickable but they just appear as normal text but he has shown me how to do it here
I never used to be a the tech guru, i still am not - but steemit has educated me to that point where i can be on my own and do incredible stuff.
a day before yesterday @tomitola spoke on the online live voice channel on the different types of people on steemit and how to communicate with them. Below is a listing :-
the controller
the supporter
the promoter
the analyst
This is just a tip of the ice berg. More to learn on poetry @dpend is working hard to hold the forte together. I never had a thing for poetry. But because of how poetry is taught, i fell in love totally and I'm trying to write some poems myself.
As steemit empowered me i have been able to encourage friends and family to join steemit as well as help them register.
Currently i welcome new comers to the steemschool discord channel and am happy to be here.
BUSINESS COMMUNICATION
Steemit has turned me into a business woman. Up until steemit i never knew what it meant to HLOD. Times without number i have wondered what the word meant. But i have learnt its an investment terminology to hold all assets despite the dwindling nature of the cryptomarket.
I have been able to study some crypto currency charts and also know what it means when the market is bleeding and not to panic sell
I have not made any withdrawal from my steemit account since it started as i look forward to steem and sbd growing in the near future. I intend to power up in time so my upvotes can mean a thing on posts when i use them.
I am happy that my time spent here on steemit and at Steemschool had been profitable and not a total waste of time. Thanks for Taking Out Time to Read My Life Story Since February. What are you waiting for?
Buckle up and
Join this great family to learn from professionals everyday.
do not waste time, time is precious. join us at discord and participate in this challenge