I was looking for an idea for a post and here's what I found.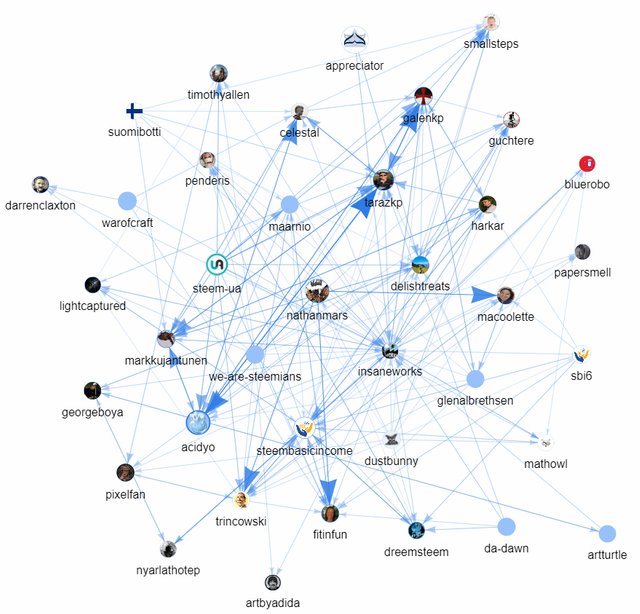 Graphs are awesome!
No, I am not @nathanmars, although he seems to be almost in the center of my graph. I'm insane. I think I am. I am I think. Think I am I. Am I think I? So it must be because I adore @nathanmars. I didn't know that I do, but @steemreports can't be wrong. Besides, graphs are never wrong. People interpreting them are. Except of course in this case. I may be insane, but I'm never wrong.
Check out hows your web doing: http://www.steemreports.com/votes-graph-enhanced
Who has wrapped you around their fingers.
Who do you know and who knows you?
Who has your throat in their hands?
Who is in the center of your life?
Who has a tight hold on you?
Who are you chasing after?
Who do you adore?
After these thoughts, that graph doesn't seem so innocent anymore. It may even sound a bit ominous.
No need to thank me!
So is your web a normal looking web or something that a spider on drugs would produce? And yes, the web changes every time you search it, so if you are now annoyed about the fact that your web looks like a spider poisoned with caffeine, or annoyed because I brought it up and perhaps you are still thinking about my questions, refresh the search few times and your appearance may be fixed with a little gimmick. After all, appearance is everything. Right?
Besides, if you compare it to a normal spiderweb, none of us are normal. It's all about what you choose to compare yourself with. I prefer to compare myself with a dot. Sometimes, if I decide to be really wild, I compare myself with a straight line. Makes me look like I have a personality and dimensions. At least in a two dimensional world. It's a pity we do not live in one, because 3D is too much to handle, let alone 4D or more. I mean, how many D's do you need?!
I have a plan to use this same subject in my other accounts too.
Personality.
Ideas.
Yeah.
---
I am also
@worksinsane & @jokinmenipieleen
Give me ideas, get SBI! – A Story
https://steempeak.com/story/@insaneworks/22-hours-lost-a-story
I like metal parts, gears, screwing, breaking stuff and reassembling.
https://steempeak.com/photography/@insaneworks/sunset-after-sunset-after-sunset-after-sunset
I like to think that I am a creator. I sure do have ideas! Some of those are also good.
https://steempeak.com/idea/@insaneworks/i-have-an-idea-talents-and-talent-supporters-please-read-this
I am a music addict.
https://steempeak.com/music/@insaneworks/always-searching-for-new-music-and-artists
I like photographing but most of the time, I just can't decide.
https://steempeak.com/photography/@insaneworks/heavy-duty-cropping
My method of doing everything and anything. Art, coding, writing...
https://steempeak.com/art/@insaneworks/10-thousand-monkeys-art-method
And here's my introduction post.
https://steempeak.com/introducemyself/@insaneworks/is-it-too-late-to-introduce-myself