Welcome! to SteemQuest a RPG based game
[New Players]
SteemQuest is an ongoing and growing RPG world here on Steem. New players are always welcome. Players can come and go as they desire, just let us know when you are leaving (say you are taking an IRL 2 week vacation) we will make sure your character is somewhere safe until you return (or Thunk may just cover you with leaves on the side of the road)
If you are New and want to join just reply to any active post with a character. I will create you a character card and add you
Here are the current rules:
https://www.dropbox.com/s/ymqfoe9jt6nozf3/steemquest%20core%20rules%2011-29-2019.pdf?dl=0
Here is the link to the character cards showing all your bright and shiny stuff:
https://www.dropbox.com/sh/01ge8stoy27i3x9/AABxZuReZ5NA9mGUeg1Pa47Fa?dl=0
Here is the link to the monster cards:
https://www.dropbox.com/sh/zl5inm7h6sdkvqb/AAAtSxJECcK4XW0dYnj7BEeTa?dl=0
Link to crafting
https://steemit.com/steemquest/@simplegame/steemquest-lore-and-introducing-crafting
Welcome everyone. Our current party is:
@sidekickmatt - Character Quaid
@wren1221 - Character Thunk, a Thunk
@darklands - Character Grim, a dwarf
@agr8buzz - Character Zur, a human
@sarez - Character Khan, an elf
@ecoinstat - Character Warcet
@mickvir - Character: Frienmir, a dwarf
@atomcollector - Character: Atom, an elf
I will be posting a new turn every 48 hours to give players time to interact
Here is a link to the spreadsheet showing what you have.
https://www.dropbox.com/s/w4r1tmx54wce17x/Character%20Inventory.xlsx?dl=0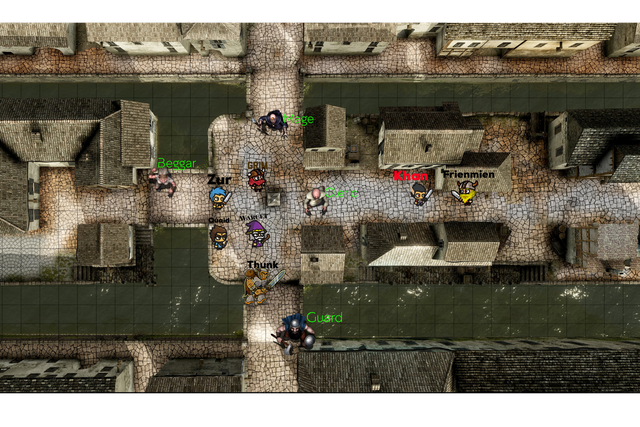 =======================

The knight stays on board the ship and following Quaid's orders. Changes uniforms to make it appear that the ship is fully manned.
The party walks from the docks to the 1st section of town. They soon realize this is a large city compared to Lord DarkCloak's compound.
OOC: the city is full of people but I only put a few on the map. If you want to talk to someone else that is possible.
From over hearing from the crowd their appears to be quite a Tavern Scene, a blacksmith, a magic shop, a jail, a battle arena and the local merchant not only has a chain of stores but also his own compound. There is a border a city wall and beyond the walls, no one knows.
Wishpered under the talk of the town you can tell that Frog Legs are quite a delicacy in these parts but are not "freely" offered on the menu.
The town is yours to explore. You can split up if you want to. It appears most people can speak common, but you hear some dwarven & elvish
OOC: now that we are in town I changed the search command to give different items. I will update the questbot next with new commands. remember: to talk to someone roll d20 and add your personality score.