STEEMPUNK-NET Weekly Update No. 23 -- Item dropping and delegation online -- Steemconnect problems (English/German)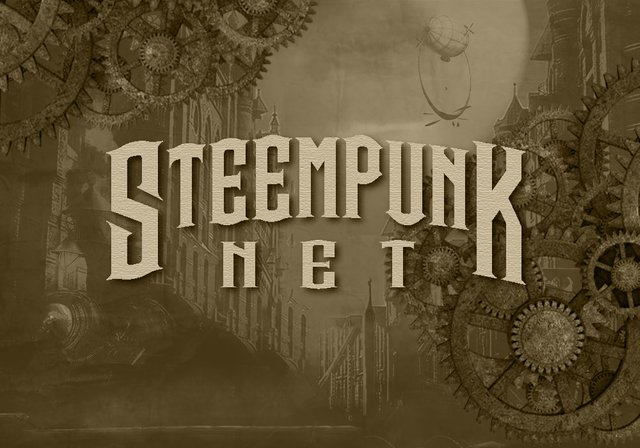 STEEMPUNK-NET Update No. 23
Hi all and be welcome to the Weekly Newsletter Number 23!
## Steemconnect currently not working
You may have noticed that loggin in is not possible currently, this is due to a problem we have with steemconnect.
Hen said that he will fix this, or at least try to do so, first thing in the morning.
So stay cool and dont panic, we are doing everything to be back as soon as possible! :)
The latest browser plugin version is 0.14, this version fixes the login problem.

Item Dropping
As already said last time, we are implementing the item dropping functionality. It passed our tests and is live now on the pro servers, sadly you may not be able to see it because of our login problems.
Here is a screenshot how this looks like ;)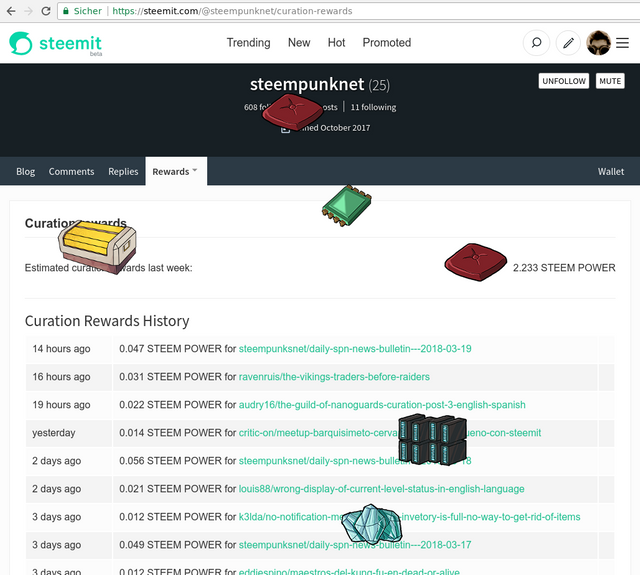 As you can see dropped items are not in a crate and easy to spot ;)

Item Delegation
Item delegation also passed our tests and also is live on the pro servers. This means there are a lot of new features in the game that increases possibilities within the game by alot!
We are really looking forward to hear your thoughts and ideas about those two!
The new character screen also contains the limits ;)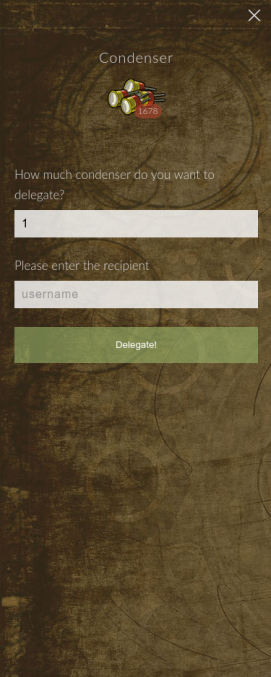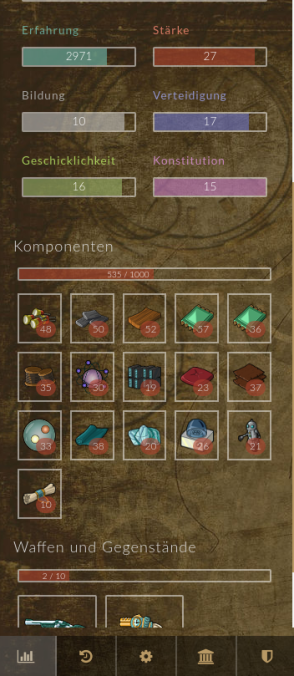 Like already mentioned we are having now daily and weekly stats on the @steempunksnet account. Check out the stats!
And if you have ideas for additional ones please come to us in STEEMPUNK-NET Discord, we are always happy to receive ideas
Daily battles currently : > 200
Players : 416
Total battles: 18517

What else are we working on?
Written a complete new blockchain parser, now our latency is 10 Sek in average --> expect a seperate post for that
started to work heavily on a order system
Still working on the crafting concept
will start the Equipment slots task now as the next bigger thing

Do not forget our Artists
The story around Langdon Bennett is evolving, see the blog of @asperger-kids to follow the story!
Stay tuned!

Advisors & Sponsors
It is a special honour for us to have @Teamsteem as our first official Advisor, he is doing a marvelous work for Steem and has been already of very great value for us!
If you did not do already please consider voting him as a witness.
Do you also want to help us bring value to steem and be mentioned here? We would be more than happy to have you on board! Come to our STEEMPUNK-NET Discord Server and talk to us!
We are looking forward to help Steem grow!
Thanks alot for reading and see you next week!
Jan, for the STEEMPUNK-NET Team
---
|german version|
STEEMPUNK-NET Update No. 23
Hallo zusammen und Willkommen zum Update Nummer 23 von STEEMPUNK-NET!
## Steemconnect verweigert immoment die Zusammenarbeit
Wir haben tolle Neuerungen draussen und würden sie gerne mit euch teilen, leider verweigert gerade Steemconnect die Zusammenarbeit und man kann sich nicht einloggen Narf.
Hen hat allerdings gesagt, dass er sich direkt morgen früh drum kümmern wird. Drücken wir unserm Held der Tasten die Daumen !
Die neuste Browserplugin Version ist 0.14, diese behebt das Login Problem.

Item Dropping
Das Item dropping ist live! Ab jetzt kann auf verschiedenen Seiten das Inventar ein wenig erleichtert werden! Aber aufgepasst wer es findet kann es auch aufheben ;)
Hier seht ihr wie das auf den Server aussieht !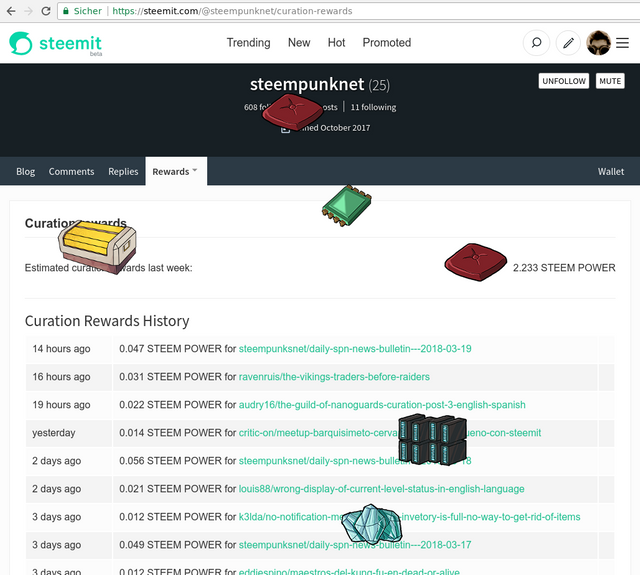 Die Gegenstände sind nicht in einer Kiste und somit auch sehr einfach zu erkennen!

Item Delegation
Auch das Item delegieren ist online und kann ab jetzt genutzt werden!
Wir sind gespannt wie euch die beiden Möglichkeiten gefallen werden und freuen uns von euch zu hören!
Der neue Charakter Bildschirm zeit jetzt auch die Limits der Baumaterialien und Ausrüstungsgegenstände an!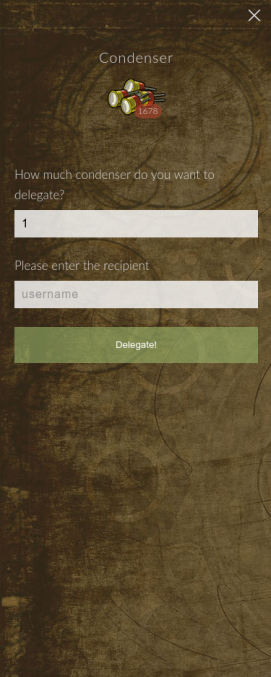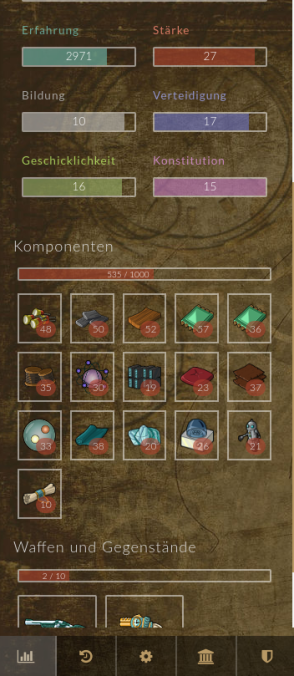 Wie oben schon beiläufig erwähnt haben wir unser Statistik Modul live geschaltet, die täglichen und wöchentlichen Stats findest du unter @steempunksnet! Falls ihr weitere Ideen habt kommt zu uns auf denSTEEMPUNK-NET Discord, wir sind immer froh neue Ideen zu hören!
Tägliche Kämpfe immoment : > 200
Spieler : 416
Gesamte Kämpfe 18500

An was arbeiten wir immoment noch?
Wir haben unseren eigenen Blockchainparser geschrieben, jetzt haben wir eine Latenz von 10 sek! --> hier wird es einen eigenen Post geben
Start der Arbeit an einem Ordermodul
Wir starten die Arbeit am Crafting Konzept!
Als nächstes großes Thema werden wir die Ausrüstungsplätze wie z.B. Kopf und Hände einführen und das Spiel so deutlich fairer gestalten

Vergesst unsere tollen Künstler nicht!
Die Story rund um Langdon Bennett geht weiter! Checkt den Blog von @asperger-kids um dabei zu bleiben!
Bleibt dran!

Berater & Sponsoren
Es ist uns eine große Ehre @Teamsteem als unseren ersten Berater an Bord zu haben, er leistet großartige Arbeit rund um Steem und war uns schon eine große Unterstützung!
Er macht ebenfalls großartige Arbeit als Witness, voted Teamsteem mit eurer Witness Stimme!
Willst du auch hier erwähnt werden und uns dabei helfen Wert für Steem zu schaffen? Dann komm zu uns in den STEEMPUNK-NET Discord Server und lass uns reden! Wir freuen uns darauf Steem beim Wachsen zu helfen!
Vielen Dank fürs Lesen und bis nächste Woche!
Jan, für das STEEMPUNK-NET Team