Steem Proposal System (SPS) or Steem.DAO, was the main addition of HF21, but probably took the back row in commentaries and posts to changes of economic nature (EIP). And it still does, I believe.
Part of this is understandable, because -- just as voting for witnesses -- people can use Steem without getting involved in this area, thinking they are either too small to influence anything or that things are too complicated for them to understand yet another aspect of Steem.
But the economics of Steem everyone cares about, because they see the payouts and curation go up or down on a daily basis, or whenever they are active.
Today I'd like to write (again) about the Steem Proposal System.
If you don't know what it is, here's one place where it is explained:
https://steempeak.com/steem/@steemitblog/hf21-sps-and-eip-explained
I'd like to focus in today's post on what it means for steemians.
You can look at it from two perspectives or angles: as a voter for proposals or as a proposer.
The Perspective of Proposal Voters
Just as with witnesses, it is important to vote for the proposals you believe in. Voting on Steem proposals is almost similar to voting on witnesses, with one difference: you can vote for as many proposals as you want.
I've checked out all three platforms I know that have included an interface for Steem Proposal System already. Here they are:
https://steemproposals.com/proposals (developed by @dmitrydao and the interface I currently like the most for this purpose)
https://steemitwallet.com/proposals (Steemit interface for SPS)
https://steempeak.com/me/proposals (first interface for SPS that was available post hardfork on the mainnet)
Let's take a look at this screen capture from SteemProposals.com: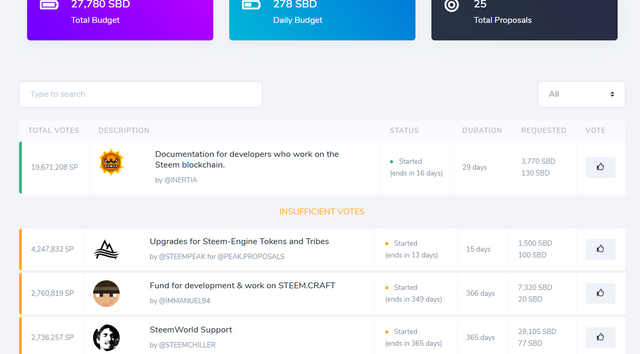 What you can see at the top is the total budget of SPS, the daily budget and the total number of proposals applying for funding. The budget is funded through the 10% of the total inflation that goes to SPS, plus any additional donations that come in the SPS's account.
Below you see a proposal from @inertia who is working on "Documentation for developers who work on the Steem blockchain". To find out details on any proposal, you just click on its name and you are sent to the Steem proposal's post.
Currently, inertia's proposal is the only one which receives funding.
What does that mean? After his proposal and the second most voted is a so-called "return proposal" by gtg. If such a proposal is voted, anything below it won't receive any funding and all the rest of the funding for the day to be returned to the SPS budget.
So, if you want other projects below to receive funding, you can do these things:
vote for their proposals
popularize their proposals
un-vote the "return proposal", if you think the threshold is set too high (and maybe ask others to do the same); careful though! a too low threshold could allow not worthy proposals or unreasonable amounts asked to pass.
With SteemProposals.com, you can vote for a proposal using Steem Keychain or SteemConnect, by clicking the "like" button at the right. Here's how the page will look for SteemPeak's proposal (the 3rd one by votes at the time or writing this), once I clicked the button: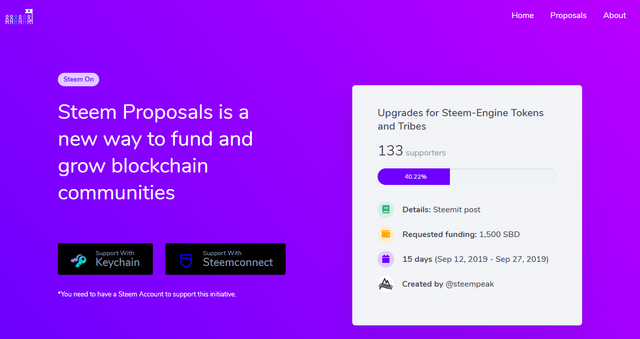 The progress bar on the right shows how much more SP (in votes) is needed to pass the return proposal, where 100% is the return proposal level.
Want to give it a try? It's very easy really.
https://steemproposals.com/proposals
You can, of course, use SteemPeak's or Steemit's interfaces, but SteemProposals' interface is really clean and easy to use, and specific for this purpose.
The Perspective of Proposers
Steem Proposal System is new. So we can find all sort of proposals there. I expect their presentations to improve over time, but for now I do cut them some slack. It's something new for them just as it is for us, the voters. And it might be even more difficult for them to learn to write a great proposal and to ask for funding, than it is for us to decide which one to vote for.
In real life funding is pretty hard to get and sometimes it doesn't go to the best project, but to the one which presents itself in the best light. That may suck, but it is a reality.
Drafting a great proposal is very important to receive funding. Keep that in mind if you make a proposal!
It may not be so trivial to learn how much to ask for your work either. Keep in mind that when the period is longer, the total amount is higher and that might seem like a lot to some and be reluctant to vote for your proposal for that reason. Even though the daily amount is comparable to other related projects (let's say) and you risk not receiving funding if your proposal drops below the return proposal, which will make the total less than the one displayed and asked for.
When a proposal asks for funding on a longer period of time, It's best if it has measurable goals that can be tracked and will be kept record of during funding, if the proposal receives it.
Probably short term proposals will more likely receive enough votes to be funded. If the proposal is on the shorter term, the goals are easier to envision and the results tracked.
Longer term proposals will probably only work for goals which have support of enough large stakeholders to get the proposal above the return proposal limit. That is if the return proposal limit stays as it is, because it can receive more or less support in the future.