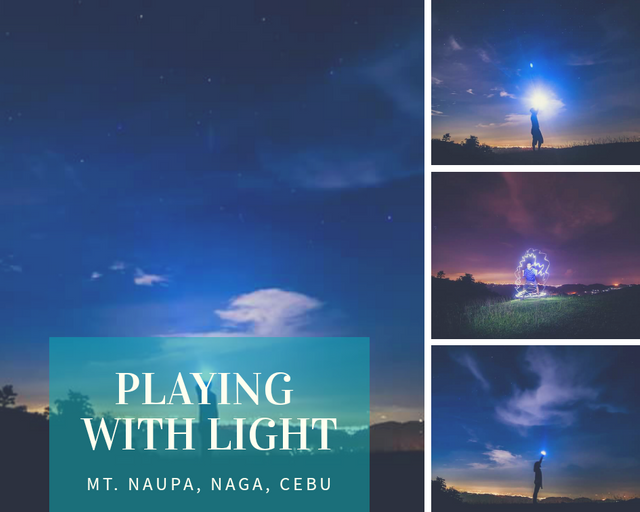 Hello everyone!
I set a rule for myself to follow when it comes to travel blogging. When the destination is already established, it is assured that there are tons of blogs about it. I should avoid making generic posts about them. Although every travel post is unique because it is based on the traveller's perspective, I always make sure that my blog is based on a different angle. If there's something that has never been discussed before or something that goes against the normal trend, it would be the best angle to present. In this way, I believe that I'm adding something of value.
Welcome to the sixth edition of Kim's Quest! I'm glad that this series is still functioning based on its original purpose and that is to promote the places that I've been to. Since I'm still on a tight budget, most of these places are in Cebu and its neighboring provinces. It's a good thing though, since I will be able to promote Cebu with its world-class destinations.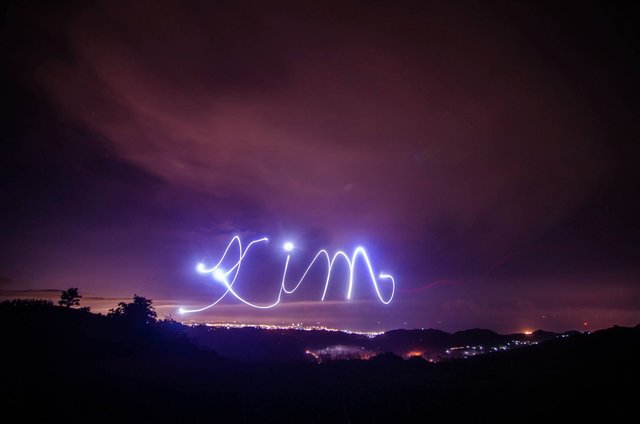 Yes! That's me!
This post is sort of a combination of my fourth and fifth Quest, but in a different location. Combination you might ask? It's a combination of the two things I'm always drawn into: lights and mountains. If you're interested to read my other Quests, I've provided the links at the bottom of this post.
The same with the fourth and fifth Quest, I will not be providing guides on how to get there or what are the necessary things to bring. What I will be presenting is a unique perspective of the things that you can try while on the mountain.
Let's start! Lights, camera, action!
---
MOUNT NAUPA
Naga's Highest Peak
---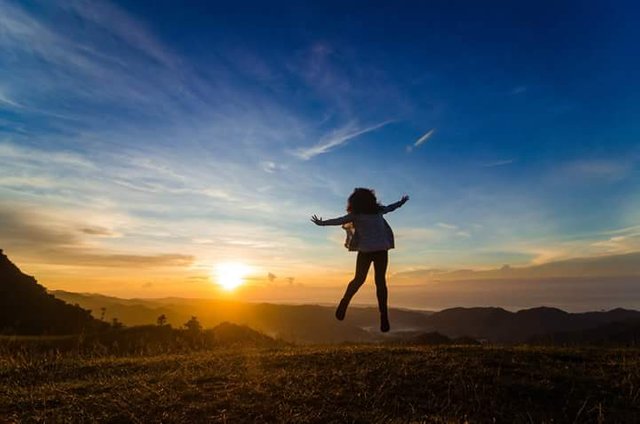 Googling about Mt. Naupa, you can only find blogs about their trip to the mountain. Since it's only at 584 MASL, many would describe as a hiking spot for beginners. Also, Mt. Naupa was known for its verdant green grasslands and jaw-dropping sunrise and sunsets. Those are indeed true, but there's something more to do in the mountain.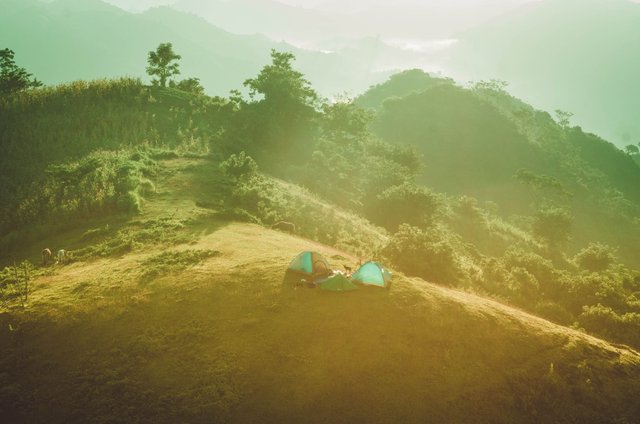 Our chosen camping spot. There's a lot of camping spots to choose from since the site is grassy.
As the title suggests, it's about playing with lights on top of the mountain while enjoying the view with your friends. This was because, like what happened in Sirao, we arrived late at the peak of Mt. Naupa. When it was decided to meet at the South Bus Terminal at 1:00 PM, many of those who joined the weekend escapade arrived at 3:00 PM. For this reason, we arrived at the starting point of Mt. Naupa late in the afternoon. What was planned to be an afternoon trek became a night trek since it was already dark when we were still halfway to the peak.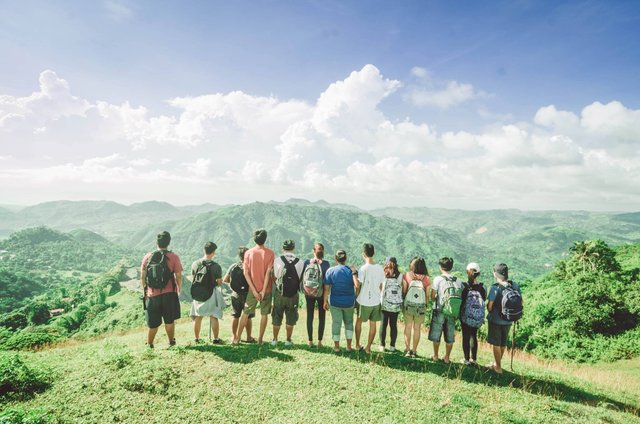 The gang that I was with. Some of them were also with me in Sirao Peak.
Night Trek to the Peak

I didn't complain because I was pumped knowing that it will be a different experience. Although the trail was already established, trekking at night made me excited. The feeling of uncertainty prevails as the path you are taking was already enveloped with darkness. This uncertainty comes with different imaginations as the mind gets creative, making out figures in the dark. What illuminates the way are our flashlights and phones. Good thing our guides knew the trail very well that they always cautioned us on where to avoid our steps. Cow and carabao dung are littered along the trail.
We arrived at the campsite at 7:30 PM. We immediately pitched our tents and prepared for dinner. A few moments later, a strong breeze blow together with a thick fog. For almost 10 minutes, we were enveloped by a thick fog which signaled us to get our jackets as it brought with it a shivering cold.
Playing with Lights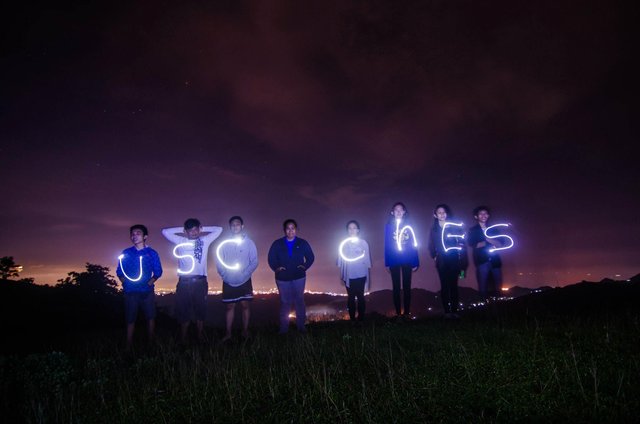 Strangers by birth, siblings by choice. That's who we are.
Good thing the surroundings became clear that after dinner, we prepared for a photo session with @legendarryll which involved using our flashlights.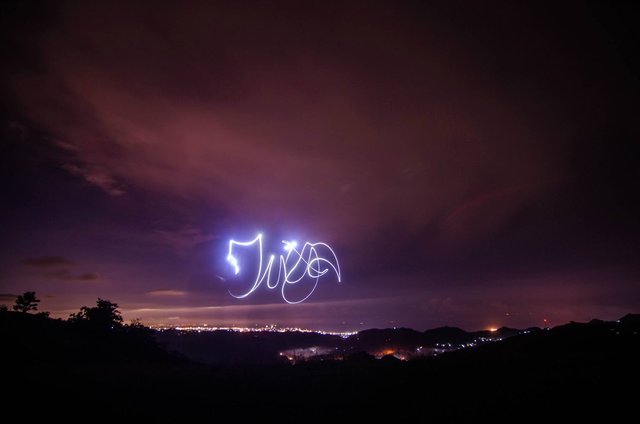 That's what they call me. No. You can't call me that! I didn't give you the permission.
After that exhausting session, we decided to settle in our tents. Of course, stories were overflowing.
When we were about to sleep, we noticed flashing lights from the outside. I immediately got out of my tent and observed the lights for a few minutes. Those were flashlights! They seemed to be circling the campsite and surveying the area from afar. Three people having their flashlights are circling back and forth the campsite? What could go wrong? We had different theories and we had to confirm who they are.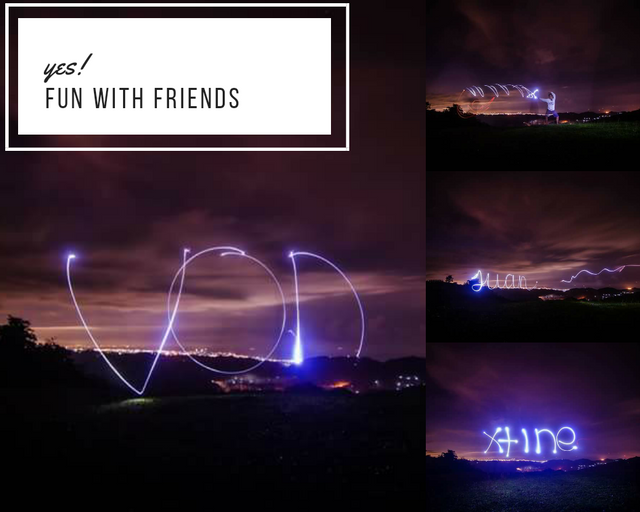 There's a lot of chance to get creative, but we opted to write our names.
Since we couldn't sleep knowing that there are people circling the campsite, we had to do something. I, together with Russell, went to the nearby hill where they seemed to stop. While being cautious, we slowly approached them. Can you guess who they are and what they're doing there?
Here it is! As we were nearing to their spot, we immediately made our presence known by saying "Good evening" and politely asking what they were doing. We were amazed to see that they were young boys scouring the whole area for spiders. There's this particular species of spiders that were famous among children. Spider fighting on stick is popular here in the Philippines. Those boys were catching spiders to sell them in schools in Naga. Our theories were all wrong! But it was a good news as we were finally able to rest.
Sunrise Appreciation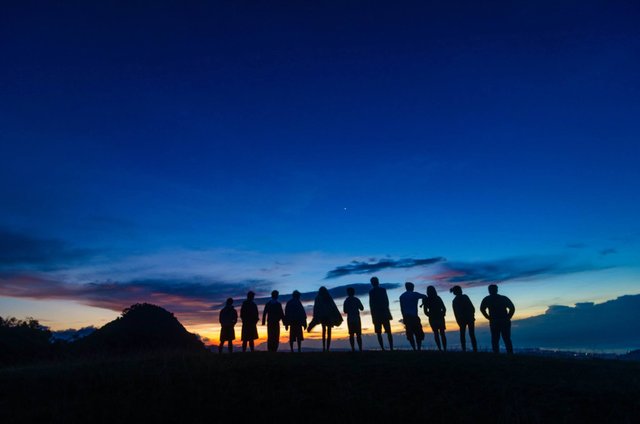 Sunrise is best appreciated with friends and family.
Waking up before sunrise is one of the best feelings for me. The same with my fourth Quest in Sirao Peak, we were able to witness the transition of the surroundings. It was a break from the normal city habit of waking up late. The early morning breeze was refreshing.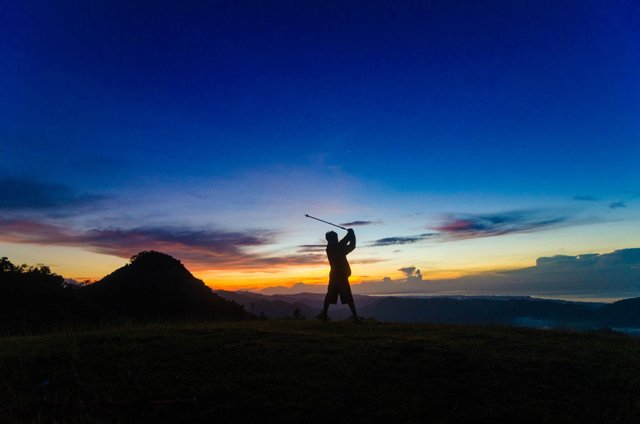 That's me trying to be playful.
As the sun slowly peeked from the east, the colors in the surroundings were overwhelming! It was a lot to take in at once. There's so much to marvel in one place. Of course, another photo session was set.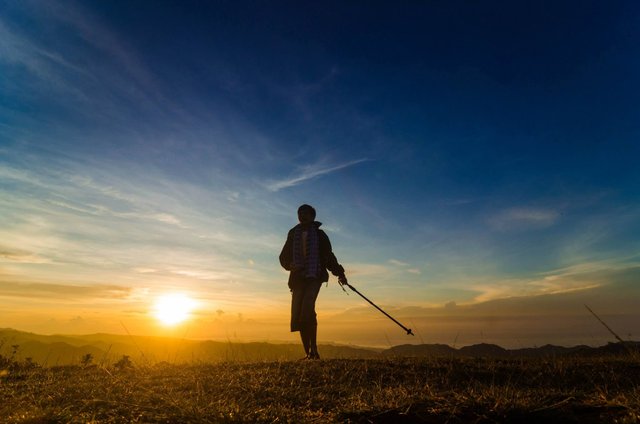 The sun has fully risen so I guess it's time to prepare for breakfast.
Being on top, watching the sea of clouds in one of the valleys of Naga, was a humbling experience. It was so serene, yet full of movement. It reminded me that being on top doesn't mean that you're above everyone else. It means that you are only a small part of the grand scale of things.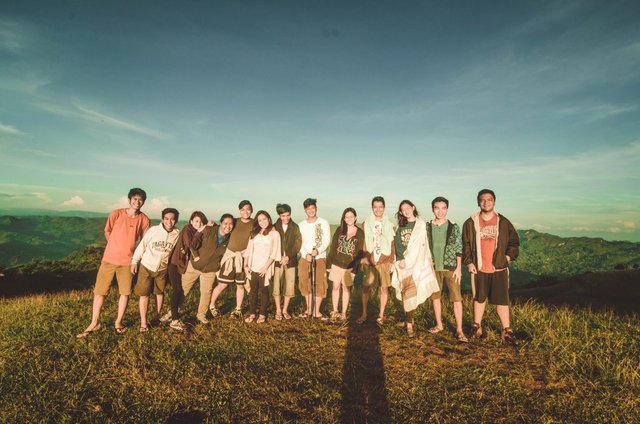 OHANA. Without them, the world will be so dull and boring.
Parting Words

I suggest that you go out to be one with nature; anywhere you wanted to be. Just always remember to show respect to everyone and to anything. Be aware and stay aware of your surroundings.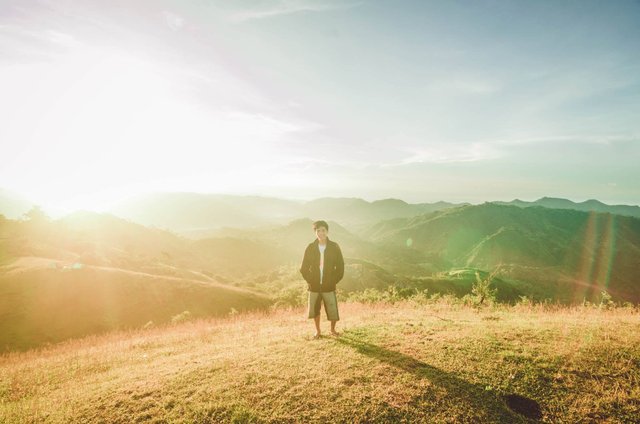 See you in the next adventure!
---
My Other Quests:
---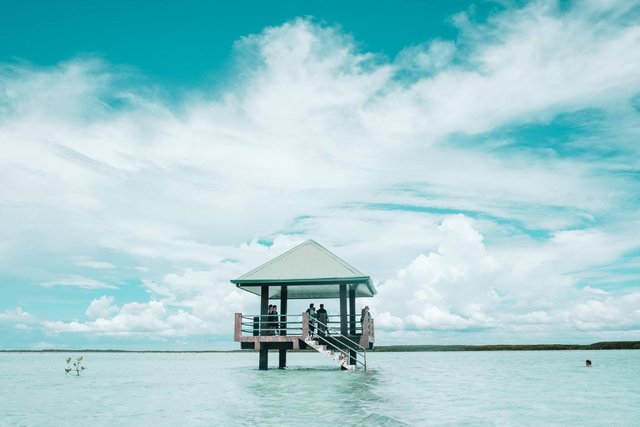 Kim's Quest #1: Olango Island, Lapu-Lapu City, Cebu
---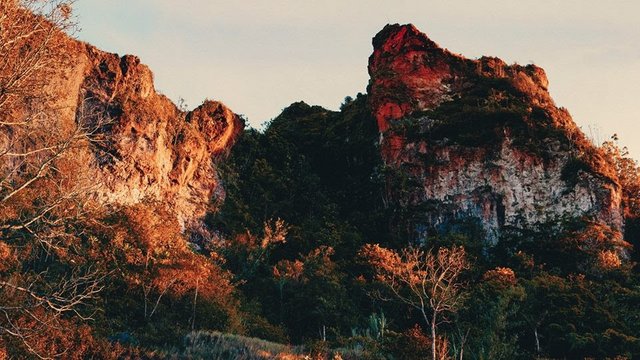 Kim's Quest #2: Kandungaw Peak, Dalaguete, Cebu
---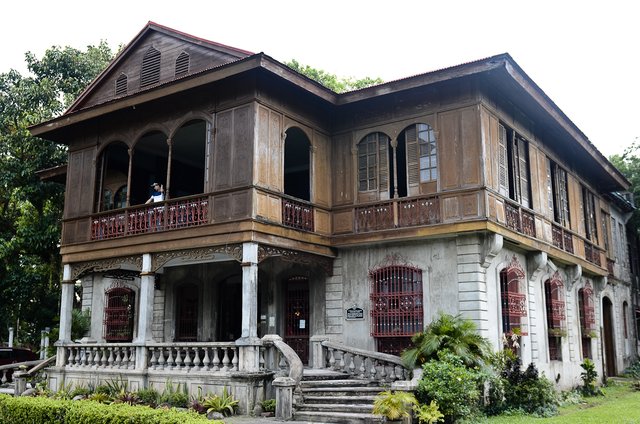 Kim's Quest #3: Ancestral Houses of Silay City, Negros Occidental
---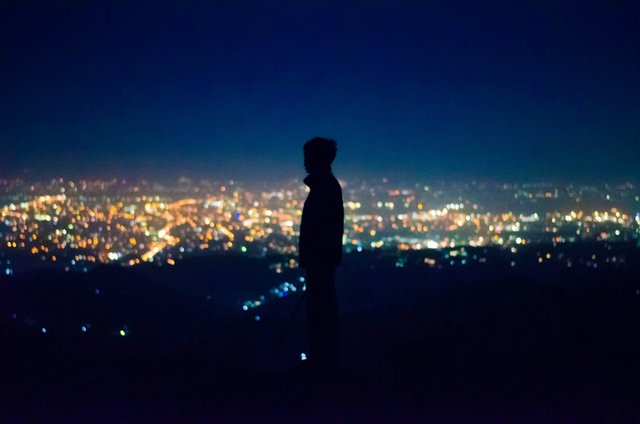 Kim's Quest #4: Overnight Camping at Sirao Peak
---