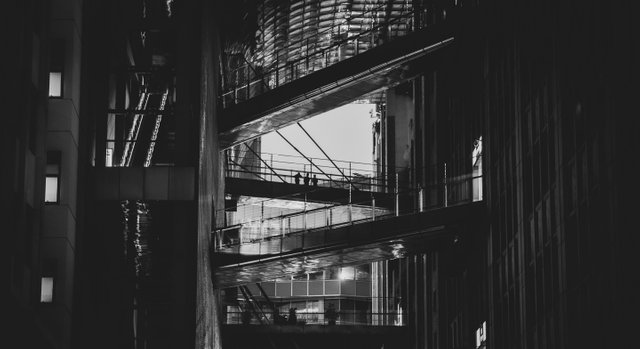 | Camera | Lens | Aperture | ISO | Shutter S. | Focal L. |
| --- | --- | --- | --- | --- | --- |
| Nikon D750 | Tamron 24-70mm 2.8 G2 | F3.5 | 1000 | 1/40 sec | 50mm |
 
Please make sure to watch the photo in Full Screen

Good day guys!
 
Today I share something a little different than my usual photos. First - It's in Black & White, something I don't do often as I honestly have not to much idea about it :D
Second - The subject I photographed is a shopping mall. But, of course with some people in it ;) So it's not completely strange to me :D
The reason why I took this picture was that I really liked those different symetrical details around the capture. If you look from the right to the left you will find different symetrical lines and patterns.
---
Please stay tuned for my upcoming Shanghai Travel report which I will release either on Saturday or Sunday.
I've now made the decision that I don't cover day by day from this trip but instead make 1 big post about the city and cover 2-3 places in different posts more specifically :))
 
Hope you guys have a great day ahead!
 
Best,
Chris
 
| Country | Location | Year |
| --- | --- | --- |
| China | Shanghai | Oct. 2019 |






---

---