Bitcoin Technical Analysis for February 16, 2020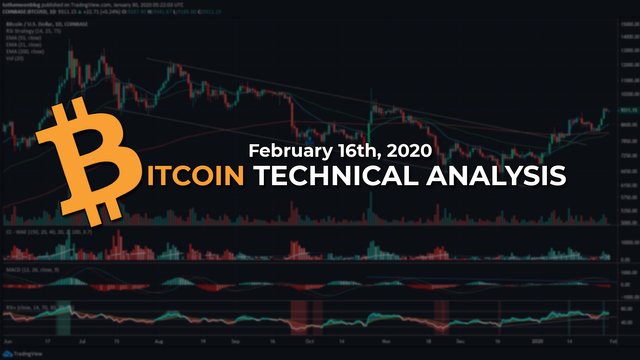 Yesterday we saw a bit of a dip in the Bitcoin price which means a dip in the crypto market as a whole as well.
Queue up the rekt and doomer boys as per usual.
But, it's nothing to be worried about at all. We are still well within key support areas of the current uptrend and this could be a healthy small pull back.
Bitcoin 4 Hour Chart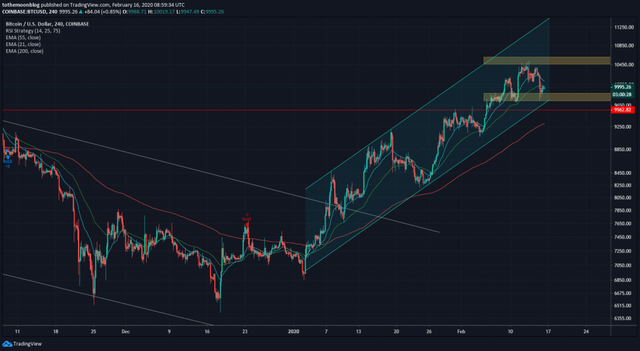 2-16-2020 Bitcoin 4 Hour Chart
Taking a look at the 4 hour chart, you can see that Bitcoin is still trading pretty well within this upward trend.
The yellow boxes on this chart indicate some key areas of support and resistance. You can see we have been trading in this region for a few days now.
Should we break the yellow box to the downside, our next support would most likely be the red line/$9500 range which is a historical support. If this happens, then we can definitely start looking for a bigger correction downwards. But, until then, the trend is your friend and I'm still holding a bullish bias.
Bitcoin Daily Chart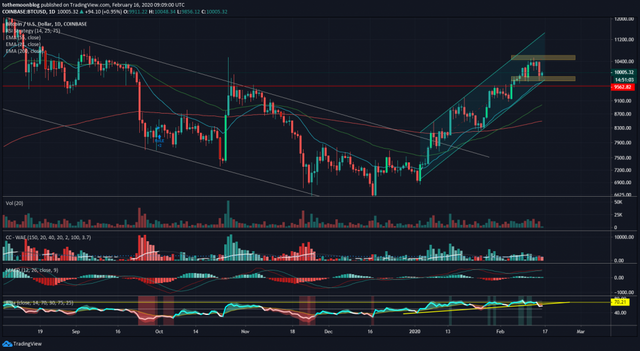 2-16-2020 Bitcoin 4 Hour Chart
Here on our daily we can see much of the same as the 4 hour. We are still within our trend channel and within the key areas of support and resistance.
Moving averages are still looking bullish. The price of Bitcoin is still sitting pretty well above the 21 day EMA.
MACD momentum is starting to dwindle a bit. The RSI has also broken its uptrend support line with a small cut to the downside. I have included an image of the RSI below to make it more clear since it is hard to see in the above chart.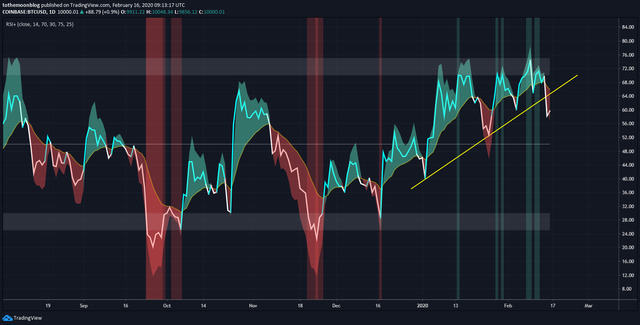 The RSI is turning back up and we are working with a small green candle to start the day. Again, I don't see anything here to worry about just yet and my outlook is still bullish.
I'm expecting Bitcoin to trade in that money zone of $9900-$10,500 possibly all weekend.
I would expect our next bigger move to come at the beginning of
THIS IS JUST AN EXCERPT! TO READ THE FULL POST VISIT: https://tothemoon.blog/cryptocurrency/bitcoin-technical-analysis-for-february-16-2020/