Steempress website, referral system, settings page and guest account claims
Dear followers. We hope you've had the time to read our plan for onboarding the masses and updated roadmap and growth strategy that we shared last week. In it, we shared our updated roadmap which included the promise to deliver a new referral program and landing page this week. We also said we would start allowing you the community with more opportunities to contribute.
In this post, we will introduce our new landing page for steempress.io, referral system, updates to the settings page and finally how guest accounts can now get a Steem account once they've received enough upvotes on their comments.
Our new landing page
You can now visit our new website on steempress.io: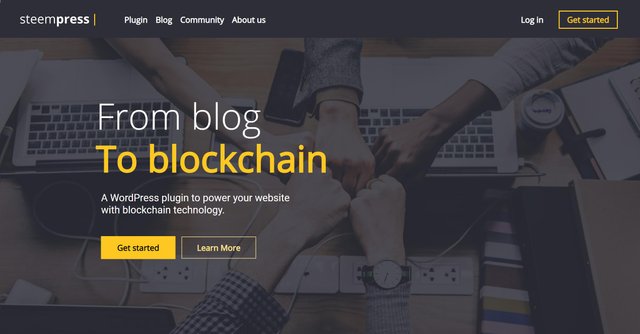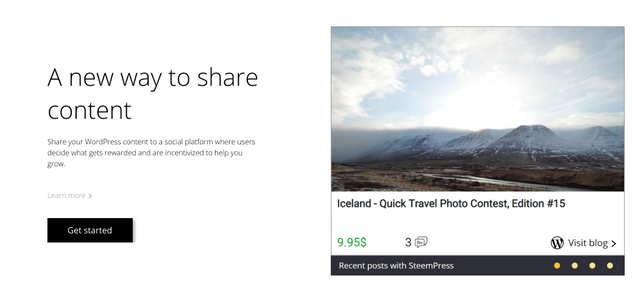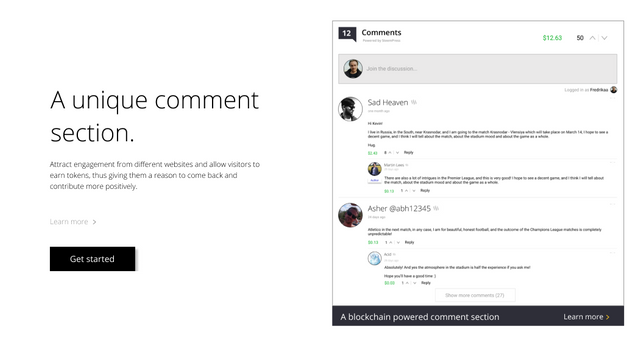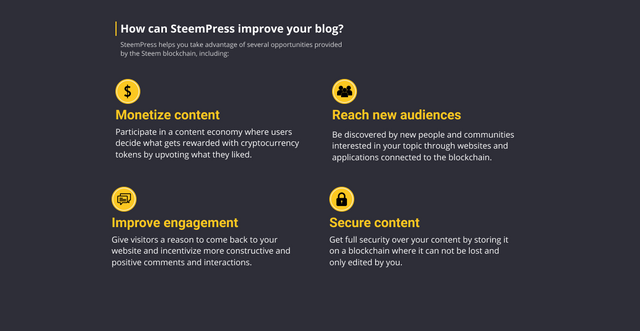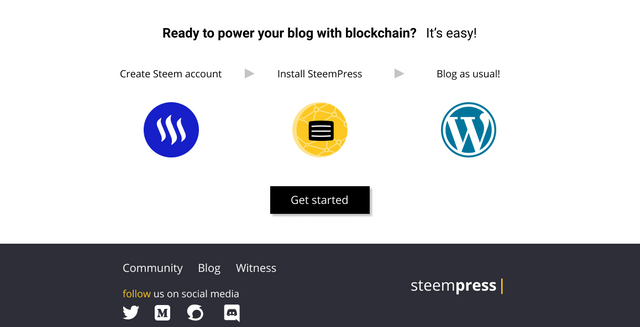 The new landing page for steempress.io
About the landing page
Our website is still work in progress as we aim to add new content which again will change the overall design and layout. Our plan includes adding a "Discover" page for users to find SteemPress blogs, posts, and communities, as well as a blog for our future updates and also featured community articles. The current version is mostly there to support the release of our referral program. So expect to see continuous improvements in terms of features as well as the appearance and design over the next few months.
We also decided to add a small feed of recent posts published with our plugin that has the SteemPress comment section enabled and received decent curation. This based on our idea that nothing beats an actual demonstration to showcase the value both Steem and SteemPress have to our users. You can expect this part to be expanded on further once our Discover page is finished. If anyone has problems with seeing their content appear on our website then please let us know. We can add an option in the new settings panel to disable this if desired.
All posts featured on our landing page and future Discover page will link directly to the same post on your own WordPress blogs.
Updated settings page
Our settings page has been drastically improved since we introduced it briefly in our 2.5 update. First of, it has been completely redesigned to fit our new colors and visual identity. In terms of features, it now includes your own referral link, basic statistics on your blog (we intended to provide more detailed statistics on your content's performance as a part of our gamification and "encouraging design" strategy), as well as your old "post queue". For this update, the referral link is the important part.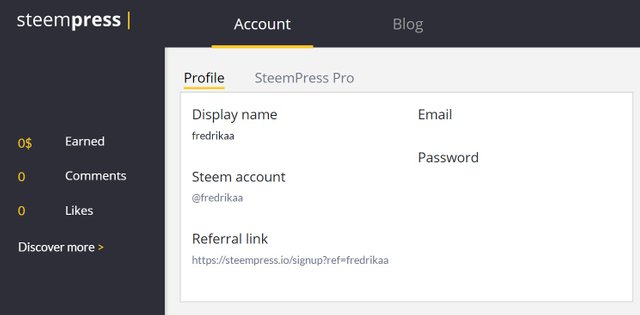 The new appearnce of our settings page for your account and blog.
Find your referral link
To be an affiliate, login to the new settings page on steempress.io with your Steem account. There, you'll find your unique referral link that can be shared anywhere. This link will direct anyone who clicks it to our new signup page where your Steem account will be set as the referral.
New account creation process
The "Get started" button found across our landing page will direct visitors to our new sign up page where they can get a Steem account. Visitors who arrive through a referral link will find that the Steem account of the referrer is set in the referral box on the bottom. Here, they can apply to get a Steem account for free from SteemPress by verifying their blog.
Once we've checked that the blog is legit and not a spam account, they will receive another email that they can use to claim their free Steem account.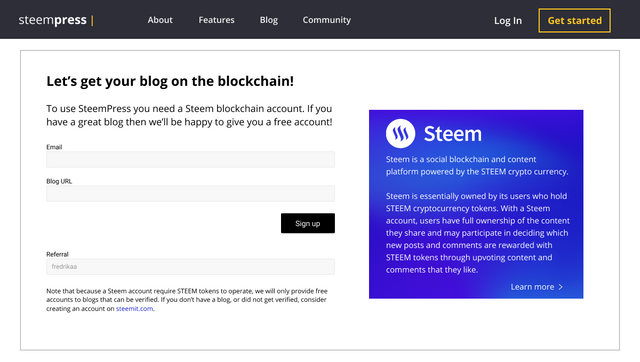 The new SteemPress Sign up page where visitors can apply for a free Steem account.
The referral process
To ensure our new service is not abused, we will require a verification of the blog requesting a Steem account. This will be done by requiring the visitor to enter a valid email address and blog URL. We will then send them a unique code for them to enter into their own WordPress dashboard in order for us to know that they are the true owner of the blog.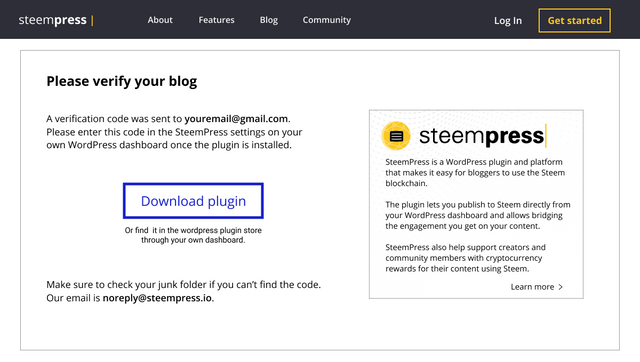 The new SteemPress Sign up page where visitors can apply for a free Steem account.
Once this is complete, we will verify the blog to see that it is a serious website that would at least qualify it for our lowest curation standards. This means that it is a properly set up and designed website, has original content and obtains organic engagement. Once this is verified, the blog owner will be able to claim their free Steem account and receive a delegation from SteemPress.
Referral earnings
Anyone who makes a referral through our signup page will earn 10% of future rewards and payments done by the new user they refer. This means that with our current 15% benefactor rewards, a referred account will instead have 1.5% set to their referrer and 13.5% to SteemPress. Furthermore, once the upcoming subscription-based pro versions of SteemPress are launched, the referrers will also earn a passive 10% on their subscription fees.
We hope that this will excite people to go and search for bloggers or influencers who might want to start a blog and ask them directly if they have heard about Steem and if they would consider using SteemPress.
Guest accounts
As promised in our last update, guests who make comments through our plugin will be able to claim their free Steem account once they have earned at least 5 Steem Power through receiving upvotes on their comments. Once that amount is reached, they'll be able to claim a Steem account and receive 5 STEEM as Steem Power from SteemPress.
Shared marketing material
We want to share all the marketing material that we create with those interested in making referrals. This in order to help them increase their success rate, which is obviously in everyone's benefit. This may include our logo files, banners, powerpoint templates, brand guide, invitation letter bloggers, and pictures for use on different blogs or on social media, etc. We also invite all community members to share their suggestions or provide their own material for others to use. We plan on adding a folder with all of our own material in a pinned message on Discord, but please provide suggestions if you have any on how we can best share and co-create such resources if interested!
Discord updates
We've also updated the channels on our Discord server to better reflect our new goals and objectives. This includes a dedicated channel for questions, discussions, and suggestions related to the #referral-program. We hope that many of you will share our belief that together we can grow not only SteemPress but also the Steem userbase. We will therefore do our best to facilitate and encourage an active discussion on how we can improve our referral program, provide better material, and also have a discussion between all of you on how to be a more effective affiliate.
Final comments
We expect that some work will still be needed to improve the referral sign up process. We would therefore highly appreciate any community member's effort in helping anybody they try to onboard to Steem through us to share their experience in doing so. We will do our best to make the process smoother and more intuitive, as well as to provide better information about Steem that a new user will need.
As always, if you have any questions then please visit us on our discord channel!
To download SteemPress, find our plug-in at https://wordpress.org/plugins/steempress/
All the best,
@Howo and @Fredrikaa

You can vote for our witness directly using Steemconnect here.