Create An Auto-Updating, Searchable List Of Your Posts (IFC S2R12)
In only 5 minutes, you can now create an auto-updating, searchable list of your posts, which will make future reference a lot easier. No more need to waste hours looking for that previous post you want to link to...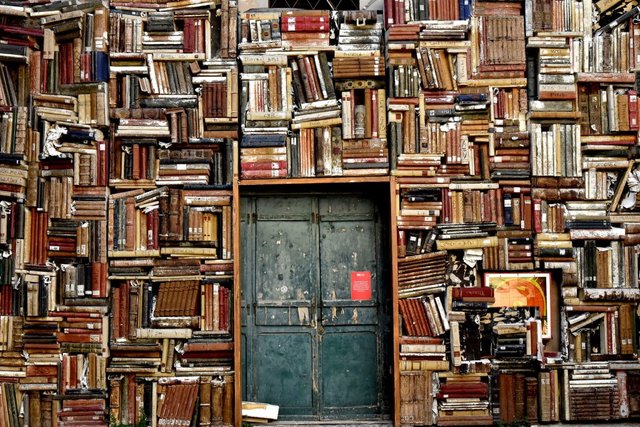 Source
Intro
I've had the idea to write this post for weeks.. even months, maybe. When I saw
@cicisaja
mention in one of her posts that it had taken her hours to find one of her older posts she wanted to refer to, it struck me that I had found a solution to that more than a year ago. All my posts are automatically added to a Google spreadsheet, which allows me to find the one I need in seconds.
Initially, there were a lot of workarounds needed, so it would have been a hell of a job to explain it. But about 2 months ago, a new SteemIt service was created, which makes it a lot easier to set up the automated system. All it will take is 5 minutes of your time to set it up.
However, just when I wanted to start writing this tutorial, the service went down for a week. Fortunately, it is back up and seems to be here to stay.
It could use our help, though. This service is so incredibly valuable that we simply can't lose it. Please consider using one of the donation buttons on the site to help the developers to keep the website online.

RSS Feed URL
Some of you have been around long enough to remember
Streemian
. I forgot what they were about, but I do know one of their services was providing an RSS feed URL for your SteemIt blog.
In case you don't know what an RSS feed URL is:

RSS stands for 'really simple syndication', or is also used for "rich site summary". It is basically a sort of text file that is automatically updated with stripped-down content (for faster loading) whenever you make a new blog post.
It's one of the most powerful tools a blog can have.
Last year, I published two posts from my old account in which I wrote about the importance and the possibilities of an RSS feed URL.
Your SteemIt RSS Feed URL Is A Goldmine! Use It!!
Profit From Your SteemIt RSS Feed URL, Even When Streemian Is Down
I hope Cheetah will forgive me for quoting my own old posts, but I'll do it anyway...
On this platform you earn money when people upvote your posts or comments. This means that you need to get the word out about your posts and get as much exposure as you can get. There are many ways to drive traffic to your SteemIt posts, but only few are as powerful as your RSS feed URL.

An RSS feed has a very wide range of possible uses, and all are based on the most valuable power there is online: AUTOMATION.

Just to give you some examples: with your RSS feed URL you can send out newsletters or push notifications on complete autopilot, you can add self-updating widgets or pages to your website, you can even build a completely automated website that updates itself whenever you make a new post here on SteemIt.

Also, you can submit your RSS feed to RSS feed directories and use it to create backlinks, which both improve your Google ranking.

All these features can help you to generate more traffic to your posts. And by getting more views, you increase the chance that people will start following you. And when you have more followers, you usually get more upvotes. And more upvotes... you get the picture, right?

The number one use of an RSS feed, is also the most effective one: in combination with a tool like IFTTT or Zapier you can have your message added to more sites than you can imagine... without having to lift a finger. With your RSS feed, you can not only automate a big part of your administration, you can also set up all your social media post promotion campaigns to work on complete autopilot.

It's actually very simple: if you want to get the word out about your SteemIt blog, there's no way around; you simply NEED your RSS feed URL.
Both posts also included a step-by-step tutorial on the workaround to get the RSS feed for your SteemIt blog after Streemian had shut down, but there's no use for that anymore. Things have become way more simple...

RSSteem
Streemian went down more than a year ago. I still don't get why another RSS feed URL wasn't provided instantly, considering the impact it could have had. Millions of links to SteemIt posts could have been spread around the web during that time, but apparently getting the word out wasn't a priority.
Fortunately, there were people who were aware of the need to provide users with an RSS feed URL for their blog. About 2 months ago, @bambukah created the RSSteem-website.
It didn't really launch with a bang - and if it did, I missed it. I accidentally stumbled upon it while I was browsing SteemProjects.
I was so happy to see that RSSteem not only provided users with a straightforward way to create the RSS feed URL for their own blog, but also offered the option to create shareable RSS feed URL's for a user's feed and comments, and even for a specific tag or category.
Click to enlarge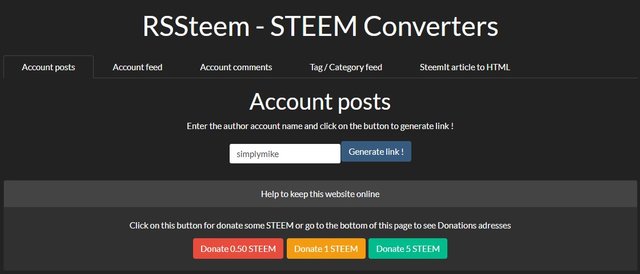 Source
This tool unlocks so many new possibilities... I could probably spend weeks writing posts about what you can do with these links.
But today, I'll just stick to just one.
@bambukah, I can't thank you enough for creating this site. I've sent you a small contribution, and I hope others will do the same once they realize what an important step the development of RSSteem was.

Creating A Searchable List Of Your Posts
But let's get back to the initial topic of this post. I promised to show you how you can use your RSS feed URL to create an auto-updating, searchable list of the posts you publish, so you can always find the one you need in just a couple of seconds.
The system takes less than 5 minutes to set up, so I don't see a reason not to. You never know when it will come in handy. I find it hard to imagine that you have never felt the need to find one of your old posts for some reason.
The steps included are:
Creating your RSS feed URL
Setting up the automation rule
Checking the results
Basically, you'll set up a system that will add your SteemIt blog title, description, link and date to a Google Spreadsheet on autopilot whenever you publish a new post. In the future, if you need the link to one of your previous posts, you can simply use the 'search' feature in Google spreadsheets to find it.
Don't worry, thanks to RSSteem this process has become a lot easier than before. So easy, that everyone can do it.
And believe me when I say it often comes in handy to not have to waste a lot of time to find the post you want to refer to.
Let's get to it!
What You Need:
A Google account to access Google Spreadsheets (available on the web, for Android and IOS)
A free IFTTT account (available on the web, for Android and IOS)
(In case you're not familiar with IFTTT: IFTTT is short for 'If This Then That'. It's a service that allows you to automate almost everything you can think of. All you need is a 'trigger' (If This) and an 'action' (Then That).
IFTTT offers almost endless posibilities: cross posting your social media posts is one of the most used. But you can also set up an automation rule that adds a reminder to your calendar if it's going to rain the day after, back up all your text messages to your Google Drive account, ... You can even get a notification whenever an astronaut exits space, lol.
Setting up an automation rule is easy. In fact, I've done it for you, so you won't have to spend time figuring out the site if you don't want to.)


Let's Get Started
(You'll find a video tutorial at the bottom of this post.)
First, you need to create the RSS feed URL for your SteemIt blog.
A. Generating Your RSS Feed URL
Go to the RSSteem website. You'll land on the 'Account Posts' page. Type your SteemIt username (without @) in the field and click the 'Generate Link'-button.

Click To Enlarge
A popup will appear, showing you your RSS feed URL. Copy the URL and save it to a Notepad file.
When you click the 'Display Content' button, you'll notice you'll be redirected to a page with basic code. At the top, it says 'This XML file does not appear to have any style information associated with it.'
Don't worry about this. IFTTT knows how to turn this into readable content.
B. Setting Up The Automation
If you don't have a free IFTTT account yet, go ahead and create one. To do so, click the 'Sign Up'-button on the IFTTT homepage and follow the instructions. Be sure to sign up using your Google account!
Log into your IFTTT account and click the this link to be redirected to the applet I've set up for you.
You'll be redirected to the applet page.
First thing you need to do is turn on the applet by clicking 'Turn On'.
Once turned on, you can personalize the applet.
In the field at the top, paste the link RSSteem created for you.
At the bottom, enter a name for the spreadsheet you want to add your SteemIt posts to. This can be an existing one, but I recommend creating a new one. All you need to do is enter the name of your choice, and IFTTT will automatically create the Google spreadsheet for you.
Click 'Save'.
That's it! You're all set up!

Your Searchable List
Whenever you publish a new post, its title, link and description will be added to a Google spreadsheet, together with the date.
You can access that spreadsheet any time you want by logging into Google with the account you used to set up this system, and then visit Google Sheets. On the landing page, click the button 'Go To Google Spreadsheets' and you'll be redirected to a page where you can see all the spreadsheets you've created.
Open the one you are using with IFTTT, and you will see a list of all the posts you've published since you set up this system.
Remember, this means there won't be a spreadsheet when you've just set up the applet. You'll need to create a post on SteemIt first. In other words, this won't work for the posts you've published in the past, only for the ones you will publish in the future.
To find the post you're looking for, click 'Edit' and select 'Find and Replace'.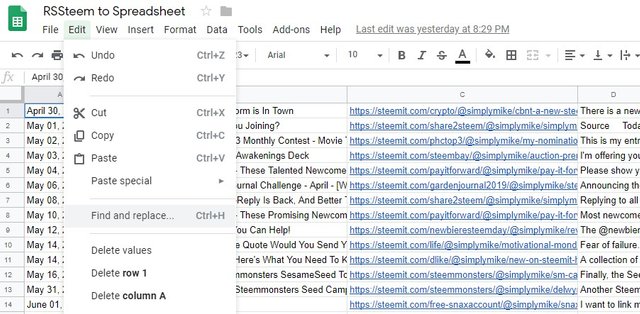 Click To Enlarge
In the popup window, type your keyword in the field and click the 'Find' button.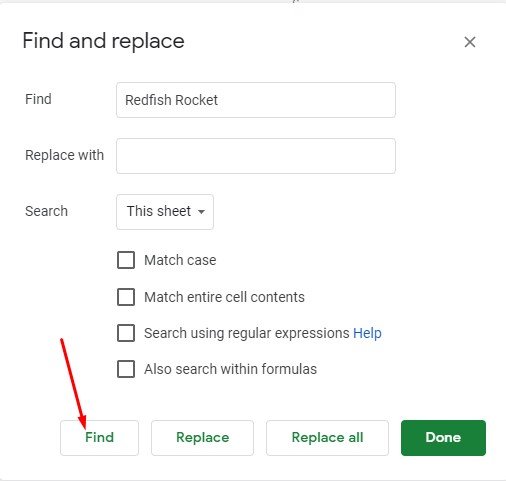 Click To Enlarge
The first cell that contains the search term will be highlighted. Click the 'Find'-button again to find the next cell that has the keyword in it. Repeat this until you've found the post you are looking for.
They really don't come any easier than that. Now you'll never have to waste time anymore searching for that previous post you want to link to.
Here's a quick video rundown:
Forgive me for the quality, I'm not such a talented video creator :0)
Your Rss Feed URL Is A Goldmine
This is just one example of how you can use your RSS feed URL to make life a little easier.
The truth is... Having access to your RSS feed URL provides you with hundreds of opportunities. Having access to a tag or category RSS feed URL is simply priceless.
Automate your social media accounts, generate extra traffic to your SteemIt blog, build auto-updating (niche) websites, set up a newsletter, generate automated backups for your posts, receive notifications of posts in your mailbox or feed reader... the sky is really the limit here.
So it's safe to say this post was only the tip of the iceberg. There is so much more you can do when you have access to RSS feed URLs like we do now.
SteemIt Inc. was wrong when they didn't offer one themselves for an entire year. If they would have, things might have been way different right now.
I'll be showing you more ways to use this magic tool soon, so stay tuned!!
Source

Graphic created with The Logo Creator Software
Subscribe To RSS Feed | Subscribe To Newsletter
Learn all the basics of the Steem Blockchain with SteemSavvy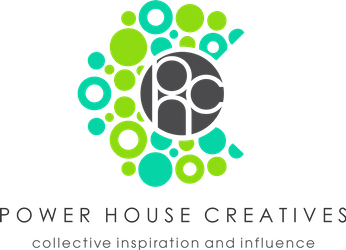 ---
This post was published on my MySteemWorld.com-blog and cross-posted to SteemIt using the SteemPress WP plugin.
---