DigiTimes – The Official Newsletter of the DigiByte Awareness Team (DGBAT)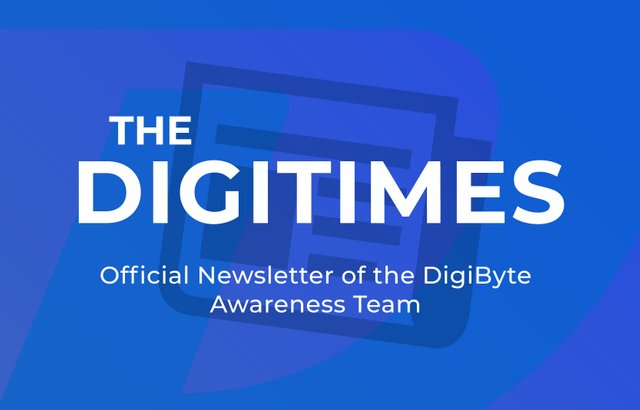 Volume 1 Issue #4 September 2018
Hello DigiByte Community!
Time to reconnect with DGBAT through our community newsletter. Here, you will find updates on our activities, news from the DigiByte Foundation, and from the DigiByte core team for the month of September.
Updates
DGBAT is pleased to announce three partnerships this month, all designed to promote awareness of the DigiByte blockchain and to foster the development of the larger blockchain eco-system. Firstly, DigiByte has joined the Africa Blockchain Alliance as a member. In this capacity, we will work together with to support blockchain education and innovation in Africa. The press release is available here. Secondly, DGBAT is proud to partner with V-ID, as they utilize the DigiByte blockchain to power the secure verification of digital files. V-ID currently has a minimum viable product already in use by clients and the company is currently launching a token sale. You can find more information here. AntumID, an authentication service that utilizes Digi-ID, launched its AntumID API in beta this September and is now represented on the DigiByte Awareness Team. Follow their Twitter for updates!
We are also excited to share the launch of our official DGBAT website https://www.dgbat.org/. Our goal is for this site to serve us a one-stop shop for educational, informational and promotional materials for DigiByte. Get to know the team by browsing the About Us/Team section, explore the DigiByte network of mining pools, exchanges and payment terminals under the Ecosystem section, or keep abreast with the latest updates under the News section.
Don't forget to upgrade to DigiByte Core v6.16.5.1 released September 21, 2018. All mining pools, exchanges, infrastructure providers and full node users are encouraged to upgrade as soon as possible at https://github.com/digibyte/digibyte/releases/tag/v6.16.5.1. Please upgrade immediately to update to fix crash bug with duplicate inputs within a transaction, to fix private key import bug from old DGB wallets, and to fix a new client sync bug. If you would like a walk through, here is a DGBAT YouTube video produced by team member @alexbogdan96 (on Twitter).
Our bounty program announced by the developer team is ongoing. Eleven developer bounties to upgrade and improve the DGB blockchain are available. Want to know how to win 150,000 DGB for bringing colored coins to DGB? Check out Josiah's post on Medium, for more information.
Funding
DGBAT officially launched our 2018 Q3-2019 Q1 Fundraising campaign! We need your support to expand our reach in promoting DigiByte. DGBAT is fully driven by community members and is self-funded. Unfortunately that means the size of our operations is limited to funds we are able to personally contribute and donations from the DigiByte community. For more information on our fundraising drive, see here.
The current balance of our general fund is 165,000 DGB as of October 2, 2018. Thank you to all those who have generously given so far. For full disclosure, please see:
https://digiexplorer.info/address/DJvsm5mCp4a3YsJXxxiLk9MDWVwvrFDPm3
For your security, if you would like to donate, please visit https://www.dgbat.org/donate/ for the official wallet address of the DGBAT General Fund. Beware of scammers presenting alternate information. You may also choose to support DGBAT by purchasing DGB gar through our affiliates. For that please visit https://www.dgbat.org/affiliates/.
Awareness Campaigns
DGBAT is proud to support CryptoMentor99 on his Crypto Road Trip and the Tour de Crypto Team, as they undertake treks to raise blockchain and cryptocurrency awareness.
DGBAT Writers team presents DigiTorials, weekly editorials published on timely matters on DigiByte but also the larger blockchain ecosystem. You never know who might be our guest writer, check out the segment on our website at https://www.dgbat.org/2018/10/01/welcome-to-digitorials/.
DGBAT would like to warmly welcome our newest core members Rutger, Teng Wang and Luke. We look forward to more amazing results from working together.
Social Media
DGBAT is not only present on major social media sites but also active in growing our following.
You can find us on:
Facebook - https://www.facebook.com/DigiByteCommunityGroup
Instagram - https://www.instagram.com/DigiByteWhite/
https://www.instagram.com/DigiByteMemes/
Twitter - https://twitter.com/DGBAT_Official/
https://twitter.com/RudyBouwman
Snapchat - @DGBCoin
Telegram – https://web.telegram.org/#/[email protected]
LinkedIn - https://www.linkedin.com/company/digibyte-blockchain/
DigiByte websites
For reliable DigiByte information:
DGBAT - https://www.dgbat.org/
Blockchain – https://www.digibyte.io/
Foundation - https://digibytefoundation.org/
Materials – https://promotedgb.com/
Guide - http://www.digibyteguide.com/
DGBAT Hall of Fame
Our community member for the month of July goes to @JinVise, our resident tech whiz led the team behind the DGBAT website, and our amazing developer @Divyamsolankii.
Connect with us
Email the editor: [email protected]

---
Posted from my blog with SteemPress : https://www.dgbat.org/2018/10/06/digitimes-the-official-newsletter-of-the-digibyte-awareness-team-dgbat-3/
---