DTube Tutorial - Creating Charts in Excel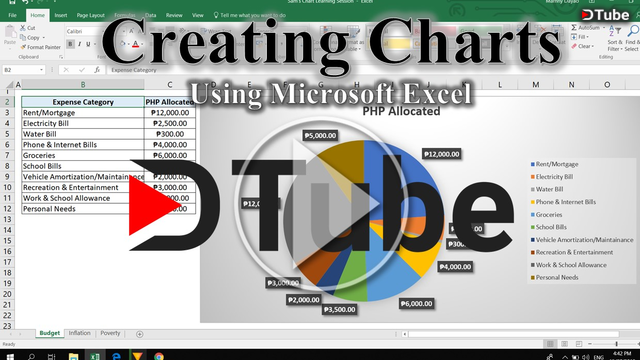 ---
Our daughter Sam asked me to teach her how to create charts using Microsoft Excel. I thought about creating a video while doing so for a couple of reasons; 1 to document one of the very rare times I am helping Sam with school work, and 2 to help her classmates whose parents might not be very familiar with Microsoft excel. I am quite pleased that the curriculum for Home Economics and Livelihood Education now includes learning about use of basic computer applications. During my time, Home Economics and Livelihood Education was mostly about gardening, sawing, and carpentry.
Learning about Excel when I started working in the Business Process Outsourcing industry helped me a great deal in freeing myself up from manually preparing reports, and I was able to allocate some of the time saved in learning other things that helped me become better at my job. So when Sam asked me to teach her about creating charts, I confidently said yes.
Tools Used & Data Sources
Microsoft Excel Version
I've used many versions of Excel, the earliest I can remember was the 2003 version. The one we used in this tutorial is Excel 2016. The basic functions pretty much remained unchanged over the years, but the layout might look a little different.
Screen Recording Application
I am quite new in making tutorials. To create this video I used Open Broadcaster Software. It is an opensource screen recording application with GitHub Repository that can be found here.
Video Editing Application
Since my wife @dandalion took an interest in creating video format posts a couple of months ago, I tried to learn basic video editing. I have been using a free video editing application called Hitfilm Express since.
Data Sources
Image Source:
Pixabay CC0 Creative Commons
Sam is in fourth grade of our K-12 Basic Education Curriculum. Creating charts is one of the most important functions of Excel. As mentioned in the video, I am planning to create more video tutorials in Excel starting with the basics, formulas, and pivot tables.


---
▶️ DTube
▶️ IPFS