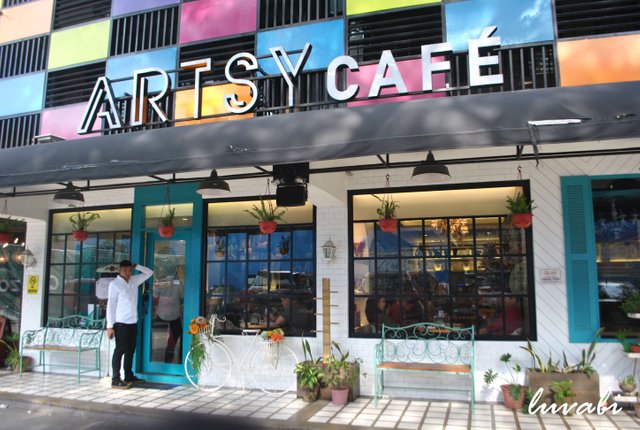 Filipino families are usually very close knit up to 3 or 4 generations and oftentimes have large gatherings during life events where we meet for to dine together.
My sister arranged a party for such an occasion and came across this cafe in Maginhawa Street that has pinterest-like interiors and an artsy vibe altogether, hence, it's called Artsy Cafe.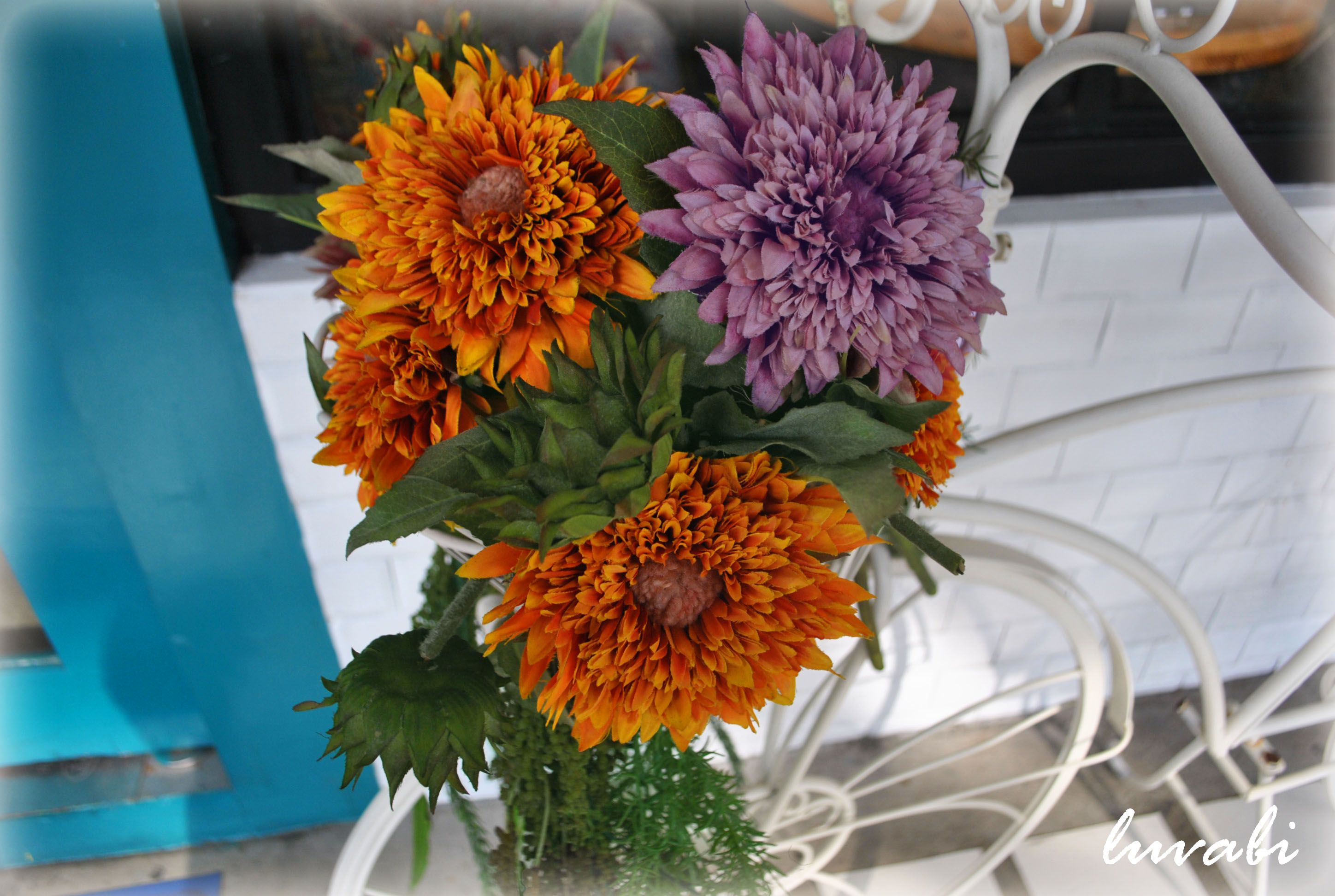 Since their Panay Avenue branch is a lot bigger, they helped arrange a private family party for 40pax with a catering setup and a desert buffet.
We have a large extended family, I know!
It's the Filipino way. Filipino families stick together through
anything
.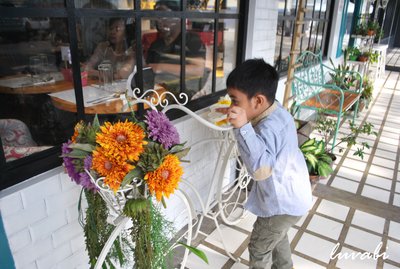 My kids loved this decorative bicycle that serves as a floral holder and I had to keep this little one from trying to ride the bicycle.
Yes, it's a bicycle, No you cannot ride it. Haha.
The overall mood in the exterior was fresh and light as the floral decor and colorful teal park benches meshed well, opening into the vibrant colors of the cafe as seen through the wide boutique windows.
The interior of the Cafe felt like a crafty artist's home with a mandala mirror on one side. Directly facing the door are scribble-like murals on the stark black and on the right, were mural wall drawings on white brick walls. A long dining bench sits at the wall under the mirror. Even the bench was handcrafted with carvings that made it look like a cityscape of urban houses. Every bit of the interior design was well thought of, down to the the tiny details. Adding to the artsy vibe were colorful framed fabric of varied colorful prints that matched the printed throw pillows on the extremely long dining bench.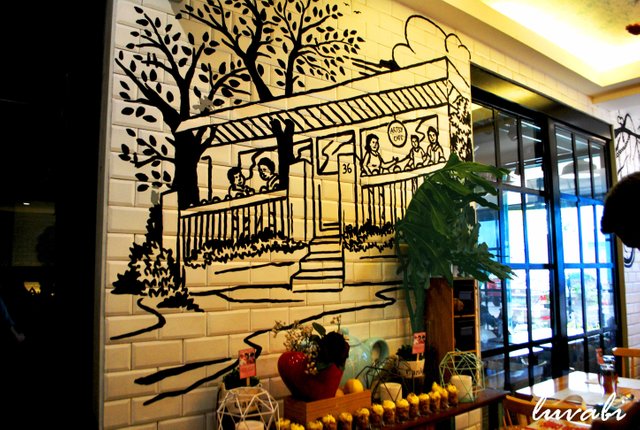 This brick wall art was the backdrop for the desert buffet table.
I really love the ceiling which was an upside down meadow that made you feel like you were having tea with the Mad Hatter in Alice in Wonderland.
Tasseled Petal chandeliers added a bit of elegance to the cafe. Tiny bushes and a hidden rabbit here or there popping out of the ceiling brought some unexpected giggles when my daughter said pointing,
Mommy, look, it's a rabbit!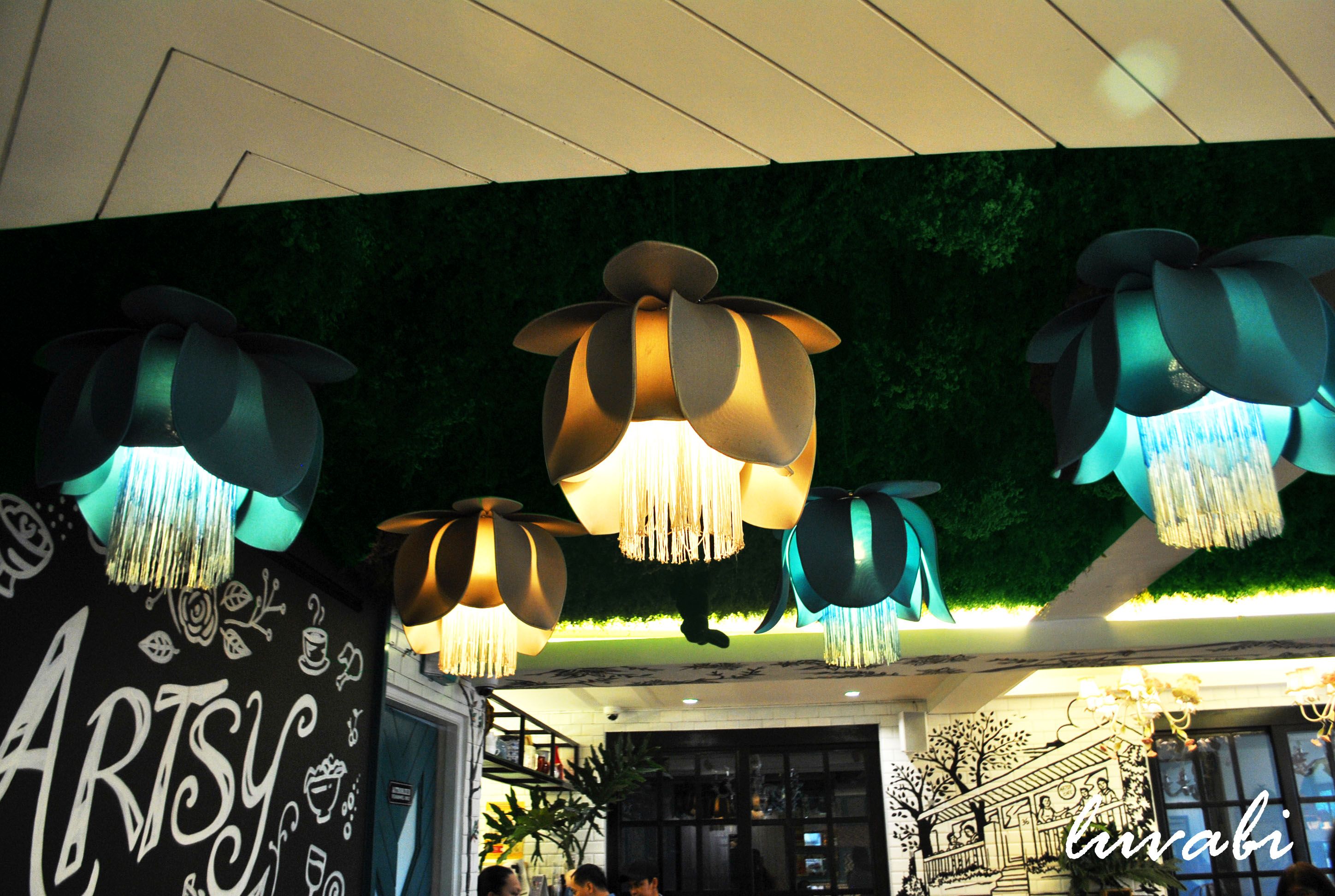 Chevron style panels and a mini-garden on the ceiling.
Personal touches like these made Artsy Cafe give us a warm,homey feeling inside.
I am a huge fan of refurbished chandeliers and even though this one was a bit topsy-turvy and I had the strong urge to straighten it out I still loved it and its tiny petals hanging about.

Blue owl in teal cage.
Teal bench.
Cage on pillow.
Teal Petal hanging lamps.
Teal floral print on pillows

Everything was just so cute.
We ate almost immediately after arriving since it was already after lunch. We had a custom menu with a DIY Salad Bar, Rosemary Chicken in Tomato Sauce and Beef Tenderloin Tips. They also served Baked fish but it was gone in minutes and I wasn't able to take a photo. For desert, we had nutty sans rival pastry in a small cup.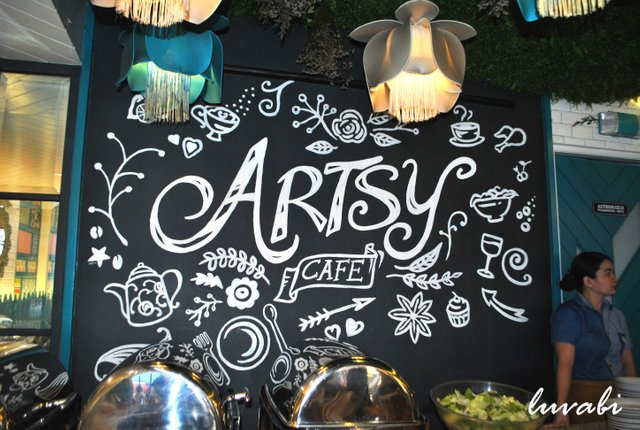 The food was served on large catering trays with 2 servers assisting us while we were getting food.
The kiddos ate from the menu.My kids devoured the chicken fingers but the Pasta Bolognese was not their favorite and they didn't really touch it because they ate the Rosemary Chicken in Tomato Sauce with some rice. We got it for takeaway instead and I ate it myself when we got home.
You can never lose with kids when it comes to chicken fingers.
| Pasta Bolognese Php 165 | Chicken Fingers Php 195 |
| --- | --- |
| | |
The Beef Tenderloin Tips and Baked Fish was so good that I came back for seconds. I ordered a coffee, too because it was afternoon nap time and I felt the need for coffee.
Naptime, yet the kids were in high spirits and were running around with their cousins.
My daughter went for second servings also on the Rosemary Chicken in Tomato Sauce while my son ate all of the chicken fingers on our table,eventually, when he and his cousin settled in their seats.
Their brewed coffee had a caramel candy in it that you'll see when you get to the bottom of the cup which was a nice touch from the usual brew that I get in most cafes. Seems like they had a pot of brew ready because a few of us coffee addicts ordered a cup and it was served quite fast.
| | Brewed Coffee Php80 |
| --- | --- |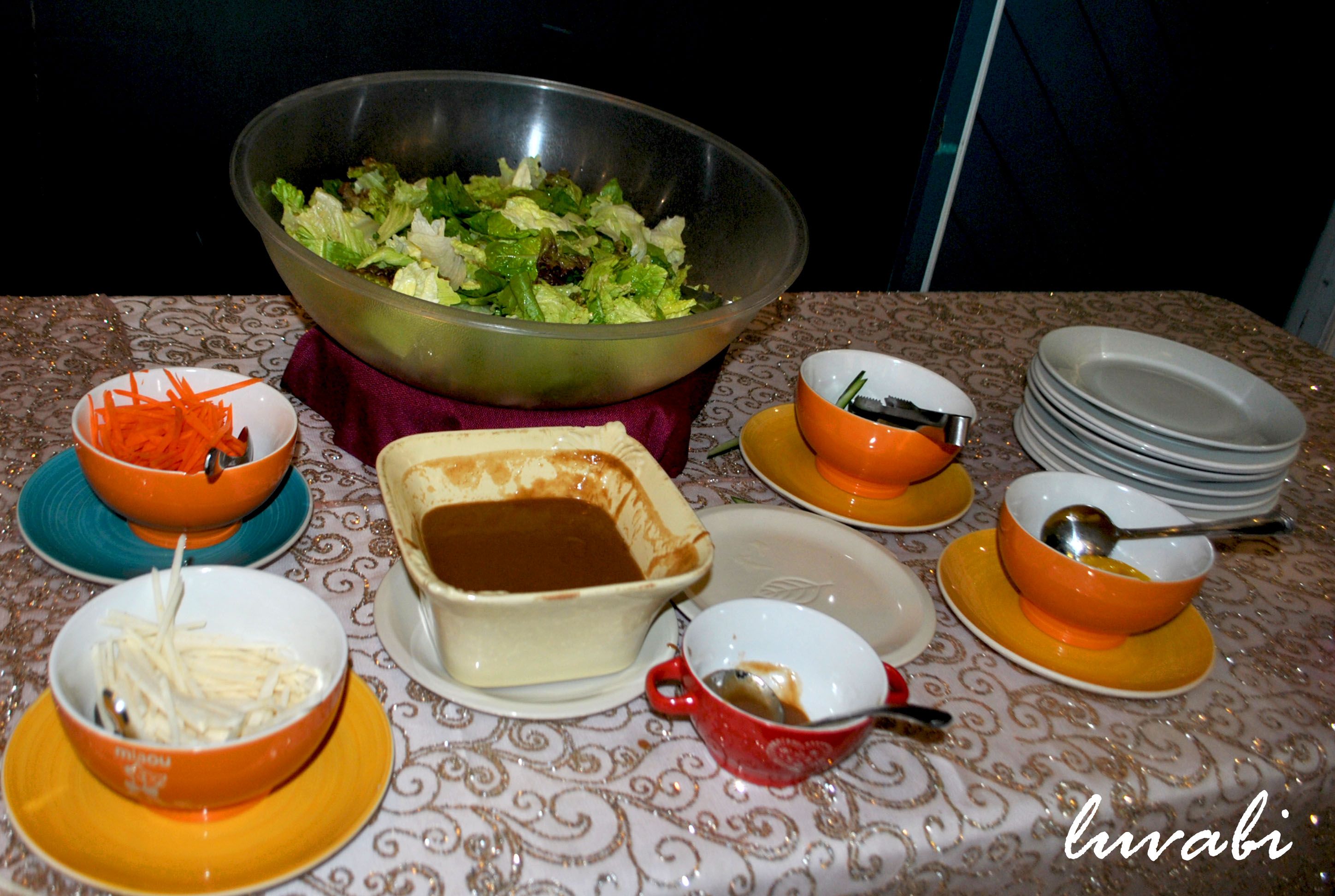 I didn't really know about the salad because I just got whatever since my cousin said she liked hers with mangoes on top. There was a bowl of
singkamas
or turnip and mangoes but I opted out on those and stuck to carrots and dressing with my greens.
I think you can tell I was so full after!
Family is love.
Look at the smile on my grandmother's face, she's 93! The kiddos look so kulit or mischievous, we finally got them to settle down a bit. We took it outside to the spacious parking lot after eating and watched the kids play tag while catching up with cousins.
My son had to change to his aquaminnow shirt and he posed like a steemit superhero.
Artsy Cafe was a great place for our small family gathering and we really loved everything about it, from the ambience to the accommodating personnel.
I took a snap of their menu because I knew I wouldn't remember what we ate, then I learned some of it wasn't on the menu.

Artsy Cafe is located in 23 Panay Ave, Diliman, Quezon City. Click on the image for Google Maps directions.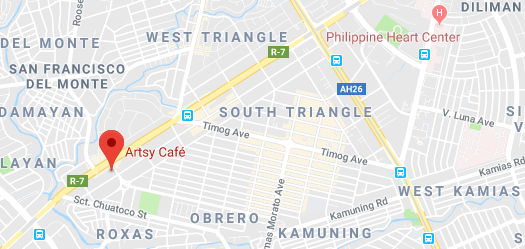 ---
Also posted on luvabi.com.
Follow me on facebook for regular updates.
---

If you would like to support initiatives on community building and enrichment, kindly check out @steemph, @steemnest, @steemph.cebu, @steemph.iligan, @steemph.davao and @steemph.manila
Consider casting your witness votes for @precise, @steemgigs @cloh76.witness and @ausbitbank who have been adding invaluable contribution to the community.
To cast your votes, just go to
https://steemit.com/~witnesses
Type in the box the witness account, example below for @precise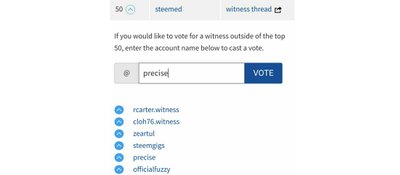 ---