Feature Highlight - Why SNIPPETS are better than FOOTERS
The latest SteemPeak release include (among other updates you can check in this post) a new tool to help you when publishing a new post.

FOOTER vs SNIPPET
Footer is saved content that you append to END of post.
Snippet is saved content you can put ANYWHERE in a post.
You can create a snippet that IS your footer.
You can create several different footers for different kinds of posts.
You can create mid-post saved content
Footers are typically all or nothing... which is sometimes a problem for some people.
Snippets is optional... some days you want it and some days you don't.
Just go create a new post.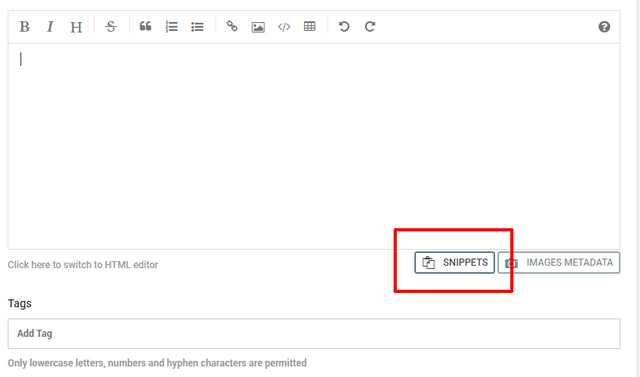 Save text you think you'll use often (give it a title so you can find it quickly)
Maybe go to old posts and copy text you think you'll use often
We save the markdown so it's much more than just text
---
How will you use snippets?
We'd love to hear about it...
How we use snippets
And now for some SteemPeak Snippets


The result is down below...
---
WITNESS
Now's probably a nice time to remind you that we run a witness server to help process the blocks for the Steem Blockchain. You can vote for our witness so we are in a position to process more of them.
Vote on out profile page: @steempeak
Vote on the witness page: https://steempeak.com/witnesses


This works for all witnesses BTW
Using Keychain: You just have to click and approve the transaction
Using SteemConnect: You'll need access to copy paste the Active Key at least.
---
The SteemPeak Team
About us: https://steempeak.com/about
Join us on Discord: https://discord.gg/6hCAcVp