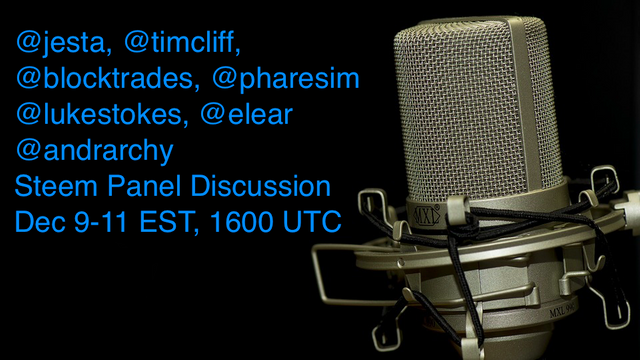 This is your reminder to tune in tomorrow for the Steem Panel discussion. We'll talk with top witnesses, the largest active account on Steem, and get a peek into Steemit too.
Format
This is a panel discussion. Acting moderator, @aggroed, will ask the panel members questions, some of which will be taken from the chat or from comments left on this and the previous announcement post. Panel members will have the option to answer them.
Basic questions of vision for Steem, recent spike in price, and general state of the network will kick us off, and then we'll get into more detail. If you want to know what the top witnesses are doing you don't want to miss this.
Logistics
The panel will be held on Dec 9 from 11am-1pm EST, which is 1600-1800 UTC.
The discussion can be listened to during the broadcast at mspwaves.com/listen.
You can interact with the panel by being in the live audience chatroom in the PALnet Discord.
Text: https://discord.gg/BS8WTzM
Listen: https://discord.gg/pGHjVtc
Talk: https://discord.gg/CPHP2fu
Speaking on air
If you'd like to ask questions of the panel or are on the panel please make sure you're ready with a working headset and microphone.
Check your audio here: https://discord.gg/hesUJmg
I'll drag you into the live on air channel if you're on the panel or given an opportunity to speak.
General Rules
It's a great time to ask questions. You are free to ask tough questions. People being belligerent towards Steem, the Panel, or Steemit Inc will be kicked.