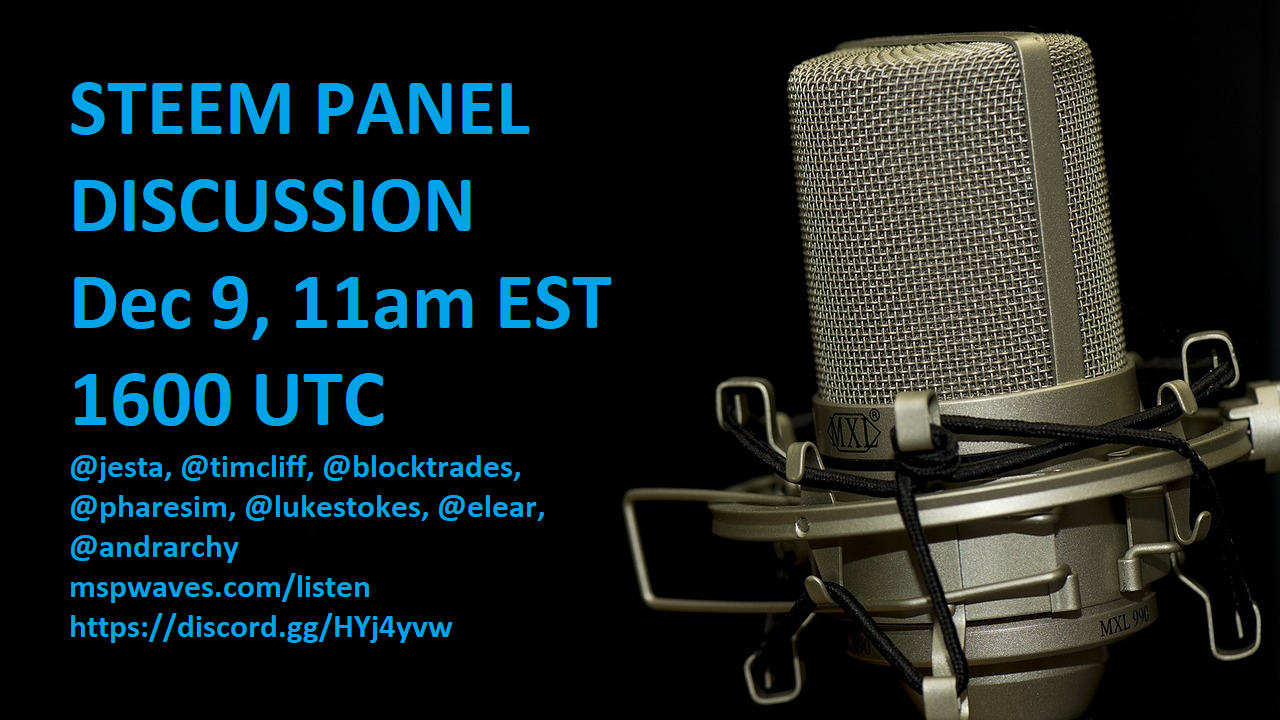 In a similar vein to the Steem Growth Forum I'm hosting a Steem panel discussion on the mspwaves broadcast station. In the comments below write questions you would pose the panel members and we'll have a 1-2hr discussion about life on the block and needs for the block.
The Panel
The panel is comprised of @jesta, @timcliff, @blocktrades, @pharesim, @lukestokes, @elear, and @andrarchy. I'll moderate the panel discussion.
Topics generally include
Growth of the platform
Factors that alter Steem price
Technical needs of the platform
Development of apps and tools
New user experience
Social aspects
Vision 2020
Where does the platform need to be in 2 years to compete? What will it look like? What do we need to do to get there?
Logistics
The panel will be held on Dec 9 from 11am-1pm EST (1600-1800 UTC).
The discussion can be listened to during the broadcast at mspwaves.com/listen.
You can interact with the panel by being in the live audience chatroom in the PALnet Discord-
Text: https://discord.gg/BS8WTzM
Listen: https://discord.gg/pGHjVtc
Talk: https://discord.gg/CPHP2fu
If you're planning on speaking please arrive a little early so we can mic check you. You'll need a headset and mic.
If you're hoping to ask some questions live of the panel or specific members please do the same. You'll need a headset, a mic, and you'll have to mic check your equipment.
Community Rules and Standards
THE RULES: https://steemit.com/minnowsupportproject/@minnowsupport/minnow-support-project-community-rules
THE COMMUNITY STANDARDS: https://steemit.com/minnowsupportproject/@minnowsupport/minnow-support-project-community-standards-the-spirit-of-msp
PALnet community rules stand while this broadcast is happening. You're welcome to join us, but this isn't an opportunity to flame, insult, or attack other people (or Steemit). You can ask hard questions, but check your insults at the door or get booted.
Social media
Please use the tag steempanel for this event.
If you're looking for easy resteems from me please write up posts regarding this event and send them my way via DM in Discord.
Please write your questions in the comments and we can't wait to see you there