Steem NOVA: Logic Force Week #3 Update and SBD Winner!
Join the Logic Force to compete for a weekly SBD prize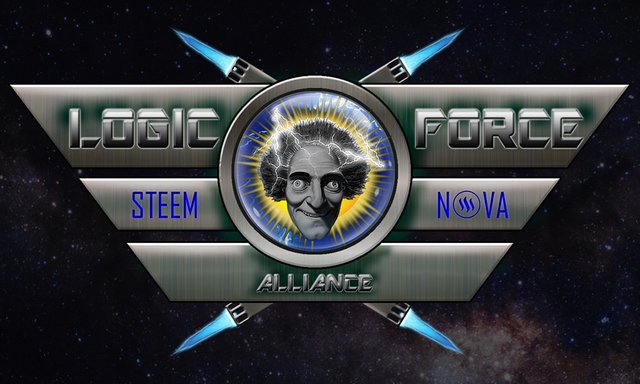 The purpose of this challenge is to encourage alliance members to be active and to recruit new alliance members. Each week, I will give an update on the status of Logic Force and announce who was the most improved player for the week.
The payout reward is based on the rewards of the previous week's article. This requires each of the members, who wish to win, to upvote and resteem the article in order to make sure there would be enough rewards to win. According to Steem Supply, I got close to the 1 SBD needed to pay the winner.


Just a reminder to new STEEMians everywhere, what it says at the bottom of your article is not exactly what you get.
According to SteemDB here is who reSteemed the article.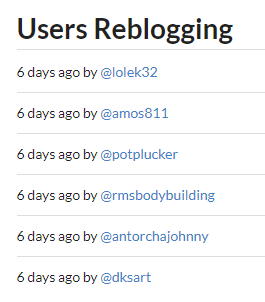 According to SteemD here is who upVoted the article, with Alliance members highlighted.


Logic Force Update
Another week of Logic Force being a peaceful neighbor in Steem NOVA, even if Primera Orden is not being a nice neighbor and sent a fleet attack on one our newest members. Speaking of new members, we have grown to 11 members with the additions of @jplaughing, @mawit07 and @cloudspyder. Welcome new Logic Force members!
Steem NOVA admins did another "reBalancing" change, but this dealt with removing certain high level attack and defense options from the game. This didn't affect any of the Logic Force members directly, but it did alter some building plans that some of the members were working on. Hopefully, when all the bugs are out of the system, the universe will be reset and these features added back to the game.
Due to Logic Force membership growth and continued activity by the members, we went from a 1% of the pie to an 8% share of the universe.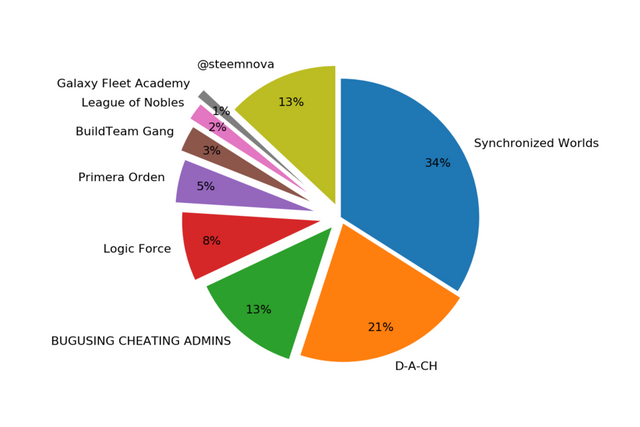 This also put us in a 4th place in alliance rankings.
There has been some shake-ups and new alliances created over the last week, so it will be a challenge for Logic Force to remain in the top 4 spot. Hopefully, we can keep our ranking and maybe soon be in the number 3 spot!
Team Distribution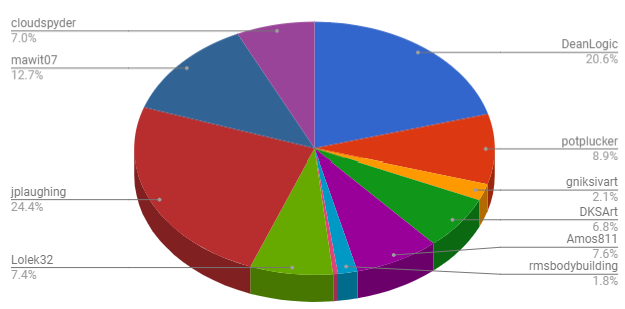 In the last week, the entire alliance was busy trying to increase their points. The bigger you get, the harder it is. However, as a team, we still did very well, with the lowest increase near 30% and and 5 members having an increase above 100%.

Now, I had to make a hard decision here. Clearly, @georgemales had the highest increase from last week. He went from barely having anything to breaking the 2,000 point level. @DKSArt came in a solid 2nd with 187.45% increase, topping out the previous winner, @Amos811 by nearly 8%. However, @georgemales didn't resteem last week's update.

So, I decided to give them each 60% of the total possible winnings. But, this is the last time. You need to upvote AND reSteem this article to be in the running for the weekly reward.
Congrats @georgemales and @DKSArt!!
---
Contest Rules
Be a Member of Logic Force and use account name the same as on Steemit.
Upvote and reSteem the weekly Logic Force Alliance and Steem NOVA updates.
Player with the highest percentage point increase from the previous week, wins 1 SBD or 100% of the article payout if less than 1 SBD.
If your points do not increase 2 weeks in a row, you will be removed from Logic Force.
You must be a member at the time of this article is posted to qualify for the next giveaway.
How to Join Logic Force
Join SteemNova (<-- you can use my referral link) using your Steemit username as the Steem NOVA username.
Accept Buddy request from me
Do a Search on "LOGIC" with the search criteria set to "Alliance Tag"
Fill out the "application"
I get a notice and accept your application.
Once you become a member of Logic Force, you can ask @DKSArt to make you a badge for displaying on your articles.

We use Discord to share information, tips and general chatting while playing the game.
Come join us!
---
Let the positive energy sing!

More Power to the Minnows!!


Trading on Bittrex and Binance
Claim Your Stake with a Stake Box
HODLin'
Stellar Lumen(XLM) -- Cardano (ADA) -- Digibyte(DGB)
Get your old school text-based gaming on.